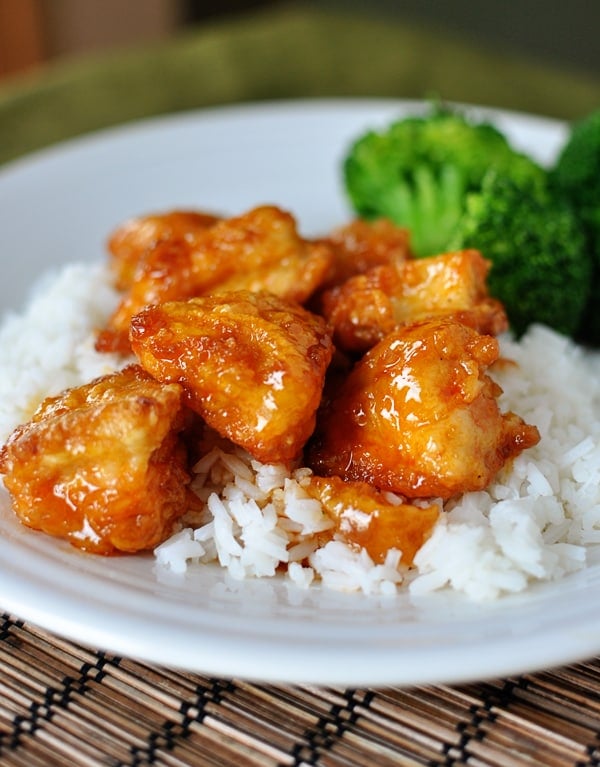 Update 6/2012: Easily the most popular recipe on my blog, this sweet and sour chicken is a miracle of a dish. My husband, Brian, requests it for his birthday, Father's Day and any other day he has the craving (which seriously would be every day if I was willing to make it that often). Invented on a college budget more than ten years ago, it is absolutely divine and remains one of our family favorites. A million percent better than any takeout, the chicken bakes up tender with a beautiful crust and is coated perfectly with the sweet and tangy flavors of the sauce. Over the years, I've barely changed the recipe – but thanks to your comments, I have added a few tidbits to help make the whole coating-and-cooking chicken thing a bit less messy. Make this! You'll love it, I promise.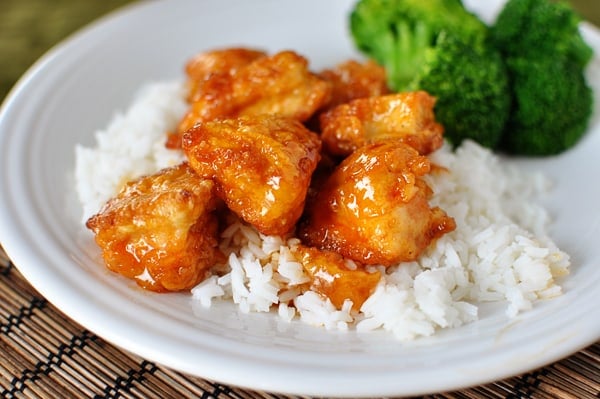 Note: if you like extra sauce, double the sauce ingredients – pour half over the chicken and follow the recipe instructions; pour the other half in a small saucepan and cook the sauce on the stovetop at a simmer for 8-10 minutes until it reduces and thickens. Serve it on the side of the chicken.
Ingredients
3-4 boneless, skinless chicken breasts
Salt and pepper
1 cup cornstarch
2 large eggs, beaten
1/4 cup canola oil
3/4 cup granulated sugar
4 tablespoons ketchup
1/2 cup apple cider vinegar
1 tablespoon soy sauce
1 teaspoon garlic salt
Directions
Preheat the oven to 325 degrees F.
Heat the oil in a large skillet over medium heat. While the oil is heating, cut the chicken breasts into 1-inch pieces. Season with salt and pepper. Place the cornstarch in a gallon-sized ziploc bag. Put the chicken into the bag with the cornstarch and seal, tossing to coat the chicken. Whisk the eggs together in a shallow pie plate. Dip the cornstarch-coated chicken pieces in the egg and place them carefully in a single layer in the hot skillet. Cook for 1-2 minutes and then flip each piece over to cook on the other side until nicely golden but not all the way cooked through. Place in a single layer in a baking dish and repeat with the remaining chicken pieces.
Mix the sauce ingredients together in a medium bowl and pour over the chicken in the baking dish. Bake for one hour, turning the chicken once or twice while cooking to coat evenly with sauce. Serve over hot, steamed rice.
http://www.melskitchencafe.com/2008/07/sweet-and-sour-chicken-updated.html
Printed from Mel's Kitchen Cafe (www.melskitchencafe.com)
Recipe Source: Mel's Kitchen Cafe original recipe