The winner of this giveaway is:
#313 Tara B. who said: Definitely margherita pizza!! We have 3 little girls and they love to help, so this would be fun for them.
Congrats, Tara! If you didn't win, remember that you can still use the discount code, MKC25, until December 2nd for big savings on any Camp Chef product. Thanks to all who entered!
———————————————————————————————————
This giveaway.
This giveaway! It's amazing. If I told you that you could make artisan pizza on your front porch, would you believe me? You should.
Behold the wonder of the Italia Artisan Pizza Oven from Outdoorcooking.com.

Here are the cute lil' pizzas my 4- and 6-year old made to test out this baby. Ready to go in and bake to perfection.

Baking.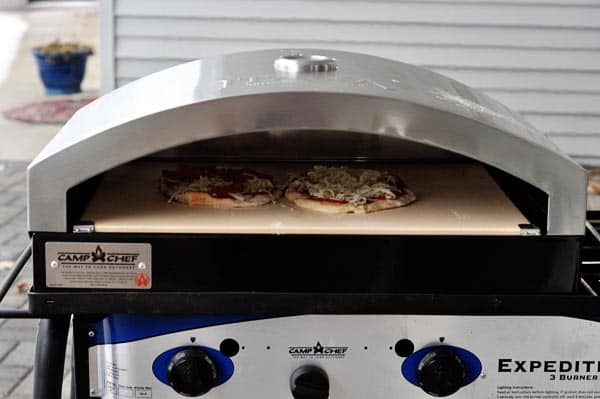 About 9 minutes later? Perfection.

I mean, look at that crust. Beauty.

So here's the deal. I want you to have one of these.
Outdoorcooking.com is giving one of these Italia Artisan Pizza Ovens away. Today. And if that stellar news wasn't enough, just in case the winner doesn't have an outdoor stove on which to use this beauty, Outdorcooking.com is giving away a triple burner stove to the winner, also. I know. It's almost too much.
To enter, leave a comment right here on this post telling me your favorite kind of pizza (and hopefully you'll be baking it very soon in this crazy oven!). Also, to gain an extra entry, go on over and LIKE Outdoor Cooking's Facebook page (and come back to leave a comment saying you did just that/or that you are already a FB fan of theirs). Winner will be announced one week from today!
But wait! In addition to the giveaway, Outdoorcooking.com is giving a special discount to my readers (YOU!). It's a whopper. And it's only for today, tomorrow and Wednesday (November 18-20). You don't want to miss it. The discount code is good for 25% off Camp Chef product on the site! We're talking outdoor cooking stoves, food smokers (I have one; it's wonder fills my dreams), pizza ovens and pizza ovens you don't need a Camp Chef stove to use (uh, be still my heart). Seriously, the options are endless.
Using the code MKC25 for the next three days, you'll get 25% off anything at Outdoorcooking.com. So go crazy and do some holiday shopping, why don't you?
Don't forget to enter the giveaway! Love ya.
*Giveaway and pizza oven for my review sponsored by Outdoorcooking.com, all opinions expressed are my own as always. Also, in the interest of full disclosure, some of the external links above are affiliate links which means I earn a small commission if you decide to buy anything from Outdoorcooking.com – don't worry, I'll love you either way!*