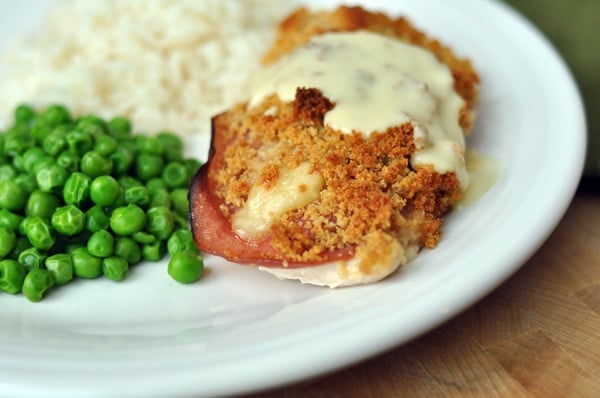 Don't get me wrong…I love classic chicken cordon bleu in all its gloriousness. I really do. But sometimes I want an easier way. Less work but same delicious flavors and taste.
Enter Chicken Cordon Bleu the Easy Way. Simply put, boneless, skinless chicken breast halves are cut in half lengthwise to make two thinner chicken breast cutlets. Single layered in a baking dish, they are topped with ham, swiss cheese and buttery bread crumbs and baked to golden perfection. Served with a creamy Parmesan-Dijon sauce, and this easier chicken cordon bleu is just as satisfying as the original without all the fuss of pounding, rolling and toothpicking. Honestly, the hardest part of this recipe is whisking the sauce together while the chicken bakes (and if you've been around here long enough you knew I had to come up with a cream-of-chicken-soup-free sauce – your sauce-loving lips will never be the same after this simple, homemade, creamy version).
Sure, this easy version isn't quite as pretty as the real thing, but when your hungry husband and four boys are guzzling down dinner like they haven't eaten in a year, then pretty is really the last thing they have on their minds, let's be serious.
Roasted Asparagus or steamed peas
Simple Rice Pilaf
Spinach Salad with Sweet-Spicy Nuts, Apples, Feta & Bacon or Strawberry Spinach Salad
One Year Ago: Ultimate Stuffed Zucchini
Two Years Ago: Chocolate Cream Cheese Truffles
Three Years Ago: Pumpkin Bars
Note: fresh bread crumbs here make all the difference. I save the heels of my bread stashed in the freezer for just a recipe like this when I need to grind up fresh bread crumbs quickly in my blender or food processor. Also, try to find really thick chicken breasts – it makes it easier to cut them in half lengthwise and still have a good-sized portion.
Ingredients
3 large chicken boneless, skinless chicken breasts, cut in half length-wise (to form two thinner chicken breast cutlets)
12 slices deli ham
1 cup bread crumbs
2 tablespoons butter, melted
1/3 to 1/2 pound thinly sliced swiss cheese

For the Parmesan-Dijon Cream Sauce:

2 tablespoons butter
2 tablespoons all-purpose flour
1 cup milk
1 teaspoon chicken bouillon granules (or 1 bouillon cube, crushed)
1/2 teaspoon salt
1 tablespoon Dijon mustard
1/2 teaspoon Worcestershire sauce
1/2 cup finely grated Parmesan cheese
Directions
Lightly grease a 9X13-inch baking dish with cooking spray and preheat the oven to 350 degrees. In a bowl, combine the bread crumbs and melted butter. Set aside.
Lay the cut chicken breasts in a single layer in the 9X13-inch dish. Layer each chicken breast with two slices of ham and top with 2 slices of swiss cheese, shingling across the chicken breast to make sure the entire chicken breast is covered with ham and cheese. Sprinkle the bread crumbs over the top of the chicken.
Bake the chicken for 30-35 minutes, until the chicken is cooked through completely, the cheese is bubbling and the bread crumbs are golden.
While the chicken bakes, in a medium saucepan, melt the 2 tablespoons butter. Stir in the flour, whisking constantly, while cooking the flour/butter mixture for 1-2 minutes. Slowly pour in the milk while whisking quickly. Stir in the chicken bouillon granules and salt. Whisk constantly over medium heat until the mixture begins to simmer and thicken, about 3-5 minutes. Once the sauce has bubbled and thickened, remove from heat and stir in the mustard, Worcestershire sauce and Parmesan cheese. Stir until the cheese is melted. Keep the sauce warm until the chicken is finished baking.
Serve each chicken cordon bleu portion with warm sauce.
Notes
Make Ahead Instructions: Assemble the chicken, ham and cheese according to the recipe. Store the prepared bread crumb/butter mixture in a resealable plastic bag or other container. Cover the casserole with plastic wrap and store it and the bread crumb mixture in the refrigerator for 8-12 hours. When ready to bake, sprinkle the bread crumbs over the top and bake according to the recipe, adding anywhere from 5-15 extra minutes since it was refrigerated prior to baking. Make the sauce while the casserole bakes or make it ahead of time, let it cool, and store it covered in the refrigerator for 1-2 days, reheating over low heat and whisking to recombine before serving.
http://www.melskitchencafe.com/chicken-cordon-bleu-the-easy-way/
Printed from Mel\'s Kitchen Cafe (www.melskitchencafe.com)
Recipe Source: from Mel's Kitchen Cafe