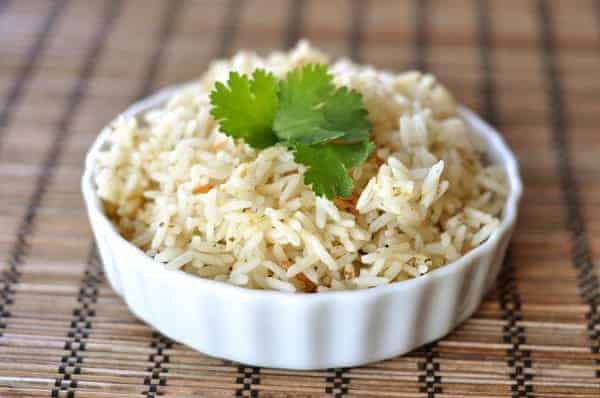 Update 1/11: Over the years of making this rice, I've updated the recipe a bit, reducing the amount of butter and fleshing out some of the recipe details (i.e. what kind of rice works best). It continues to be an oft-served side dish in our house and goes wonderfully well with ribs or Mexican-type fare. The rice boils up tender and plump with the perfect hint of lime and cilantro. Delicious!
Ingredients
1 tablespoons butter
1 1/4 cups rice (long grain white rice works best)
2 1/4 cups low-sodium chicken broth
3/4 teaspoon salt
1/4 teaspoon freshly ground black pepper
juice and zest of 1 large lime
2 tablespoons chopped cilantro
1/4 teaspoon cumin
Directions
In a skillet or medium saucepan, melt the butter and add the rice. stir, letting the rice and butter cook for 1-2 minutes. Add remaining ingredients and bring to a boil. Reduce heat, cover and cook for 15-16 minutes. Remove from heat and let stand, covered, for 10 minutes. Fluff with fork and serve.
http://www.melskitchencafe.com/cilantro-lime-rice/
Printed from Mel\'s Kitchen Cafe (www.melskitchencafe.com)
Recipe Source: from Mel's Kitchen Cafe