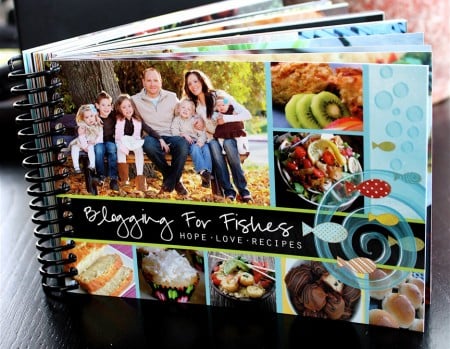 *WINNERS ANNOUNCED!*
2 Hard Copy Winners:
#130: Teresa R. ("Thank you for bringing our attention to this sad story. The cookbook is a great idea.)
#342: Lori ("Wow. praying for their family!")
10 E-Book Winners:
#411: Brigette ("I'd sure love to win the cookbook but if I don't, I'll buy one!")
#114: Kari ("Keeping the Fish family in my prayers!")
#104: Susannah ("I can see exactly why this family touched your heart, and what a fabulous fundraiser. I'll help spread the word.")
#39: Cindy ("It's never easy having a sick child, I can't imagine having 2, bless you for helping them.")
#268: Kim ("What a great idea. Please enter me!")
#278: Megan A. ("What a great cause! The cookbook looks fantastic.")
#167: Meli ("What a great cause!")
#402: Rachael ("I just cried so hard during this video. My youngest daughter had spine surgery about five months ago. I can't imagine going through all the Fish family has gone through. I'm so happy things are finally looking up for them. Thanks for sharing this story!")
#347: Emily M. ("What a great cause! I'm all for more tried and true recipes for our little family.")
#271: Stacy Reading ("Thoughts and prayers for the Fish family.")
I tend to stay away from posts that aren't specifically recipe-related except for the occasional giveaway and I turn down a lot of promotional giveaways and offers in order to keep my content "clean." But this story I'm about to tell you about touched me in a way I can't explain and I feel compelled to share it and hopefully raise support for a very deserving family.
Let me back up a bit, a few months ago, Ali from Lemon Poppy, emailed me asking if I would be willing to submit a recipe or two for a recipe book she was compiling in order to help benefit the Fish family. After just a few minutes of delving into their story, I knew I wanted to do something (anything!) to help this family (watch this video to understand what I mean). So I emailed my recipes to Ali and she started compiling an absolutely brilliant and beautiful recipe book full of recipes from over 40 other fellow bloggers.
The intent is to raise money for the Fish family – two of their five children have an extremely rare disease (called Leaky SCID's) that has required an unbelievable amount of hospitalization and treatment for their two, sweet little daughters. Watching this video gives a small glimpse into what Leaky SCID's is (sometimes called the "Bubble Boy Disease") and what their family has gone through. It brings me to tears every time I watch it.
The recipe book is now finished (hooray!) and along with it, there is an e-book available for purchase (a .pdf version and a version for the iPad/Kindle). 100% of the profit from the e-book goes to the Fish family and $5.00 from every hard copy recipe book will go to their family. You can buy the recipe book(s) HERE. The book is lovely with dazzling color photos for each tantalizing recipe. It is full of really good recipes, my friends, if I do say so myself – you know, since two of them are mine. I can't wait to get my hands on some ingredients to bake up one or 25 of the new found recipes in the book.
I've never met the Fish family. And I can't completely wrap my mind around what they are dealing with but knowing the heartbreaking challenges that have come to my own little family at times, I hope that the sales from these books can help their family in an unbelievable way.
Today, to further their cause, I'm giving away ONE copy of the recipe book (the hard copy) and TEN copies of the e-book (you can choose the .pdf version or the iPad/Kindle version). To enter, leave a comment on this post (anything from "Enter me!" to something inspirational or appropriate) and I'll choose the random winners and announce them this weekend.
If you'd like to support the Fish family by purchasing a cookbook (hard copy or e-book), visit this link and feel free to spread the word to your family and friends! Thanks for indulging me this small moment of nontraditional content. Small things can make a big difference…and I'm hoping for big things for the Fish family!