I have a cousin, Ryan, who is at least a decade and a half younger than me but who has managed to grow near and dear to my heart by a) having the patience to teach me to text faster – or at all, for that matter (I'm soooo behind the times, people) and b) sending his mother (my trusty Aunt Marilyn) this fruit salad recipe who then passed it along to me. I mean, how can you not love a nearly 19-year old kid who can text one-handed behind his back accurately and who has the culinary intuition to recognize a great fruit salad when he tastes one?
You may be in that camp of people who insist you don't need a recipe for fruit salad. If that is the case, then pretend this isn't a recipe and make it anyway.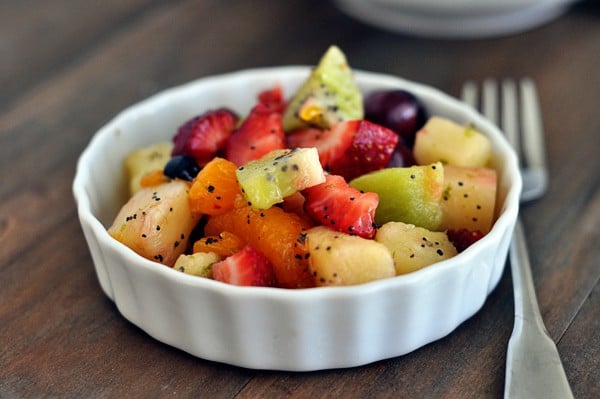 A perfect fruit salad for spring when not every variety of fruit is yet in it's peak of perfection, this combination is delightful and light and a perfect side dish for a myriad of dishes (we've enjoyed it lately with this and this and this to name a few). What takes this fruit salad to the next level is the three secret ingredients: tart lime zest, sweet honey and the slight crunch of poppy seeds.
I've made this simple and tasty fruit salad at least five times in the last two weeks and have loved every bite of it. The icing on the cake is that it takes no more than ten minutes to throw together (possibly even less if you have some wicked can-draining and knife-wielding skills!).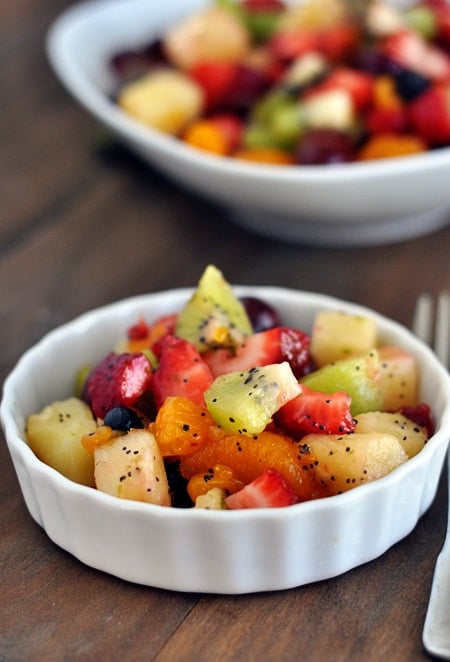 Note: This fruit salad is best served right away (or at least within an hour of making) because the strawberries tend to stain the light colored fruit. It doesn't affect the taste at all but is a slight bummer for presentation.
Ingredients
1 (20 oz.) can pineapple chunks, drained well
1 can mandarin oranges, drained well
2-3 ripe kiwi, peeled and sliced into thick half moons
1 cup green grapes, halved
1 cup strawberries, quartered
Zest from one lime, about 1 tablespoon
2 tablespoons honey
1 teaspoon poppy seeds (optional)
Directions
Combine the fruit in a medium-large serving bowl. Add the lime zest and poppy seeds, if using, and gently toss.
Drizzle the honey over the fruit and again, gently mix until the fruit is evenly coated with the honey. Serve.
http://www.melskitchencafe.com/honey-lime-fruit-salad/
Printed from Mel\'s Kitchen Cafe (www.melskitchencafe.com)
Recipe Source: adapted from my cousin Ryan