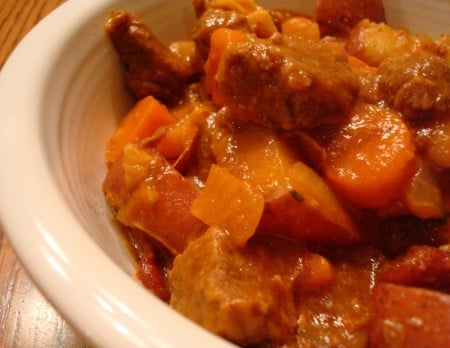 This was the perfect Christmas Day dinner – no fuss but delicious as all get out. We have our big festive dinner on Christmas Eve so I wanted something for Christmas Day that was still fulfilling but not a lot of work. This was it! My mom's stew. She's been making it for years, ever since I can remember. I've made it several times for my family and I think I've decided after today it will be our annual Christmas Day dinner…unless we somehow move to Texas or Arizona and it is 90 degrees on Christmas Day. Then we'll just grill hamburgers.

Trade Secrets: This makes a VERY hearty and thick stew. If you want it a bit "soupier" add another can of water or a cup of beef broth or stock. Also, I use red potatoes and leave the skin on.
Mom's Stew
Printable Version
Printable Version with Picture
INGREDIENTS:
1 can minestrone soup
1 can tomato soup
1 can water
1 to 1 1/2 pounds stew meat
1 onion, chopped
3-4 carrots, thickly sliced
3-4 potatoes, cut into chunks
Salt and pepper to taste
DIRECTIONS:
Combine all in a crockpot. Cook on low for 8-10 hours or high 4-5 hours. Serves 4-6.