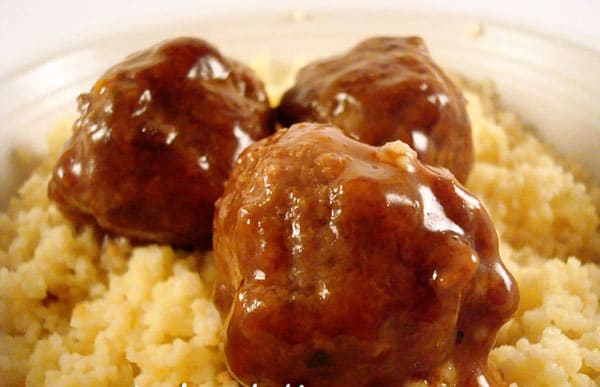 Multiple Choice Question:
How many meatballs can my five-year old eat at one sitting?
a) 1
b) 3
c) 5
d) none, he thinks meatballs are icky
If you guessed C then you are correct and have just won a million dollars. Ok, not really on the million dollars but what you do win is the satisfaction of knowing an important food fact about my son – it may get you somewhere in life!
I make meatballs a lot. Like these pineapple meatballs (oooh, delicious) or these sweet and sour meatballs (my husband's personal fave) or these meatballs with cream sauce (my top pick). We've even been known to get all crazy and put them on a sandwich (only dare to look at this post if you want to see how lousy my pictures were when I first started blogging!).
Because my husband not only loves meatballs but adores teriyaki – it was only a matter of time before I combined the two.
I served these meatballs over couscous and the results were fantastic. The velvety teriyaki sauce coats the tender, juicy meatballs in a layer of saucy gloriousness and the result is so delicious that I had to tell my five year old he couldn't eat more meatballs than his current age.
Ingredients
2 pounds ground beef (at least 90% lean) or lean ground turkey
2 eggs
2/3 cup bread crumbs
1 teaspoon salt
1/4 teaspoon pepper
1 1/2 teaspoon Worcestershire sauce
1/4 teaspoon garlic powder
3 tablespoons milk
1/2 cup soy sauce
1 3/4 cups water
1 teaspoon ground ginger
1/2 teaspoon garlic powder
1/2 cup packed brown sugar
2 tablespoons honey
3 tablespoons cornstarch
1/2 cup cold water
Directions
For the sauce, in a medium bowl mix the soy sauce, 1 3/4 cups water, ginger, garlic powder, brown sugar, and honey together. In a separate small bowl, dissolve the cornstarch into the 1/2 cup cold water. Set both bowls aside.
For the meatballs, in a large bowl, combine all the meatball ingredients except for the ground beef and mix well. Add the ground beef and mix until combined. Form ground beef mixture into 1 to 1 1/2-inch meatballs. In a 12-inch nonstick skillet, heat two tablespoons oil over medium heat until the oil is rippling and hot. Add the meatballs to the hot skillet and brown on all sides, turning with a pair of tongs. The meatballs don't need to be completely cooked through, just equally browned on all sides.
When the meatballs have browned, pour the sauce ingredients over the meatballs and gently turn the meatballs to coat them in the sauce. Heat the sauce until just simmering and add the cornstarch/water mixture, carefully mixing so as not to break apart the meatballs as you combine the cornstarch mixture with the teriyaki sauce. Simmer the meatballs and sauce over medium heat, maintaining a constant simmer but not cooking at too high of a boil, until the meatballs are cooked through and the sauce is thick and smooth (if the sauce becomes overly thick, add a tablespoon of water at a time to thin), about 10-15 minutes, turning the meatballs every two or three minutes to ensure even cooking. Serve over rice or couscous.
http://www.melskitchencafe.com/teriyaki-meatballs/
Printed from Mel\'s Kitchen Cafe (www.melskitchencafe.com)
Recipe Source: My Kitchen Cafe (teriyaki sauce inspiration from here)