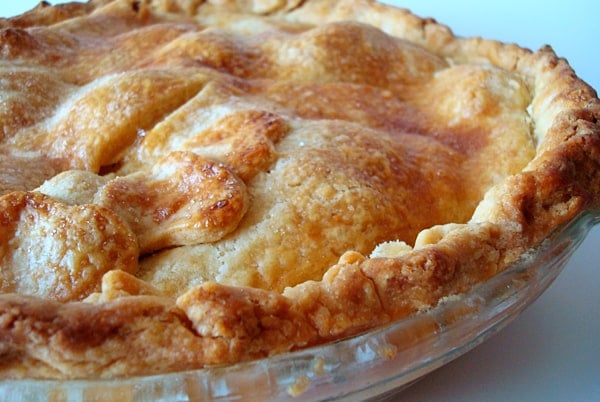 I've said it before and I'll say it again: I'm no good at making pies. But thanks to my Aunt Marilyn's latest discovery (a no-fail pie crust!) and a winning recipe for apple pie, I think I'm well on my way to conquering my pie fears.
Apple pie screams Thanksgiving dinner to me, hence the reason for sharing a recipe for apple pie with you during Thanksgiving week here. Thanks to this apple pie recipe, I now have two favorite apple pies. You can read about the other one (a delicious caramel apple pie from my brother and his wife) here.
This classic apple pie requires a bit more time as the recipe asks you to saute the apples and cook them down so that your pie doesn't come out of the oven with a gappy and soggy crust. It is well worth the effort, in my opinion. The apples were both sweet and tart and the pie turned out packed with apples from floor to ceiling. Perfect, perfect, perfect.
Make-Ahead Tip:
The pie dough can be made ahead of time. Also, the pie, once baked and cooled, can be covered with plastic wrap and stored at room temperature for up to one day. To serve warm, reheat the pie in a 300-degree oven for about 15 minutes.
Click HERE for all of the Thanksgiving 101 Recipes.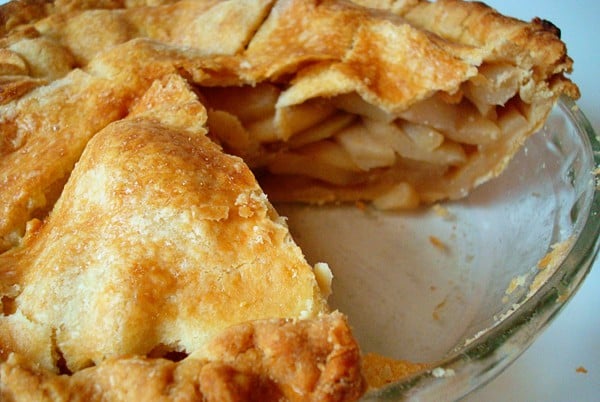 Ingredients
2 cups flour
1 teaspoon salt
2 teaspoons sugar
1 cup Crisco shortening (butter-flavored or regular, I prefer regular)
1 recipe double-crust pie dough (easy, no-fail recipe directions below)
2 1/2 pounds (about 5) firm tart apples, peeled, cored, and sliced 1/4-inch thick (I used Granny Smith)
2 1/2 pounds (about 5) firm, sweet apples, peeled, cored and sliced 1/4-inch thick (I used Gala)
1/2 cup plus 1 tablespoon granulated sugar
1/4 cup packed light brown sugar
1/2 teaspoon grated fresh lemon zest
1/4 teaspoon salt
1/8 teaspoon ground cinnamon
2 teaspoons fresh lemon juice
1 egg white, beaten lightly
Directions
Mix the pie ingredients with your hands to form a uniform mixture.
Add 1/3 cup ice water.
Dip your hands in flour so they won't get too sticky (although it will still be messy). Mix the ice water in to the shortening/flour mixture with your hands. Roll into a round ball (the dough will resemble a sugar cookie dough). Divide in half and on a lightly floured surface roll into two circles. Bake according to pie directions.
Roll one disk of pie dough into a 12-inch circle and fit into a 9-inch pie plate, letting the excess dough hang over the edge. Cover loosely with plastic wrap and refrigerate for 30 minutes. Roll the other disk of dough into a 12-inch circle on a lightly floured surface and transfer to a parchment-lined baking sheet; cover with plastic wrap and refrigerate for 30 minutes also.
Toss the apples, 1/2 cup of the sugar, brown sugar, zest, salt, and cinnamon together in a large bowl. Transfer the apples to a large pot or Dutch oven and cover, cooking over medium heat and stirring frequently, until the apples are tender when poked with a fork but are not mushy (don't over cook because the apples will finish cooking and softening up in the oven!), about 10-12 minutes.
Transfer the apples and their juice to a rimmed baking sheet and let cool to room temperature, about 30 minutes.
Preheat the oven to 425 degrees. Drain the cooled apples thoroughly in a colander, reserving 1/4 cup of the juice. Stir the lemon juice into the reserved 1/4 cup of apple juice.
Spread the apples into the dough-lined pie plate, mounding them slightly in the middle, and drizzle with the lemon juice mixture. Loosely roll the second piece of dough around the rolling pin and gently unroll it over the pie. I find it easiest to trip the bottom crust and keep a 1/2-inch overhang. Fold this overhang up over the top crust and crimp the edges together. Cut 4 vent gashes in the top of the pie. Brush the crust with the egg white and sprinkle with the remaining one tablespoon sugar.
Place the pie on a foil-lined baking sheet and bake until the crust is golden, about 25 minutes. Reduce the oven temperature to 375 degrees and continue to bake until the juices are bubbling and the crust is deep golden brown, about 25-30 minutes longer. Let the pie cool on a wire rack until the filling has set, about 2 hours. Serve slightly warm or at room temperature.
http://www.melskitchencafe.com/thanksgiving-dinner-101-the-pie/
Printed from Mel\'s Kitchen Cafe (www.melskitchencafe.com)
Recipe Source: Aunt Marilyn