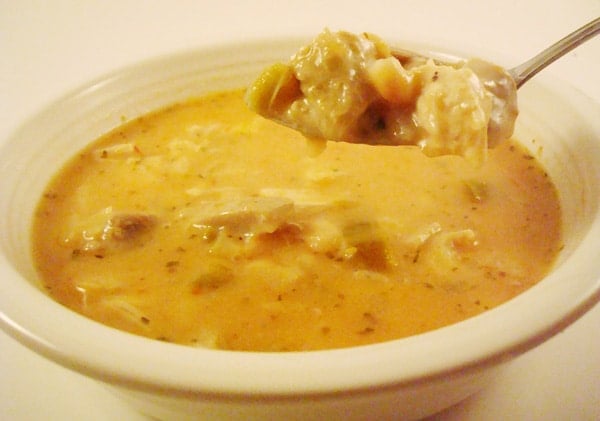 I hope everyone had a lovely Thanksgiving!
I'll confess that I don't usually struggle with what to do with the turkey leftovers. There is really only one GREAT way to use them: smothered in mustard and sandwiched in a homemade roll. Leftover turkey sandwiches are heavenly and I usually can't speak for at least two days after the big meal because my mouth is stuffed with them.
However, I had an inordinate amount of turkey leftover this year and used some of the tender, juicy morsels in this soup. It is one of my favorite, favorite soups of all time and I usually make it with chicken, although it was fantastic with the turkey tonight!
Another fabulous recipe from my Aunt Marilyn, this white bean chili is a snap to throw together (we are talking less than 30 minutes, start to finish), is packed with flavor, and the unique addition of the mozzarella at the end coats the beans and chicken (or turkey) with a creamy layer of cheese. Love this soup. (And it has been known to win a chili cook-off or two, just in case you are wondering.)
White Bean Chicken (or Turkey) Chili
Ingredients
1 tablespoon olive oil
1/2 cup diced onion
2 (14.5 ounce) cans Great Northern Beans, rinsed and drained
2 cups cooked, diced chicken (or turkey)
2 cups chicken broth
3/4 cup salsa (I use Pace Chunky Medium)
1 teaspoon dried oregano
1/2 teaspoon celery salt
1 1/2 cups shredded mozzarella cheese
Directions
In a medium saucepan, heat the olive oil over medium heat. Add onions and cook until onions are translucent, about 5 minutes.
Add the remainder of the ingredients, except the mozzarella cheese. Heat over medium heat, stirring occasionally, until the soup comes to a simmer. Add the mozzarella cheese one handful at a time, stirring to let each addition melt before adding the next. Stir to combine and make sure all the cheese has melted and serve.
http://www.melskitchencafe.com/white-bean-chicken-or-turkey-chili/
Printed from Mel\'s Kitchen Cafe (www.melskitchencafe.com)
Recipe Source: adapted from Aunt Marilyn