My second son's fifth birthday was yesterday. It is tradition in our house for the kids to request what they want in a birthday cake and I try to create it the best I can. Sometimes it fails miserably, trust me, but sometimes it works, especially when the idea is simple and doable.
This year he requested a bat. The kind that flies. Even though this was technically his birthday cake, since it is so close to Halloween, I thought I'd share the how-to, in case you are in need of a bat-that-flies-cake.


I have a lot of cake decorating supplies, but I am far from a professional cake decorator, as evidenced by my lack of training and the fact that I always end up with copious amounts of frosting in my hair by the time I am finished with a cake. As I mention below in the how-to, I think this cake would look equally cute using an offset spatula or knife to spread the frosting in wavy peaks and lines. You can use ziploc bags with the corners snipped off to make the bat's face and wing outline.
I used this go-to chocolate cake recipe. I baked it in a 14-inch round cake pan. It made for a very large bat. This could definitely be made in a 9-inch round cake pan (which is how it was made where I originally snagged the idea). You'll want to scoop some of the batter into a greased and floured pyrex bowl. Since I used a 14-inch cake pan, I used my 7 1/2-inch pyrex bowl and scooped about 2 cups of batter into it after it had been greased and floured. Watch the baking time to judge when it will be done.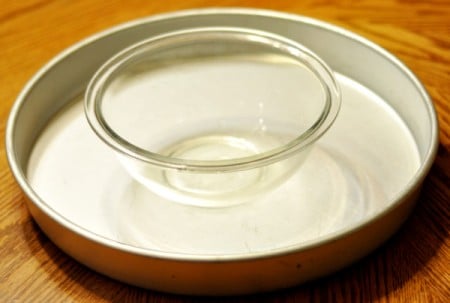 If using a 9-inch round cake pan, use a smaller pyrex bowl or round oven-safe dish for the bat's head, like the one shown below. (Use the remaining batter for cupcakes that you can use or freeze for later.)

As a sidenote, I used this magical frosting. I made one batch of white and one batch of chocolate. I colored about 1 1/2 cups of the white frosting blue for the wings. Make sure to save a tiny bit of white frosting for the face. I had a lot of white/blue frosting left over, so you may consider making a smaller batch or using it to frost something else. I used the chocolate batch of frosting for the black bat so I didn't have to use as much black food coloring.
Once the cakes have baked and cooled, cut the round cake in half. Arrange it on your platter (or foil-lined cardboard rectangle in my case) so the half-circles are touching in the center and they are angled slightly upward. Wings. That's what they'll be.

Take a bit of your blue wing-batter (you can color it orange to make it even more Halloween festive) and run it over the cake in a thin layer for a crumb coat. This is what the name implies – a way to catch the crumbs and is especially useful for dark cakes. You'll see that you don't need to go all the way up to the top of the wings since that part will be covered in bat fur. Gross. But we're not talking literally here. Frosting fur, I guess I should say. In that case, yum.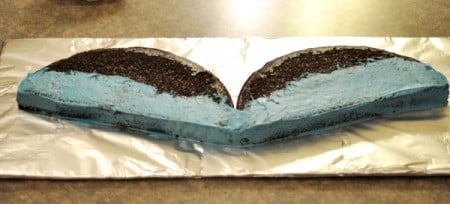 Once the crumb coat has been applied, use the rest of the wing frosting to apply a thicker layer of frosting. You'll want this to be as smooth as possible and nice-looking since this is all the attention this area will get once you move on to the wings.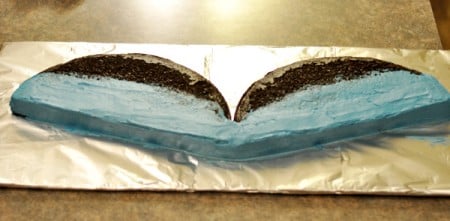 Now, fill a pastry bag fitted with a small round tip (I used a Wilton #6 tip) or in a heavy-weight ziploc bag with a small corner snipped off and pipe in the wing shape as shown below.

If you have cake decorating tips, use a star tip (I used a Wilton #17 tip) and begin piping stars on those wings. I think this would look equally cute spreading the frosting on with a knife or an off-set spatula in small peaks and wavy lines.

Once the wings have all been frosted or piped, place the bat head, flat side down, in the center of the wings.

Cover the head in black frosting. I attempted to use Wilton tip #233, a cool grass/hairy effect, but my frosting was way too runny, so I ended up with stars. Again, I think the bat head would be equally cute if you spread the frosting on with a knife or spatula. Using white frosting, pipe on a face. I did this with a #7 round tip but you could again use a ziploc bag with the tip snipped off.

Now stand back and admire your cute little dingbat!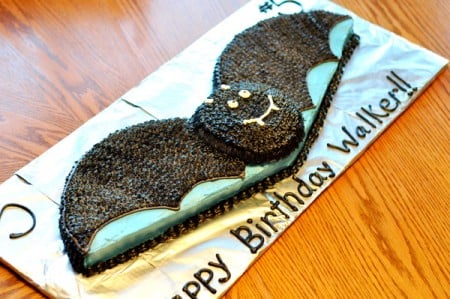 Just for the record, I thought I'd include some of the other fun birthday cakes I've made over the years. I've included how-to links and where I got the ideas in case you are interested.

*UPDATE! The pictures have gone missing from this post (after a website update a while ago). I'm working at getting them put back in – sorry!*
Bug Cupcakes from Hello, Cupcake!

Tractor Cake Pan from Wilton

Snake Cake – basically a bundt cake cut in half and arranged to look like a snake. Frosted, studded with M&M's. Easy-peasy-lemon-squeezy, as my 6-year old likes to say.

Robot, idea from here.

Racetrack, idea from here.

Spiderman Cake Pan from Wilton

Pirate Ship Cake, idea from here.

Killer Whale (Orca) cake. Rice krispie treats covered in fondant, shoved in a 14-inch round cake. My first experience with fondant. Possibly my last.

Frog, idea from here (a great resource for homemade cake decorating ideas!).

Fish cake. 2 9-inch round cakes layered on top of each other and frosted in waves to look like scales. Used orange slice gummies for the lips and tail, skittles for the design.

Elmo cake pan from Wilton.

Cutest dragon cake ever – instructable from here.

Dinosaur cake – how-to video here.