Chocolate and Coconut Cream Pie Bars
These chocolate and coconut cream pie bars have a tender crust, a slather of dark chocolate, and topped with coconut cream and whipped cream.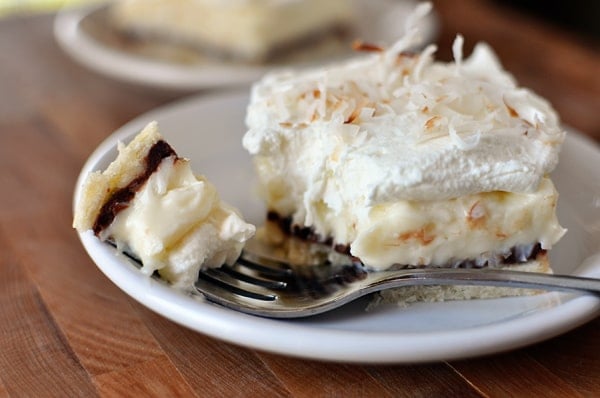 I want to weep, these bars are so good. It's like these bars and this pie and a million other decadent creamy desserts rolled into one.
If you would have told me that adding a thin sliver of rich chocolate to already perfect coconut cream pie would make it better, I would have walked away in a huff, offended that you dared insult one of my favorite pies. But you would have been right.
The layer of chocolate on these silky, dreamy coconut cream pie bars is just the start of something so wonderful, it surpasses reason.
Think if it this way: A butter, tender crust followed by that aforementioned slathering of dark chocolate, topped with an ethereal coconut cream mixture and a dollop of sweetened whipped cream.
Based on that, how could you not want to make them? (Unless you despise coconut, upon which we need to have a serious talk…)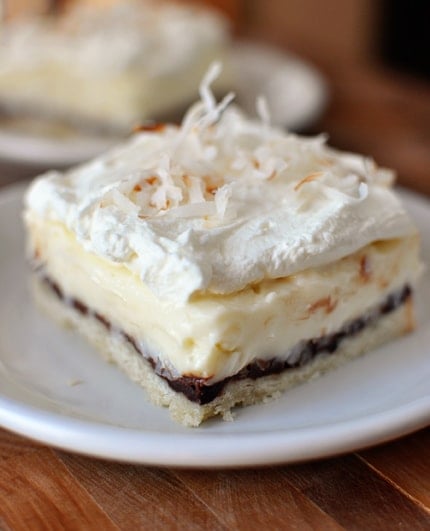 One Year Ago: Chocolate Peanut Butter Wafer Cream Cake
Two Years Ago: Make-Ahead Green Bean Casserole
Three Years Ago: Spinach Chicken & Pasta Salad with Teriyaki Vinaigrette
Chocolate and Coconut Cream Pie Bars
Yield: 9X13-inch pan

Prep Time: 30 minutes

Cook Time: 25 minutes

Additional Time: 4 hours

Total Time: 4 hours 55 minutes
Ingredients
Crust Ingredients:
2 cups all-purpose flour
1/2 cup powdered sugar
1 cup (2 sticks) butter, cut into 10-12 pieces
Ganache Ingredients:
1/4 cup heavy cream
6 ounces (about 1 cup) semisweet chocolate chips
Coconut Cream Filling Ingredients:
3 cups half-and-half
3 cups coconut milk
4 eggs
1 1/2 cups granulated sugar
2/3 cup cornstarch
1/2 teaspoon salt
1/2 teaspoon coconut extract
1/2 teaspoon vanilla extract
1 1/2 cup sweetened, flaked coconut
Whipped Cream Topping Ingredients:
2 cups heavy whipping cream
3-4 tablespoons powdered sugar
1/2 cup coconut, toasted (see note)
Instructions
Preheat the oven to 350°F. Line a 9X13-inch baking dish with foil or parchment paper, leaving a 2-3 inch overhang on both of the long sides to help remove the bars after baking.
In a large bowl, combine the flour and powdered sugar. Cut the butter into the dry ingredients using a pastry blender, two knives or using a food processor for this entire step. Press the mixture into the prepared baking dish. Bake for 16-18 minutes until the crust is light brown. Cool on a wire rack.
While the shortbread is baking, place the chocolate for the ganache (1 cup of semisweet chocolate chips) in a medium bowl. Bring the cream to a simmer in a small saucepan (or microwave it for a 30 seconds or so). Once the cream reaches a simmer, pour the cream over the chocolate and let the mixture stand for 1-2 minutes. Stir completely until a shiny, smooth ganache forms. Once the crust has cooled for about 10 minutes, pour the ganache over the bottom of the crust and smooth to the edges. Place the chocolate covered crust in the fridge to chill until the ganache is set into a firm layer and the crust is cooled completely.
While the crust is chilling, make the coconut cream filling by combining the half-and-half, coconut milk, eggs, sugar, cornstarch, and salt in a large saucepan. Bring the mixture to a boil, whisking constantly until it is very thick like warm pudding. Alternately (and I've actually done it this way for the coconut cream pie with great results), you can combine all those same ingredients in a large microwave-safe bowl and cook for one-minute increments, stirring well after each minute. It will take anywhere from 5 to 15 minutes to thicken in the microwave. I always strain my custard/pudding mixures through a fine-mesh strainer into another bowl. That is optional but it helps get rid of any little bits of cooked egg. Once the mixture thickens and after it has been strained (if you choose to do so), stir in the coconut and vanilla extracts and untoasted coconut. Pour the filling over the chilled ganache and refrigerate the bars until they are firm and set up, about 4 hours.
For the whipped topping, combine the heavy cream and powdered sugar in a large bowl and blend on medium-high speed with a handheld electric mixer until soft peaks form and the cream is thick and stabilized. Spread the cream over the chilled bars and sprinkle on the toasted coconut. Chill until ready to serve. Use the foil or parchment overhang to lift the bars from the pan. Cut into pieces and serve.
Notes
Toasting the Coconut: to toast the coconut, place it in a single layer in a nonstick skillet and cook over medium heat, stirring frequently until it browns evenly. Watch closely so it doesn't burn.

Halving: I've also halved this recipe with great success - use a 8-inch or 9-inch square baking pan.

Plan Ahead: because many of the steps can be prepared ahead of time and/or need to be coordinated, read through the recipe before starting.

Make Ahead: also, these bars can be made up to a day in advance - if doing so, I recommend not topping them with the whipped cream until you are ready to serve (whipped cream that hasn't been stabilized by gelatin, which I chose not to do here, has a tendency to weep and give off liquid if refrigerated over an hour or so).
Recommended Products
As an Amazon Associate and member of other affiliate programs, I earn from qualifying purchases.

Recipe Source: adapted from Willow Bird Baking
Disclaimer: I am a participant in the Amazon Services LLC Associates Program, an affiliate advertising program designed to provide a means for me to earn fees by linking to Amazon.com and affiliated sites. As an Amazon Associate I earn from qualifying purchases.