Dragon Birthday Cake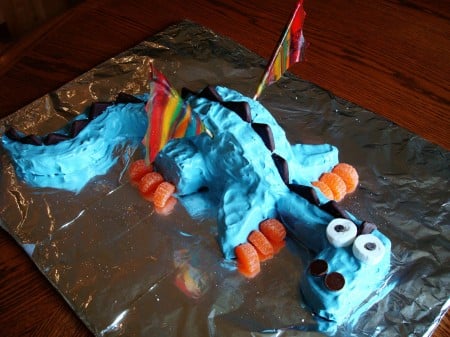 This was my son's birthday cake request for his 4th birthday today.
Actually, he requested a pink and purple dragon but his dad quickly talked him out of it.
For the cake, I used the Classic Yellow Cake recipe from the King Arthur Flour Baker's Companion and it was delicious, but next time I will definitely take the cake out of the oven a few minutes earlier than I did – I thought it was a tad crumbly from being overbaked.
The marshmallow frosting (a.k.a. 7-minute Frosting) was perfect for kids and very yummy, and it is also from the same cookbook.
The cake idea comes from familyfun.com and needless to say my son could have cared less what the cake and frosting were made out of – it was all about the dragon!
Disclaimer: I am a participant in the Amazon Services LLC Associates Program, an affiliate advertising program designed to provide a means for me to earn fees by linking to Amazon.com and affiliated sites. As an Amazon Associate I earn from qualifying purchases.