Giveaway, Baby!
**This contest is now closed! Thanks for entering…**
Are you hot? Dude. I'm hot. And I'm talking the sweaty-variety, sadly, not the smokin'-hot-bod-variety.
I've hit my peak of summer sweat flow which means, clearly, the only solution is for me to start consuming large quantities of ice cream since summer isn't even close to abating yet.
Since I don't want to be alone in my caloric bliss (I currently own a Cuisinart ice Cream maker and l.o.v.e. it), I'm giving away two Cuisinart Ice Cream Makers and two copies of David Lebovitz's widely heralded Ice Cream Bible, if you will: The Perfect Scoop.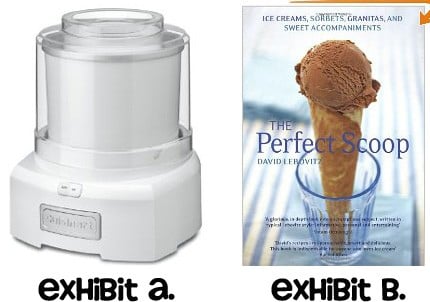 Here's how it works. I'm giving away one Cuisinart Ice Cream Maker and one copy of The Perfect Scoop to a randomly chosen fan on my Facebook page. Another set of goods will be given away to a randomly chosen comment on this post.
To enter (and yes, you can be eligible in both places):
1) leave a comment on this post telling me your favorite ice cream flavor (and don't worry, I'll still love you if you say it is vanilla). Duplicate comments will be deleted so only leave a comment once on this post, pretty please (it may take a few minutes to show up so don't panic if you don't see it immediately).
2) become a fan on Facebook. If you are already a fan, you are automatically entered – sweet! No need to leave a comment/post on Facebook, just become a fan. Easy-peasy.
The contest will close shortly, as in, I will announce the winners tomorrow morning, August 19th. So enter or become a fan quickly!
(This giveaway is not sponsored by Cuisinart or David Lebovitz. I just wanted to share the love for all things ice cream and hope that by doing so good karma will come my way and provide me with the ability to stay sweat-free in 90% humidity. Peace out.)
Disclaimer: I am a participant in the Amazon Services LLC Associates Program, an affiliate advertising program designed to provide a means for me to earn fees by linking to Amazon.com and affiliated sites. As an Amazon Associate I earn from qualifying purchases.