Cuisinart Ice Cream Maker Giveaway! – GIVEAWAY CLOSED
#369 – Ashlee T:  Mel! It's my anniversary today TOO! So fun! Happy 12 years to you guys! We are at a happy 6 yrs! I LOVE chocolate! Melts away life's worries. Never had gelato so I am super excited to try! My family, photography, Ice cream- my loves.
#1,604 – Megan:  Mmm.. I'm partial to chocolate chip cookie dough ice cream, but my husband is the real ice cream/gelato/sorbet/frozen yogurt lover… basically any flavor is his dessert of choice! Happy anniversary!
Thanks to everyone who entered the giveaway; winners have been chosen and notified!
Because I just waxed poetic about my love for gelato and because it's my 12 year anniversary today (what can I say, I want to celebrate! especially since Brian's out of town this week so the extent of my solo celebrating will be eating cookies from the freezer and watching While You Were Sleeping on Netflix), I'm giving away TWO of these fabulous Cuisinart Ice Cream Makers.
Our 12 year old Cuisinart Ice Cream Maker (yep, wedding present) is still going strong and although the description 12 years ago and today doesn't say it is an official gelato-maker (which I get since officially gelato is supposed to be churned more slowly than ice cream), I can attest that it makes a pretty fabulous gelato, too. Not to mention the awesome ice cream, sorbet, and frozen yogurt it churns out.
And can I just say, isn't this blue model a beauty? Wowee. Pretty sure they didn't have this lovie 12 years ago.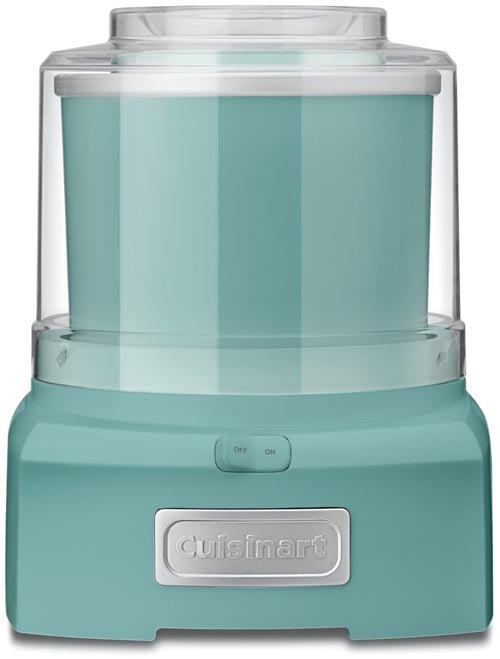 So what are you waiting for? Leave a comment on here telling me your favorite flavor of ice cream, gelato, sorbet or frozen yogurt for a chance to win one of TWO ice cream makers.
Woohoo for homemade frozen treats!
Winner will be chosen sometime later this week so enter fast.
{This giveaway is not sponsored or affiliated with Cuisinart or Amazon; just a fun, spontaneous giveaway sponsored by me.}