Sesame Chicken Stir-Fry
This sesame chicken stir-fry is an easy, healthy meal, packed with flavor and protein and vegetables…and all of it put together in a snap.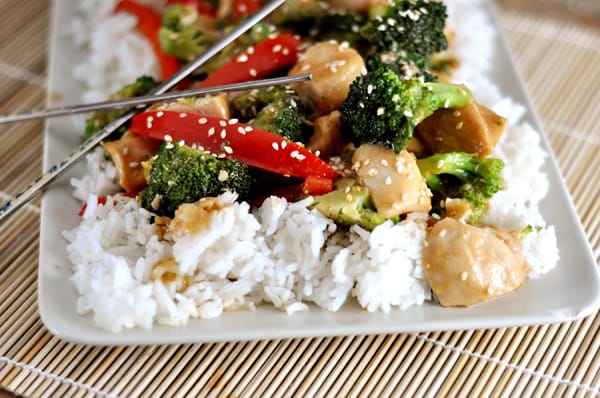 I love a good stir-fry. My mom made it as part of our fairly typical weekly dinner rotation while we were growing up and I never got sick of it.
Funny enough, a few years ago, when all the kids had left home, my mom made stir-fry for her and my dad to eat one night for dinner. Nothing unusual in that. Except that this night, my dad, while eating, turned to my mom and said, "You know, not that it matters, but I don't like stir-fry." I think my mom incredulously replied, "Really? Not at all?? Not ever?" To which my dad restated, "Nope, not at all. I've never really liked it." And then he turned back and finished his meal like a good man who didn't have to prepare his own dinner.
I was laughing my guts out when my mom, also chuckling, told me about his comment (and needless to say, she hasn't made it for the two of them since). Despite my dad's apparent lifelong aversion, I think most of my brothers and sisters and I still enjoy a tasty stir-fry to this day.
This sesame version, chock full of tender, juicy chicken pieces and fresh, bright vegetables, is not only completely delectable, but it is a one-skillet meal (except for the rice, which is technically not really part of the stir-fry) made start-to-finish in just about 30 minutes.
What's not to love? An easy, healthy meal, packed with flavor and protein and vegetables…and all of it put together in a snap. So maybe I wouldn't serve this to my stir-fry-finicky dad (although, I bet you'd like it, Dad!) but the rest of us loved the stuff.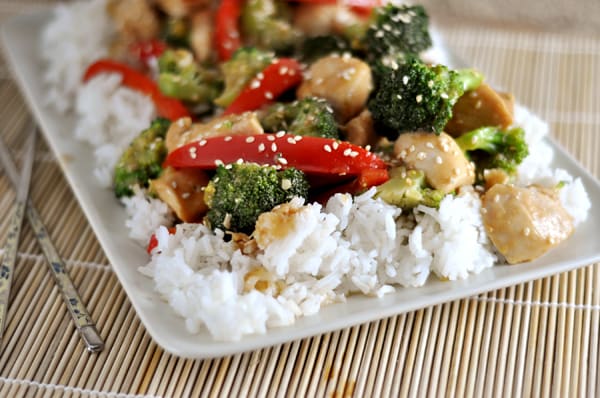 Flatbread (like this Naan, or this Soft Wrap Bread)
A simple green salad (or for something more creamy and cheesy this Creamy Spinach Gratin)
Fresh, seasonal fruit
One Year Ago: Cheesy Au Gratin Potatoes
Two Years Ago: Whole Wheat Oatmeal Chocolate Chip Cookies
Three Years Ago: Sweet and Spicy Slow Cooker Chicken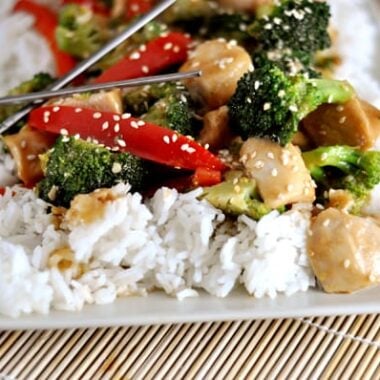 Ingredients
1 1/4 cups low-sodium chicken broth
1/2 cup low-sodium soy sauce
4 tablespoons cornstarch
1 tablespoon sesame oil
1 pound (about 3) boneless, skinless chicken breasts, cut into 1-inch pieces
2 tablespoons canola oil
1 pound broccoli, florets cut into 1-inch pieces, stalks discarded
1 red bell pepper, stemmed, seeded and cut into thin strips
1/2 tablespoon grated fresh ginger
1 tablespoon toasted sesame seeds
Hot cooked rice for serving
Instructions
In a liquid measuring cup, whisk together 1 cup broth, 6 tablespoons soy sauce, 2 tablespoons cornstarch and the sesame oil. In a large bowl, toss the cubed chicken with the remaining 2 tablespoons soy sauce, 2 tablespoons cornstarch and 1 tablespoon oil.
Heat remaining 1 tablespoon oil in a 12-inch nonstick skillet over medium heat until the oil is hot and rippling. Add the chicken mixture and brown the chicken until cooked through, flipping occasionally, about 5-7 minutes. Transfer the chicken to a plate and tent with foil. Set aside.
To the empty skillet add the broccoli and remaining 1/4 cup broth. Cover the skillet and cook until the broccoli begins to soften and turn bright green, about 2 minutes. Uncover the skillet and cook until the liquid evaporates, about 1 minute. Add the bell pepper and cook 3-4 minutes, stirring occasionally. Add ginger and cook until fragrant, about 30 seconds. Whisk the sauce in the liquid measuring cup to recombine and add to the skillet with the chicken and any accumulated juices. Cook, stirring often, until the mixture is bubbly and thickened, about 2 minutes. Sprinkle the mixture with sesame seeds. Serve over hot, cooked rice.
Recommended Products
As an Amazon Associate and member of other affiliate programs, I earn from qualifying purchases.
Recipe Source: adapted from Cook's Country October/November 2011
Disclaimer: I am a participant in the Amazon Services LLC Associates Program, an affiliate advertising program designed to provide a means for me to earn fees by linking to Amazon.com and affiliated sites. As an Amazon Associate I earn from qualifying purchases.