Training Update: Week #15
I feel like maybe I should title this week's update:
How To Train for a Half Marathon in Real Life
or better yet
How Not To Train for a Half Marathon in Real Life
Real life was my best friend, worst enemy and constant companion this week. It wasn't a bad week, necessarily, just so insanely busy and filled with family and work and church and life responsibilities that running became the extra element that seemed impossible to fit in. I don't think any of the workouts I outlined in last week's training update actually happened on the day they were supposed to this week. If running is teaching me anything, it's how to be flexible (or try to).
Here's how it went down.
Monday I needed a two mile run. I was up extra early that morning before the kids woke up crossing off some blogging tasks that were overdue and critical so running took a backseat until that evening when Brian graciously finished cleaning up dinner and picked up the last kid from soccer so I could run a quick (well, not quick in speed but quick in the fact that it was only two miles instead of six) two miles on the treadmill before family night wherein my kids' were taught a lesson from the scriptures by a very sweaty mom.
Tuesday I got a surprise phone call from my mom who lives 10 hours from me saying she was driving in for a 1-day trip to help me sew curtains I've been desperately wanting to make for my kitchen. And read books to the kids because she is the world's greatest grandma after all. Words can't express how excited we were to have her here for even a short time…but it meant no workout today (sewing and chatting with my mom takes precedence over doing squats and lunges any day).

Wednesday was a five miler. My mom was still in town before heading back so I took advantage of that and ran after dropping the kids off at school (while she stayed with the two littles). It was a very windy morning so kind of brutal in that department, but I was glad to cross this one off in the morning since the rest of the day was jam packed with baking 100 cookies for an event, making and taking dinner to a friend who had a baby, teaching my kids piano lessons, attempting to get in my blogging hours, and various other daily responsibilities.
Thursday I woke up at 4:30 a.m. to make it to a 5:15 a.m. 80-minute hot yoga class about 25 minutes from my house. Have you ever done hot yoga? Wow. I've never experienced anything quite like it. Not only was the temperature sweltering (I know, shocker) but it worked muscles I didn't even know I had as evidenced by surprising soreness the next day. I came home and told my boys I literally had sweat dripping from my earlobes and elbows. Their reaction? "Mom, that's stinkin' awesome!" Stinkin' is right. Literally.

Friday I needed to fit in a 3-mile run but thanks to a really late night Thursday + waking up before 5:30 a.m. most mornings this week, I was wiped out and lazily didn't get up in time to get this in before the day started. Again, because it was going to be such a busy day my only choice was to pop Camryn in the jogger, convince Ty to ride his bike (better than pushing them both) and jog to the school where I was signed up to help make popcorn for a fundraiser. Not pictured is Ty crashing on his bike about 30 seconds into the run and it taking me 20 minutes to convince him to get back on and ride. In the end, we made it there, spent a couple hours popping popcorn and got home in time to eat lunch, get Ty to kindergarten, prep my 11-year old for his first scout campout, make five loaves of bread for a friend, try to cram in several hours of needed blogging tasks, and a bunch of other stuff. Not only was it an incomplete 3-mile run (it's only 2 miles to the school and back) but it was split up, one mile there – rest – one mile back. But I had to tell myself it was better than nothing.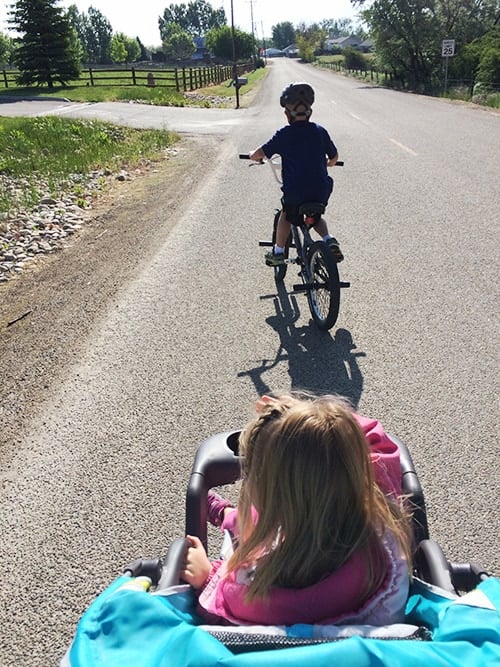 Saturday eight miles was looming over me. I wasn't able to run at 5:30 or 6:00 a.m. like I've normally done with my long runs on Saturdays (get it in before the soccer games take over the world, I like to say!) because Brian was on the campout with Jackson which meant I couldn't leave the four younger kids at home alone and after that we had three soccer games, watched some extra kids for the afternoon, and spent the rest of daylight working our fingers to the bone outside:
Finishing the chicken coop…

Tilling a back pasture for garden, raspberries and grapes (ok, Brian did the tilling but the kids and I did the planting)…

Caring for the chickens (she was finally brave enough to catch one herself for the first time)…

…and about a million other projects like shoveling dirt into trenches, mowing the lawn, weeding flower beds and on and on and on.
All day, while working with the kids, I kept thinking "I have to still run 8 miles, I have to still run 8 miles" and the thought was anxiety-inducing and depressing since I was already pretty worn out from a long day. But since my personality loves a good schedule (or training plan in this case), I was determined to fit it in no matter the time of day. Because my excel spreadsheet said it was to be. So around 7:30 p.m. as Brian herded the children into showers and baths (and unbeknownst to me planted several huge pots with flowers for Mother's Day on the front porch), I headed out.
I can easily say this was my hardest run to date. It was so windy there were times as the wind pushed against me I wasn't sure if I could put one foot in front of the other. It was hot (I'm used to running in the early a.m. when temps are cool) and I felt like no amount of water could quench my thirst while running, I had to pee so bad (sorry, but the truth is the truth) and I was tired. I told myself at the beginning I was going to make it through the whole 8-mile course even if I had to walk it. My pace dropped slower than it has over the last 14 weeks but all said and done, I finished it running (limping, running, half-walking, it's all the same, right?). And oh my goodness, I am so sore, it's indescribable. I even had a kid come up to me at church today and say, "why you walking so funny?" Running at night is a new experience for me and as lame as it sounds, I could barely sleep Saturday night because my muscles were aching so badly. I think I better stick to morning runs when possible so my muscles can work their issues out throughout the day.
So there you have it. More details than you needed but a good record for me to keep and read back to myself in future weeks. It was real life this week. My life. A blessed and busy life and I did my best to make it all work.

Coming Up This Week
This week is a lighter running week (hallelujah!).
-4 miles Monday
-Weights/Toning on Tuesday
-3 miles Wednesday
-3 miles Thursday
-Yoga/stretching on Friday
-4 miles Saturday
Hopefully I'll be able to tackle these shorter runs in the early a.m. this week. We shall see. I can't believe this half marathon is only five weeks away!
A Few Last Thoughts + Questions
-Now that the weather is warming up and knowing I may run later in the day, the heat is a factor not to be taken lightly. I haven't needed a lot of water on my runs so far since I usually run when it's between 40-50 degrees but running on Saturday in the 75+ range (I know, I know, it's all relative to you living in legitimately hot climates) about killed me. I was grateful for my water belt and realized how important it is to stay hydrated before running, too. Any other tips for running in warmer temps?
-I'm happy to say that thanks to your recommendations on body glide stuff, chafing is being held to a minimum. I also bought some running shorts off Amazon (risky not trying them on in person but they fit well so that's a bonus) and they were a lifesaver in the warmer temps instead of wearing my capri-length (or ankle length) workout pants. Also, I liked the ones I bought since they're an inch or so longer than many other running shorts and these 37-year old mommy thighs don't necessarily need baring to the world, if you know what I mean.
-I think I'm half-crazy (get it?) but I'm signing up for a second half marathon at the end of August (this one). I know I should probably wait to see how the first one goes in June, but there have been a lot of women I know in my area that have asked me about running and maybe because I can't shut my mouth, it's turned into a group interested in getting into shape, running together, and training for their 1st half-marathon over the summer. So. Yeah. Who am I and how did I get here?
-Also, for those of you running the Utah Valley Half Marathon in June, stay tuned next week for a few more details on meeting up after the race!
As always, I LOVE hearing how you're running/exercise week went! Tell me I'm not the only one who ran in the midst of a very real, very crazy life.
And thank you, in so many ways, for being here and supporting me and offering your thoughts and advice and just letting me vent and talk and blab on and on about my running experiences. I know I'm not the first person in the history of ever to run or train for a big race…thank you for not minimizing this experience for me and for buoying up my spirits every step of the way. I've commented to Brian a dozen times since this all started that I would be lost without my little virtual running community. You guys rock.
Disclaimer: I am a participant in the Amazon Services LLC Associates Program, an affiliate advertising program designed to provide a means for me to earn fees by linking to Amazon.com and affiliated sites. As an Amazon Associate I earn from qualifying purchases.