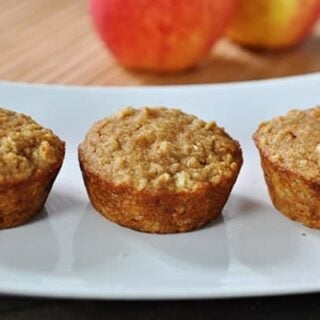 Ingredients
1 cup (3.75 ounces) rolled/old-fashioned oats
1 cup (8 ounces) unsweetened applesauce
1/2 cup milk
1 large egg
1 teaspoon vanilla
4 tablespoons butter or coconut oil, melted
1/3 cup (2.5 ounces) sugar
3/4 cup (3.75 ounces) whole wheat flour
1 teaspoon baking powder
1/2 teaspoon baking soda
1 teaspoon cinnamon
1/4 teaspoon salt
1/2 cup dried cranberries or raisins, optional
Instructions
Preheat the oven to 375 degrees F. Line a 12-cup muffin tin with liners or grease the muffin cups. Set aside..
In a medium bowl, stir together the oatmeal, applesauce, milk, egg, vanilla, butter and sugar. Set aside.
In a large bowl, whisk together the flour, baking powder, baking soda, cinnamon and salt (and cranberries or raisins if using). Make a well in the center and pour in the applesauce mixture. Stir until just combined (don't overmix or the muffins will be dense and dry). The muffin batter texture might be a bit different (wetter?) than other muffin batters but no fear, carry on!
Distribute the batter evenly among the 12 muffin cups. Bake for 15-20 minutes until a toothpick inserted in the center comes out clean. Don't overbake or the muffins will be dry.
Remove the muffins to a rack to cool completely. Once cool, I place 6-9 muffins in a large freezer ziploc bag, suck all the air out (oh yes I do) and seal the bag, then freeze, pulling them out one by one to stick in my kids lunches or warm slightly for a snack.
Notes