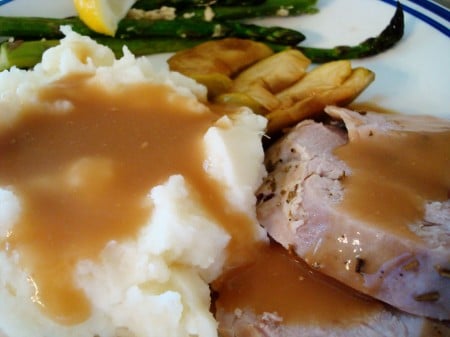 Easter dinner was a success, considering I made several recipes I had never tried before and served them to company. Risky.
We had my husband's two sisters' and their husbands and families here and it made for a large crowd and fun day.
I'll share two recipes now and save the other two (a delicious cilantro lime salad and fabulous carrot cake) for later. And trust me, you don't want to miss out on those recipes – I was licking the plate after both were served!
As for today, the pork tenderloin was phenomenal – the most tender pork I've ever eaten and it had a delicious rosemary and garlic flavor. Plus I had enough left over to shred and look forward to making a version of the Honey Lime Enchiladas. Can't wait!
The baked apples were tender and sweet and tart. My husband actually used the glaze from the apples on his pork and loved it. And finally, the asparagus…the recipe, a Barefoot Contessa original, comes recommended by Leigh Anne at Your Home Based Mom and it is now my preferred way to eat asparagus. Yum!
Pork Tenderloin with Baked Apples
Ingredients
5 pounds pork tenderloin
1 teaspoon salt
1/8 teaspoon garlic salt
1/8 teaspoon seasoning salt
dash black pepper
1/2 teaspoon rosemary
1 cup water
4 Granny Smith apples, sliced
1 cup brown sugar
4 tablespoons butter, melted
Instructions
Place pork in roasting pan. Make seasoning by mixing together salt, garlic salt, seasoning salt, pepper and rosemary. Lightly sprinkle seasoning mixture over pork. Cook in preheated oven at 350 degrees for about 30 minutes or until brown, then add 1 cup water. Cover with foil and cook for another 1 1/2 hours at 225 degrees. Pull out of oven and let sit about 10 minutes before slicing (I let mine sit covered in foil up to 30 minutes while I pulled dinner together and it was still nice and hot).
To make gravy, drain meat juices into pot. In a bowl, mix together 1/2 cup water and cornstarch until smooth. Slowly add to pork juices, stirring constantly over medium-low heat. To thicken gravy, add more cornstarch mixture until gravy reaches desired consistency. (The gravy was my one problem – I didn't have enough pan juices to make enough gravy so I had to improvise and use some packaged gravy mix. Added to the pan juices it turned out quite good.)
To make baked apples, lay apple slices on greased sheet pan. Sprinkle with brown sugar first, then dribble with melted butter. Cook in preheated oven at 325 degrees for about 15 minutes or until brown.
Serve pork slices with baked apples and gravy. Makes 12 servings.
Roasted Parmesan Asparagus
Ingredients
2 1/2 pounds fresh asparagus (about 30 large)
2 tablespoons good olive oil
1/2 teaspoon kosher salt
1/4 teaspoon freshly ground black pepper
1/2 cup freshly grated Parmesan
2 lemons cut in wedges, for serving
Instructions
Preheat the oven to 400 degrees F.
If the stalks of the asparagus are thick, peel the bottom 1/2 of each. Lay them in a single layer on a sheet pan and drizzle with olive oil. Sprinkle with salt and pepper. Roast for 15 to 20 minutes, until tender. Sprinkle with the Parmesan and return to the oven for another minute. Serve with lemon wedges.
Recipe Source: from Lion House Entertaining