Herein you will find the things I can't live without in my kitchen. The links provided will, in most cases, give you the brand I own (if it is available still); the only affiliate links are those from Amazon if I've actually ordered the product from there. If you don't see something on the list and you are curious if I have a brand preference or own it, leave a comment and ask. Usually if it's not listed on here it is because I don't have a great recommendation to give you.
Baking Equipment


1. These perfectly-sized Bread Bags have been a lifesaver instead of me trying to stuff a whole loaf of bread in a too-small bag. Love them, love them, love them. I buy them from King Arthur Flour but you may be able to find the equivalent size elsewhere.
2. These are my favorite bread pans from Chicago Metallic because they don't over-darken the crust while baking and the bread slides right out after I lightly grease the pans. The folded metal is a little annoying because I have to make sure I really dry it out so it doesn't rust, but even with that quirk, I love these babies. I use the 1-pound, 8 1/2-inch by 4 1/2-inch pans.
3. My favorite circle and square baking pans come from Wilton. I prefer the 9-inch round pans and the 8-inch square pans. They are durable and great quality and pretty reasonably priced, if you ask me.
4. While I am far from a pie expert, I have this silicone pie shield from Norpro and it has saved me from saying many a bad word as I've tried to fold foil over the edges of my pie crust to prevent burning. It's inexpensive and completely worth it in my book.
5. A must for any kitchen, I use these sheet pans for cookie baking, dinner rolls, cinnamon rolls, large batches of brownies – you name it. Honestly, they are the handiest pans to have around. I have always bought them in a 2-pack at Sam's Club (for about $9 or $10) but if you don't have a membership, these ones on amazon look like the same brand.
6. The perfect accompaniment to the above sheet pans is the almighty silpat liner. I have two and I can't live without them. I bake all my cookies on them as well as my dinner rolls. I've had both of my silpat liners for over 5 years now and they are holding up splendidly.
7. Homemade pizza is on the menu every Saturday night and this large-and-in-charge pizza stone makes my life wonderful on pizza night. It's much bigger than any other I've seen and I can often fit two pizzas to bake at once. Love it.
8. Basic muffin tins. These are economical – I own two pans – and are perfectly nonstick without being so dark they burn the cute lil' muffins I make.
9. Based on the number of cheesecake recipes I make and love, a springform pan is used quite a bit in my kitchen. I own a 9-inch and a 10-inch. My 10-inch pan is no longer made (it's a cheap-o variety) but I have this 9-inch pan and really like it.
10. Parchment paper = the love of my life. And not all brands are created equal. This ultra-durable, thick, high-quality parchment from King Arthur Flour is awesome. It's reusable (meaning, I can cook several batches of cookies on one sheet) and I cry when I run out of it – it's that special.

Cookware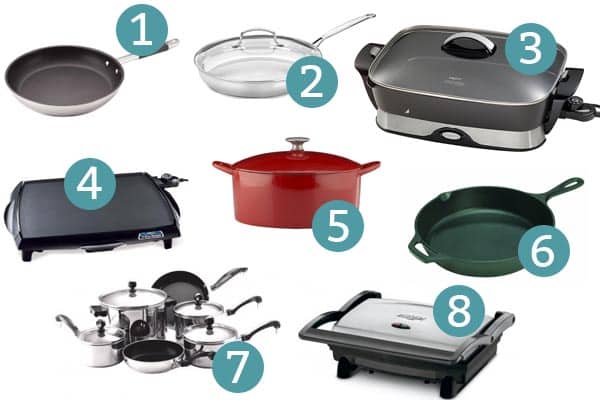 1. My 12-inch skillet is a lifesaver. I use it for all of my skillet meals as well as general sauteing and browning. It is the main skillet I use. I have the nonstick Farberware version with a lid.
2. While I use my nonstick skillet (above) most of the time, I love the classic stainless steel skillet for those times when a) I need two skillets going at the same time and b) a really good sear on a piece of meat that can't be done with nonstick. This is the one I have.
3. I learned to love my electric skillet when we were living out of a hotel for nearly 8 weeks. However, I still use it all the time now that we are settled into a real house. It's perfect for when I need to make a large batch of just about any skillet meal. Or when I'm throwing things in for an epic fried rice feast. Plus, it's a great option for potlucks and the like since it can plug in and stay warm.
4. Pancakes, soft wrap bread, french toast, grilled cheese – I use my large griddle constantly.
5. I bought this enameled cast iron pot over 5 years ago when my Aunt Marilyn told me I needed to get one to make no-knead bread. I haven't looked back. While I don't use it every day, it's great for large batches of soup, the no-knead bread, and for frying donuts and eggrolls. I own the Mario Batali brand – I don't have a Le Crueset to compare with but I'm totally and completely in love with the brand I have.
6. Ah, the almighty cast iron skillet. So versatile. I use it for most anything that I'm searing on the stovetop and then throwing in the oven. But if I'm being honest, the main use I get out of it is baking cookie dough for the perfect warm, gooey skillet cookie.
7. I know there are higher-ranked cookware sets on the market. And trust me, I have the All-clad set on my wish list, but the fact that it runs in the thousands of dollars means it will probably never find a home in my kitchen. For years (like 8 or so), I've been using this Farberware 18/10 Stainless Steel set and honestly, it is fantastic (although I really only use the pots, not the skillets). The pots are well constructed and heavy-bottomed enough to make caramels and candy without burning. You've served me well, Farberware!
8. This panini press is used several times a week in our house – for paninis but also for a quick grilled cheese for lunch. It is fast, reliable and honestly one of my favorite things to cook with.
Utensils/Gadgets


1. A great garlic press is so essential. Freshly minced garlic can make a world of difference in flavor and I use it a lot in my recipes. However, there are a lot of really poor garlic presses. This one is my favorite and I've been using it in my kitchen for several years.
2.  A bamboo salt box is perfect for filling with kosher salt and keeping right by the stove/prep area to season your foods. I love this box because the lid swings open for easy access to the salt. Pinching a little kosher salt and throwing it in to my dish makes me feel like a pro.
3. Butter crocks are amazing. Totally old school and totally awesome. Basically, butter stays at room temperature on your counter and can stay fresh for a few weeks if you replace the water in the crock every 2-3 days. Butter crock = life changing. How nice is it to have spreadable butter at your fingertips?
4. I use this citrus reamer all the time. It's faster and easier than pulling out my juicer. I have this exact one from Crate and Barrel. It's about $4 but I know you can find these about anywhere.
5.  A fine mesh strainer is a must, I'd say. From sifting flour and other dry ingredients together and also for straining puddings and custards and frostings to get a satiny smooth product. I have these in various sizes (small, medium, large). You can find them inexpensively at stores like Walmart and Target, too.
6. This little scoop I've had for at least eight years. It is used often. As in, everytime I make drop cookies, which is more than I should admit. You can't go wrong with this, plus it does't have one of those latches that springs open and is hard to get back on like a lot of other cookie scoops.
7.  A microplane is essential for grating citrus zest. I also use it to grate nutmeg. I can safely say I use this, oh, 3.78 times a week.
8. A bench scraper is so handy! I use this for separating my rolls into pieces, bread dough into loaves, for scraping up my counter when I've rolled out a pie crust or something and have tons of hard things stuck all over it that the wash rag has no chance of getting.
9. I am sure that everyone owns these bowls but I have to give a shout out since I use them.all.the.time. They are the first bowls I look for when I need to mix anything. And I cry when they are dirty.
10.  Is it wrong to love a spatula so much? I heart my offset spatula. It is unsurpassed for decorating cakes, spreading frosting on sugar cookies, and so many other things. It is much, much easier to use and make things look good than using a flat spatula.
11. A kitchen scale is so helpful to have around. I use it mostly to weigh chocolate for recipes and also for any recipe that gives weight measures in addition to cup measures. Handy, handy, handy! I have this one – besides the annoyance that the lettering has worn off on the main button, it's a great scale.
12. It might seem like a silly thing, but I didn't realize how much I needed nesting circle cutters until I actually had them. Life changing. I use these for biscuits, cookies, donuts and a hundred other things. So nice to have varying sizes because you never know when you'll need a 3 1/6th cutter.
13. I use the citrus reamer (mentioned in #4) when juicing a little bit of lime or lemon here and there but this press is amazing at getting every speck of juice out of lemon/lime halves – great for marinades or recipes that call for more than a tablespoon or so of juice. My citrus press is Pampered Chef and I love it (you can find a consultant in your area from their main website) but there are some good looking brands on Amazon, too.
14. Have you used these liquid measures where the measurements are visible when you look down into the cup? They are awesome. I have several different sizes and use them all the time. I'll never be able to go back to the old school glass liquid measures with the red writing. (I have the Pampered Chef brand, so again, like #13, you can find a consultant, or find similar brands of these online – although I highly recommend the Pampered chef ones).
15. I used a knife set from Sam's Club for years (they were great) while having my eye on a super expensive set. Realizing I'd probably never be willing to fork over thousands of dollars for knives, Brian gifted me these colorful Komachi knives and I love them. Love, love, love them. They are pretty much the only knives I use these days (the key is keeping them sharp, just like any knife – so if you don't have one, consider getting a knife sharpener to keep them in tip top shape).
16. My kitchen torch makes me feel like a rock star. I've owned several cooking torches but highly, highly recommend the Iwatani brand (it made a huge difference in my creme brulee actually looking like, well, creme brulee on top).
17. I get asked a lot about what candy thermometer I'd recommend (not picture above) and I can tell you that having owned at least 15 different models, I highly, highly recommend this digital one. It has never failed me (whereas some of the dial ones and old-school bulb ones have been disastrous; numbers wearing off, temperature discrepancies up to 15 degrees). I test it often, comparing it with the temp registering on my thermapen (which I also love and use every day – for homemade yogurt, checking the temperature of meat, etc.) and the temperature of this candy thermometer is always spot on.
Appliances


1. I am such a huge fan of Bosch mixers (you'll know that if you've been around here for very long). I've had mine for over 10 years and it's still going strong. After my children, it's the first thing I'll save in a fire. The cookie paddles are like icing on the cake.
2. I resisted getting a food processor for a long time but having had one for the last year or so, I can safely say, I should never have waited so long. Yes, it's a pain to clean (so…many…parts) but is so worth it when it comes to pie crusts and biscuits and hummus and refried beans…and well, the list goes on and on.
3. I'm just now getting into the world of pressure cooking. It kind of scared me for a while (and still does a bit) but with this bad boy by my side, I'm cranking out all sorts of pressure cooker deliciousness. I know there are cheaper models with fairly good reviews, but I knew that I wanted the best of the best for my pressure cooking ventures (which is why it took me longer to get one as I was carefully saving my money). This thing is solid, safe and pretty much awesome. Just a quick note about electric pressure cookers – I really debated about getting one but in the end, size won out. I knew I'd be using a pressure cooker for feeding, at the very least, my family but most likely doubling recipes for company or to freeze and there aren't any electric models larger than 6 quart, which is quite small (maybe enough for my family of 7 but not big enough for company). If you are shopping around for a pressure cooker, definitely keep the size in mind. A 7- to 8- quart will feed about 6-8 people whereas a 6-quart will feed 4-6.
4. This is my baby. Well, not really, but you know what I mean. Expensive, but worth it to me (especially since I saved my pennies for a long time). I can leave it on my counter. I use it daily. No exaggeration. It doesn't get flour everywhere and it grinds all sorts of grains and wheat pretty darn quickly. Here's a link to where you can purchase (the company I purchased mine from several years ago is no longer in business – note that when you follow the link, I have the Komo Fidibus Classic mill).
5. For a long time, I wondered what the big deal was about all these new, powerful blenders on the market (Blendtec and Vitamix) and then my generous parents bestowed a Blendtec upon us for Christmas several years ago and I was immediately sold on it's prowess. I pull out my Blendtec (ok, it actually sits on my counter) nearly daily for pancake batter, smoothies, grinding fresh bread crumbs, thick dips like hummus, ice cream, and nearly anything under the sun. While spendy, if you can swing it, this is a powerful and very well-rounded appliance to have around.