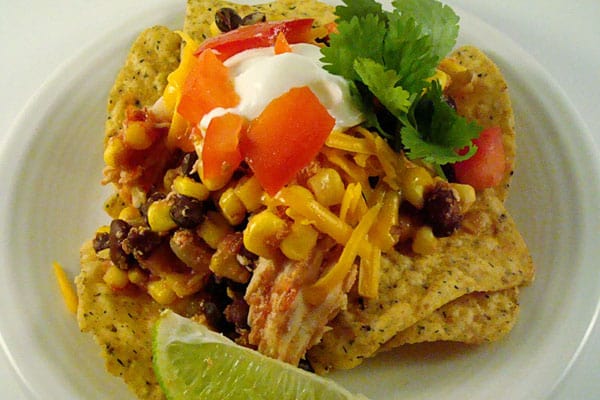 If the stress of the upcoming Thanksgiving holiday has you, well…stressed and you need a quick no-fuss meal, look no further. Four ingredients tossed in the crockpot and cooked to tender perfection, then smothered in delicious toppings such as lettuce, avocado, tomatoes, sour cream and cheese and all on a bed of tortilla chips. Seriously, you can't get much easier, more delicious and more kid-friendly than this.
I make this meal all the time on those days when dinner just isn't in the cards and I've had the forethought to pull out the crockpot and let it do the work for me. We love this meal in our family and the chicken-bean filling would be delicious in quesadillas or burritos as well.
Have a really fantastic Thanksgiving holiday and be sure to check back here on Monday – you won't believe what will be starting.
I'll give you a hint: Sugar Rush.
Slow Cooker Southwest Chicken Stacks
Ingredients
2 cups frozen corn
1 can black beans, rinsed and drained
2 large frozen boneless, skinless chicken breasts (about 1 pound)
1 1/2 cups salsa
Directions
Lightly grease the bottom and sides of the slow cooker. Pour frozen corn into the bottom of the slow cooker and place the frozen chicken breasts on top. Cover with beans and salsa. Cover slow cooker and cook on low for 6 hours. Remove chicken from slow cooker and shred with forks. Return to the slow cooker and stir until the chicken, corn, beans and salsa are combined.
Serve on a bed of tortilla chips and top with additional garnishes: lettuce, tomato, avocado, sour cream, cheese, cilantro, lime wedges, etc.
http://www.melskitchencafe.com/slow-cooker-southwest-chicken-stacks/
Printed from Mel's Kitchen Cafe (www.melskitchencafe.com)
Recipe Source: from my sister-in-law Erin