These asian chicken wraps are beyond simple, but still manage to be extremely satisfying and they come together in a snap!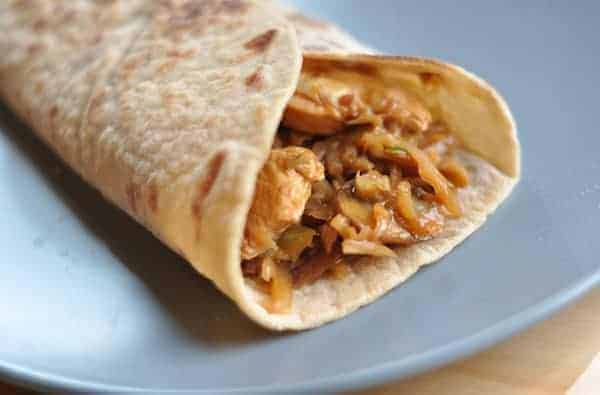 I've been wildly in love with these soft wrap breads ever since I made them nearly a year ago (and many, many times since).
We've filled them with everything from chicken gyros to simple ham and turkey sandwich items and then turned them around and made them into mini-pizzas. They are versatile little guys, that is for sure.
After my decadent post last week, I feel like I kind of owe you a healthy, simple meal and these Asian Chicken Wraps turned out to be another delicious way to fill the soft wrap bread. So delicious, I've made them at least three times in the last few months.
They come together in a snap (assuming you have the bread made…but you can also use flour tortillas in a pinch) and the filling is simple yet so very tasty.
I love the Asian flavors of hoisin and soy sauce and combined with the hearty cabbage and tender chicken, this meal manages to be extremely satisfying and deliciously yummy. In fact, I may or may not have been licking my fingers and my plate after the meal. I'm classy like that.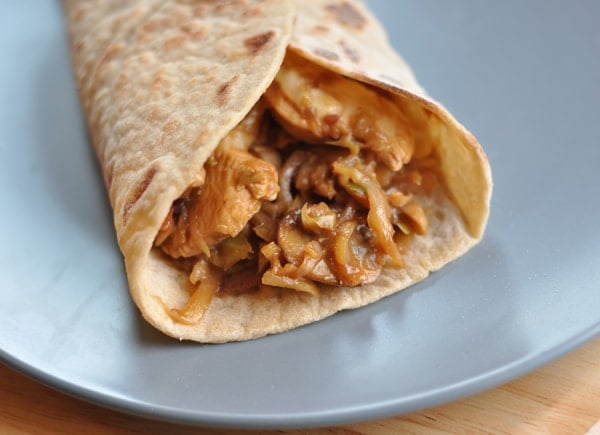 Green Salad
Fresh fruit or a light fruit salad like this Honey Lime Fruit Salad
Hummus with chips or crackers
One Year Ago: Cheesy Broccoli and Rice Casserole
Yield: 4-6 servings

Prep Time: 10 minutes

Cook Time: 12 minutes

Total Time: 22 minutes
Ingredients
Chicken:
2 tablespoons low-sodium soy sauce
1 ½ tablespoons rice vinegar
2 teaspoons cornstarch
3 (about 1 1/2 pounds) boneless, skinless chicken breasts, cut into thin, 1/2-inch, strips
1 tablespoon olive oil
Vegetables:
1 tablespoon olive oil
8 ounces cups sliced white button mushrooms
3 green onions, white and green parts, chopped
2 garlic cloves, finely minced
4 cups sliced cabbage or coleslaw mix
2 tablespoons low-sodium soy sauce
2 tablespoons hoisin sauce
4-6 soft wrap breads or flour tortillas, slightly warmed
Instructions
For the chicken, mix the soy sauce, rice vinegar and cornstarch in a small bowl. Add the chicken strips and mix to thoroughly coat the chicken. Heat the oil in a large skillet over medium heat. Add the chicken and cook, stirring often until it is cooked through, about 4-5 minutes. Transfer to a plate and set aside.
For the vegetables, heat the oil in the same skillet over medium heat. Add the mushrooms and cook, stirring often, until they begin to brown, about 3 minutes. Stir in the green onions and the garlic, and cook until the garlic is fragrant, about 30 seconds. Stir in the coleslaw mix or cabbage and soy sauce. Add the chicken. Cook, stirring often, until the coleslaw is slightly wilted but still has a bit of crunch, and the mixture is heated through, about 3 minutes. Stir in the hoisin sauce. Serve immediately, rolling up the mixture in soft wrap bread or flour tortillas.
Recommended Products
As an Amazon Associate and member of other affiliate programs, I earn from qualifying purchases.

Recipe Source: loosely based on a recipe from Art Smith