Berries on a Cloud {Best Dessert of the Summer!}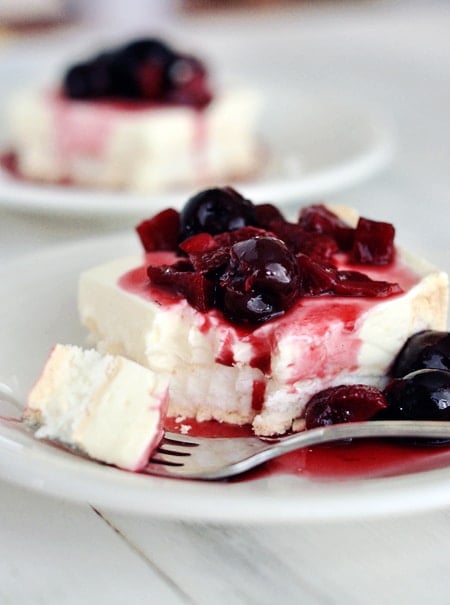 I have so much to say about this dessert. And so little time. (It's summer. School's out. My 5 kids need stuff. From me. My life is not my own.)
So let's get down to the nitty gritty.
I have never made meringue in all my existence. It doesn't speak to me. Or at least it hasn't spoken to me in the past. I guess I haven't understood the appeal of crunchy egg whites. I know. I need to get out more.
But when my friend, Ursala, sent me this recipe, it intrigued me. Enough to spend the last month making it 5 times to perfect it. I'm not kidding.
I love you guys so much I'm unwilling to give you a less-than-perfect perfect summer dessert.
So I made this over and over and over to get it just right. My belly has most definitely had enough meringue to last a lifetime, although, I haven't heard any official complaints yet which must be a sign that this dessert is good.
I'm a total meringue convert now. At least in applications like this.
Although the recipe may seem intimidating, it's actually a no-brainer if you want a perfect light, creamy summer dessert that can be made ahead of time.
In fact it needs to be made ahead of time and happens to be completely dreamy for those occasions when you don't have time to throw together dessert the day of.
I even included step-by-step photos of the meringue-making process to really, really, really convince you that this dessert should be part of your life.
While the meringue itself (it's the bottom layer in those pictures, by the way) isn't anything special on its own, something extremely magical happens when it is topped with the creamy, lighter-than-cheesecake-but-kinda-the-same mixture.
Resting in the refrigerator for a couple hours softens the meringue into an ethereal texture not unlike eating a spoonful of puffy white clouds; hence the name.
The entire combination of fluffy meringue, luxurious whipped cream cheese cream (I can't figure out a better way to say that), and easy, homemade cherry/strawberry syrup is absolutely amazing.
It's quite remarkable that even after this dessert showed up five times over a short time period, there were still oohs and aahs at the table.
On one of the occasions, I had Brian take two pans of it to an activity with a bunch of teenagers and reports are that several of the youth who shall remain nameless went back for thirds.
It's elegant enough to serve for a dinner party or for hoity-toity entertaining but simple and delicious enough to make for the fam or for a low-key occasion.
While you ponder how quickly you can feasibly make this, I will ponder why I have the utter inability to be concise (remember how in the first paragraph I declared I needed to make this short and sweet)?
My children have now raided the pantry, refrigerator and my secret stash of chocolate chips (how did they get up there without me seeing?). That's what I get.
However, losing my hoard of instant-therapy will be worth it if you make this. Gotta run. Literally.
One Year Ago: Black Bottom Pudding Pie
Two Years Ago: Caramel Brownies
Three Years Ago: Asian Noodle Salad
Berries on a Cloud Dessert
Yield: 6-8 servings

Prep Time: 15 minutes

Cook Time: 1 hour 15 minutes

Additional Time: 16 hours

Total Time: 17 hours 30 minutes
Ingredients
Meringue:
6 large egg whites
1/2 teaspoon cream of tartar
1/4 teaspoon salt
1 1/2 cups granulated sugar
Topping:
8 ounces cream cheese, softened
1 1/4 cups powdered sugar
1 teaspoon vanilla
2 cups heavy whipping cream
Berry Topping:
16 ounces frozen sweet cherries
1/2 cup sugar
3/4 cup cold water
1 tablespoon fresh lemon juice
1 tablespoon cornstarch
2 cups sliced fresh strawberries
Instructions
Preheat the oven to 275 degrees F. In a large bowl, beat the egg whites with the cream of tartar and salt until foamy. While beating at high speed, gradually add the sugar one tablespoon or so at a time until it has been incorporated. Continue beating until the whites form stiff peaks. Don't underbeat or the meringue won't set up correctly.
Lightly grease a 9X13-inch baking pan. Spread the meringue mixture evenly into the pan. Bake for 1 hour. Turn the oven off and let the pan of meringue sit in the oven overnight (or for 10-12 hours).
Around the same time as the meringue, prepare the berry topping (so it has time to cool in the refrigerator). In a medium saucepan, combine the cherries, sugar, water, lemon juice and cornstarch. Over medium-low heat, bring the mixture to a simmer and cook for 10-20 minutes until slightly thickened. Pour the mixture into a bowl and let cool at room temperature for 20-30 minutes. Stir in the sliced strawberries. Cover, and refrigerate until ready to serve.
At least 4-6 hours before serving, remove the meringue from the oven. In a medium bowl, whip the cream cheese, powdered sugar and vanilla together until smooth. Pour in the whipping cream and starting on low speed (so the cream doesn't splatter everywhere), whip the mixture together until it is thick and fluffy, 5-7 minutes. Spread the cream cheese topping over the cooled meringue.
Cover and refrigerate for at least 4 hours or up to overnight.
When ready to serve, cut the dessert into pieces and top with a spoonful of the berry mixture.
Notes
Meringue: the meringue part of this dessert may seem intimidating but let me assure you it is seriously easy (see the step-by-step photos below the recipe; keep in mind I halved the recipe for the photos which is why the pan size in the pictures is smaller than a 9X13).

Make Ahead: the great thing about this dessert is that the meringue can be made 2 days in advance, topped with the cream cheese filling up to 24 hours in advance and refrigerated and the berry mixture can be made one day ahead also. It is hands down one of my favorite desserts of the summer!
Recommended Products
As an Amazon Associate and member of other affiliate programs, I earn from qualifying purchases.

Recipe Source: sent to me by my friend, Ursala, adapted from Betty Crocker (reduced sugar in both the meringue and the filling, altered the cherry filling to use frozen cherries instead of pie filling, omitted the marshmallows – seriously, too much sweetness – and increased the cream cheese)