Chocolate Chip Peanut Butter and Oatmeal Cookies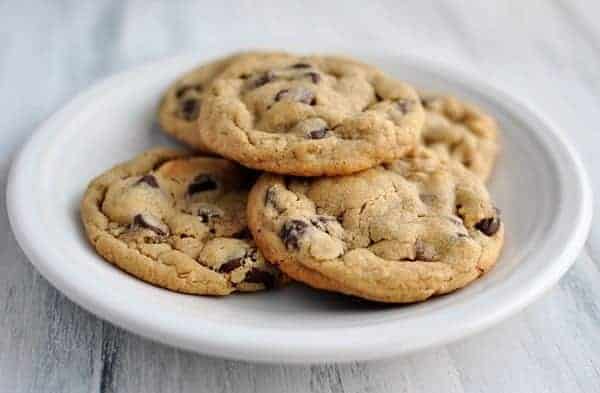 I just want all of you to know at the outset of this post that if you've ever hidden your little self away to eat a cookie so delicious it brings you to tears just so that you won't have to share it OR even if you've had the thought to do that but never acted on it (good for you, you valiant soul), then you are welcome here.
Here at my blog. A blog of no judging. No condescending stares. Just open arms to welcome you. You and your cookie hiding spot(s).
These cookies? Well, I'm telling you here and now that if you make them, you better make sure you have a darn good hiding spot ready because they are impossible to stop eating.
It's no exaggeration to say they have catapulted to my new favorite cookie, which is saying a lot since I really, really love cookies.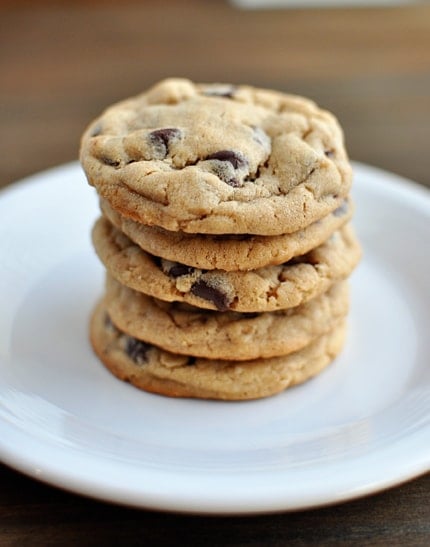 While the recipe name suggests the cookie might be loaded with oats, in actuality, the oats are nearly undetectable in these babies, but are strictly necessary for structure and for the very slight hint of hearty oaty-ness you get from them.
Combined with the peanut butter and classic chocolate chip cookie flavors, these cookies are simply stellar. A cross between these favorite oatmeal cookies and these perfect peanut butter cookies (and yet still entirely unique unto themselves!) – I'm afraid my hiding spot of choice may not be able to hold me and all my cookies. (Or maybe me and the result of all my cookies…)
My good friend and old neighbor, Sara, sent me the recipe, and when she prefaced the recipe by saying she was hiding in a closet eating one or three while her kids downed a healthy breakfast of oatmeal, I knew I had to make them.
I mean, closet-cookie-eating means the cookies have to be good, right…and for breakfast? Even better.
Mostly, I was relieved to know that someone else I judge to be a wonderful, normal human being also hides in dark places to eat cookies.
My whole life was justified in that moment. Thanks, Sara!
One Year Ago: Pumpkin Cookies with Caramel Frosting
Two Years Ago: White Bean and Tuna Salad
Three Years Ago: Thanksgiving Dinner 101
Chocolate Chip Peanut Butter and Oatmeal Cookies
Yield: 2-3 dozen

Prep Time: 15 minutes

Cook Time: 12 minutes

Total Time: 27 minutes
Ingredients
1 cup (2 sticks) butter
1 cup peanut butter
1 cup packed light brown sugar
1 cup granulated sugar
1 teaspoon vanilla
2 large eggs
2 cups all-purpose flour
1 cup quick rolled oats
2 teaspoons baking soda
1 teaspoon salt
12-ounce bag semisweet or milk chocolate chips
Instructions
Preheat oven to 350 degrees F.
In a large bowl with an electric handheld mixer or in the bowl of a stand mixer, cream together the butter, peanut butter, brown sugar and granulated sugar. Add the vanilla and eggs and mix until the batter is light in color, 2-3 minutes. Stir in the flour, oatmeal, baking soda and salt. When it is mostly combined but there are still dry spots, add the chocolate chips and mix until well combined.
Scoop out tablespoon-sized balls of dough onto a lined baking sheet (with parchment, silpat or coated with cooking spray), spacing the cookies 1-2 inches apart. Bake for 10-12 minutes until very lightly browned and still soft in the center. Remove the cookies to a cooling rack to cool completely.
Recipe Source: from my friend Sara P.