Cookie Dough Topped Brownies
Could there be a more divine combination than cookie dough and brownie? These cookie dough topped brownies are crowd-pleasing brownies.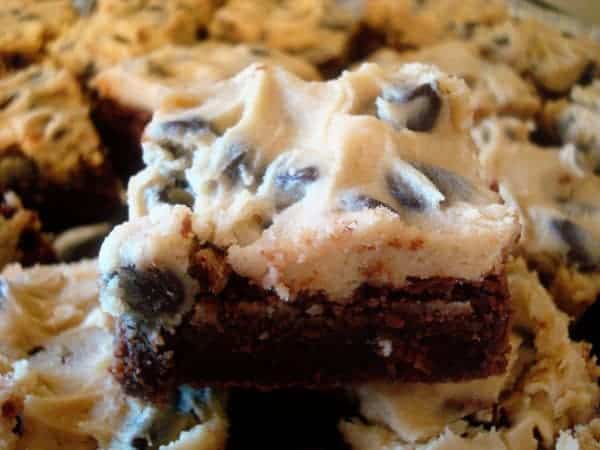 Cookie Dough. Brownies. Could there be a more divine combination? I'm not sure there can. Jenn, a blogging friend, sent me this recipe in an email stating, "Have these brownies infiltrated Utah yet?"
I knew I had to try them, even though I had never heard of them, and am I ever glad she introduced me to these beauties!
The recipe comes from Taste of Home and is originally called Two-Toned Brownies.
I have made them several times in the last two months and have adapted them more to my tastes, which is why I thought the name Cookie Dough Topped Brownies was more apt (and more enticing!).
I changed the brownie layer (using this one) since I wasn't crazy about the brownie result from the original recipe the first time I tried them. I also altered the cookie dough layer to be a bit more spreadable.
Overall, these brownies have been a hit every time I've taken them to a gathering.
The brownies are fudgey and moist and the cookie dough layer is like the perfect icing on the cake (or brownie, I should say).
Definitely a go-to recipe for great, crowd-pleasing brownies.
Cookie Dough Topped Brownies
Yield: 9X13-inch pan

Prep Time: 15 minutes

Cook Time: 30 minutes

Total Time: 45 minutes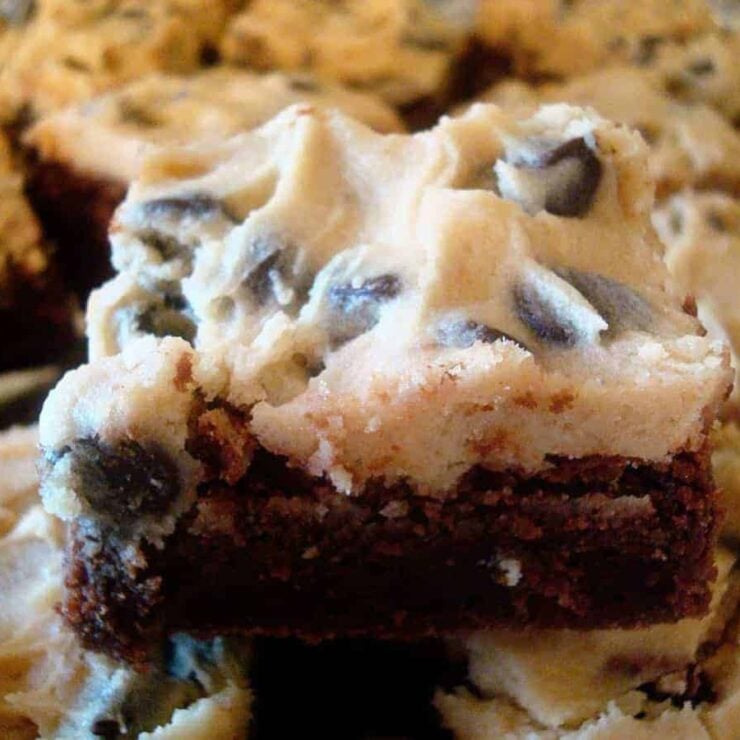 Ingredients
Brownie Layer:
1 12-ounce bag semi-sweet chocolate chips
1 cup (2 cubes) butter
1 1/2 cups sugar
1/2 teaspoon salt
4 large eggs at room temperature
1 1/2 cups flour
Cookie Dough Layer:
1/2 cup (1 cube) butter, softened
1/2 cup dark brown Sugar
1/4 cup granulated sugar
3 tablespoons milk
1 teaspoon vanilla extract
3/4 cup all-purpose flour
pinch of salt
1 cup semisweet chocolate chips
Instructions
For the brownies, preheat oven to 350 degrees. In a medium saucepan over low heat, melt butter and chocolate chips. Stir constantly and remove from heat when chips are fully melted. In the same pot, blend in the sugar. Then add eggs, blending fully one at a time. Add flour and salt and beat until air bubbles form in the batter. Pour into a greased 9 X 13-inch pan. Bake for 20 minutes. Turn heat down to 325 degrees and bake for 10 more minutes.
Cool completely and then top with the cookie dough layer.
For the cookie dough layer, in a small bowl, cream butter and sugars until light and fluffy. Beat in milk and vanilla. Gradually add flour and salt. Stir in chocolate chips. Drop by tablespoonfuls over cooled brownies; carefully spread over top (this can be tricky but I found the best way is to slightly wet my hands and pat the dough down gently so it doesn't pull up the brownies). Cut into squares. Store in the refrigerator.
Recommended Products
As an Amazon Associate and member of other affiliate programs, I earn from qualifying purchases.

Recipe Source: adapted from the recipe Jenn sent me!
Disclaimer: I am a participant in the Amazon Services LLC Associates Program, an affiliate advertising program designed to provide a means for me to earn fees by linking to Amazon.com and affiliated sites. As an Amazon Associate I earn from qualifying purchases.