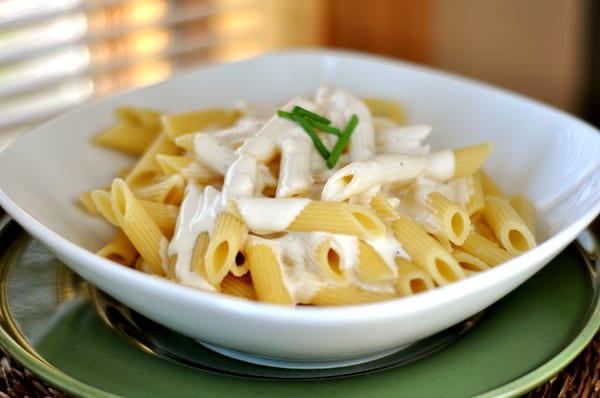 I am not (not!) exaggerating when I say this quick, creamy garlic alfredo sauce has changed how I view non-dinner nights. You know. Those nights when dinner just ain't happening. Too many things going on. Too lazy (who, me??). Too many nights of husband being out of town. Too many kids needing attention. Too many weeks pregnant (yes, that is a subliminal announcement!). Too many this. Too many that.
The problem is, on nights like that, I just can't handle the thought of dinner approaching and knowing I'm going to have to scrounge up something my kids will eat but I'll probably find gag-worthy. I can't help it. Grilled cheese only gets me through so many nights.
Enter this sauce. Fast. Unbelievably fast, and incredibly creamy and flavorful, this alfredo sauce is what I've been searching for the past five years. Healthier (relatively) than the versions loaded with butter and cream, it comes together quickly and wonderfully and it reheats beautifully the next day if you are lucky enough to have leftovers.
We've made this no less than 10 times in the last month, and I have never, and I mean never, seen my kids gobble up anything so quickly. In fact, they beg for it every night and have requested it for their birthday dinners every year until they turn 42. Hopefully by then someone else will be making it for them, otherwise, we'll have larger issues than just alfredo sauce overload.
Embarrassingly, I have to admit, this sauce is even on the menu this week. I actually planned it that way. I mean, eating it at least once was inevitable, so I might as well add it in to the menu plan so I don't look like a total slacker.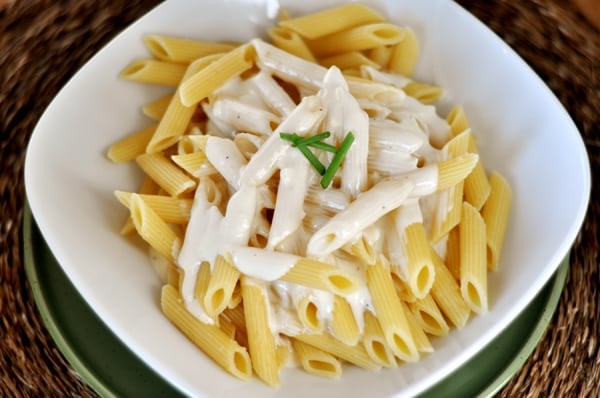 Broiled Parmesan and Lemon Chicken
Fresh, seasonal fruit
Green salad with Creamy Cilantro Lime Salad Dressing
Creamy Garlic Alfredo Sauce
Note: I've only ever used 1% milk in this sauce and it works great for our tastes. Also, I've made it with regular and low-fat cream cheese. The low-fat cream cheese gives it a slightly, very slightly grainy texture, but the cut in calories is worth it, in my opinion, although the full-fat cream cheese offers a luxurious, creamy texture that can't be beat. You choose!
Ingredients
2 tablespoons butter
3 cloves garlic, finely minced or pressed through a garlic press
4 ounces cream cheese, softened and cut into 6 pieces (see note above)
1 cup milk (see note above)
3 ounces Parmesan cheese, grated (about 1 cup)
1/2 teaspoon ground black pepper
1/2 teaspoon salt, more to taste, if needed
Directions
In a medium pot or skillet, melt the butter over medium heat. Add the garlic and cook for about 2 minutes, stirring constantly, taking care not to let the garlic burn. Add the cream cheese, stirring with a whisk until the mixture is smooth. It will look curdled at first, but with constant whisking for 2-3 minutes, it should come together to form a smooth, creamy paste. Add the milk gradually, about 1/4 cup at a time, whisking quickly and constantly until each addition is incorporated fully into the sauce. Stir in the Parmesan cheese, pepper and salt. Stir until the cheese is melted and the sauce is the desired consistency. Cook for 2-3 minutes for a thicker sauce or remove right after the cheese is melted for a thinner sauce. Serve immediately over hot, cooked noodles.
https://www.melskitchencafe.com/creamy-garlic-alfredo-sauce-my-go-to-dinner-saver/
Printed from Mel\'s Kitchen Cafe (www.melskitchencafe.com)
Recipe Source: adapted from Sweet Pea Chef