Pumpkin Cookies with Caramel Frosting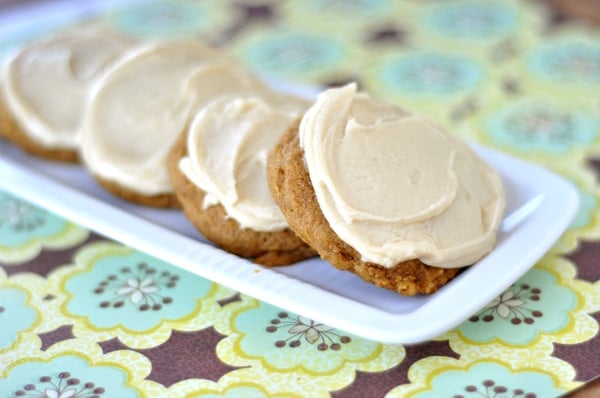 Another Halloween come and gone and four little treat buckets picked clean of dark chocolate (I know where my priorities lie). I'm kind of a strict momma when it comes to the candy.
My kids get to choose 30 pieces, which I feel is quite generous and my husband, Brian, thinks is a travesty of childhood, and the remaining candy goes into a big bin that Brian graciously takes to work to share.
I just don't like all the junk hanging around the house for months on end because let's be serious, I'm probably the one that ends up eating the majority of it. My children think their 30-pieces is a veritable treasure so it's a win-win situation, if you ask me. For those of you with kids, how do you handle the candy overload?
On to the cookies of the day: quite simply, these little beauties are a classically delicious, fluffy pumpkin cookie made even more delectable by a smear of creamy caramel frosting. A divine combination, really.
Not that any of us need any additional sugar at the midpoint of Halloween week, but bookmark to try soon when you need a scrumptious treat that tastes just like the epitome of fall.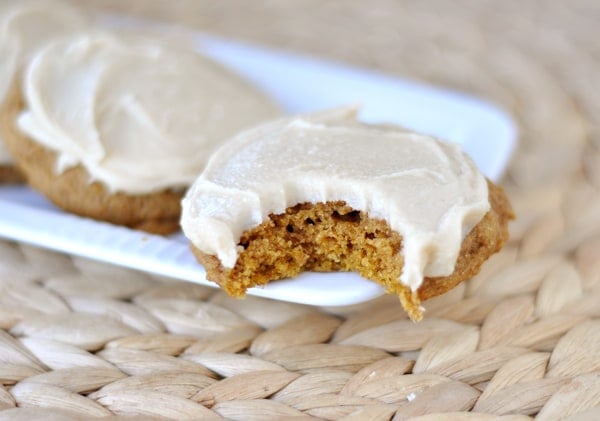 One Year Ago: White Bean and Tuna Salad
Two Years Ago: Thanksgiving Dinner 101: The Stuffing
Three Years Ago: Pumpkin Chocolate Chip Muffins
Pumpkin Cookies with Caramel Frosting
Yield: 2-3 dozen

Prep Time: 20 minutes

Cook Time: 12 minutes

Total Time: 32 minutes
Ingredients
Cookies:
1 cup butter, softened
1/2 cup granulated sugar
1/2 cup packed light brown sugar
1 cup canned pumpkin puree
1 large egg
1 teaspoon vanilla extract
1 teaspoon baking soda
2 teaspoons ground cinnamon
1/4 teaspoon ground cloves
1/4 teaspoon nutmeg
1/4 teaspoon ground ginger
1/2 teaspoon salt
2 cups all-purpose flour
Frosting:
3 tablespoons butter
1/4 cup heavy cream
1/2 cup packed light brown sugar
Pinch of salt
2 cups powdered sugar
1 teaspoon vanilla
Instructions
Preheat the oven to 350 degrees F. In a large bowl, cream together butter and sugars for the cookies. Add the eggs and vanilla and mix well. Stir in the pumpkin. In a medium bowl, sift together the baking soda, cinnamon, cloves, nutmeg, ginger, salt and flour. Add the dry mixture to the pumpkin batter and mix until combined. Drop the dough by large tablespoonfuls onto a lightly greased (or lined with parchment or silpat) cookie sheet. Bake for 10-12 minutes.
For the frosting, in a medium saucepan, combine the butter, cream, brown sugar and salt, and cook over medium heat, stirring constantly, until the mixture comes to a boil. Remove from the heat and stir in 1 cup powdered sugar and the vanilla. Let the frosting cool to room temperature and stir in the remaining 1 cup powdered sugar. Spread the frosting over the cooled cookies.
Recommended Products
As an Amazon Associate and member of other affiliate programs, I earn from qualifying purchases.

Recipe Source: adapted from Let's Dish Recipes, originally seen on Pinterest