Disclaimer: this post contains a few Amazon affiliate links.
Hey there; it's me, Brian. I am the one whose 2nd job is to eat the serving Mel just photographed for basically every single recipe posted on this blog. I like that role. Can you blame me? Mel asked me to do a quick guest post today on Father's day gifts and grub. Something about her not exactly being qualified to give advice for Father's Day or something like that.
I am going to go out on a limb here and make a prediction that most of you reading this right now are women. And that most of you have received a gift from the man in your life that was clearly more for him than it was for you.  Like the rifle my dad gifted my mom years ago…or the ATV that Mel's dad gifted her mom…or the fishing vest I bought for Mel.  (Really Mel, I swear you said you needed one.)
So, in an effort to keep Father's Day gift giving right on track but also keep it cooking focused (since this is a cooking blog and all), I am going to tip you off on a few food related gift ideas for the father/husband/man in your life that will please even the least cooking savvy of men and that you will secretly be thrilled about too.  Seriously, he will think that you bought it just for him!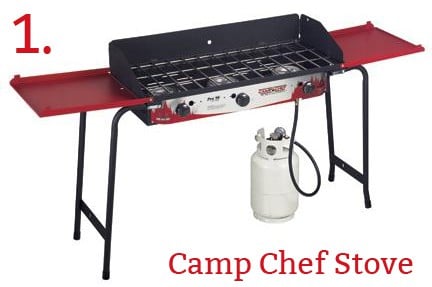 These Camp Chef Stoves really are awesome. They are made in northern Utah and are quite popular there, but I have found that not many people in my neck of the woods have seen them. Every time I pull mine out at a campsite, reunion, or large church function, the men gather around and drool over it. I was one of those men…until I got one of my own. Here's the kicker though, Mel probably uses this more than I do. She has used it for canning, making applesauce, and making dutch oven meals without briquettes or making a fire. There are also a number of accessories for them (carrying cases, grill boxes, pizza ovens, griddles, etc) that make this a very versatile "manly" gift.

Nothing beats homemade popcorn (microwave bagged kind doesn't count), but I can't stand the counter-top popper that shoots popcorn all over the kitchen and only pops half of the kernels. This little gem gives the best of both worlds…more popped kernels, faster, less mess, and more convenient. The one we have was actually a gift for Mel from the boys this past Mother's Day, but I have to confess I would have loved it equally as much for Father's Day!

Ok…so the truth is that I don't own one of these babies (hint, hint). I love a good brisket or rack of ribs. But did you realize (ahem… Mel…ahem) that you can use them to bake bread and pies outside in the summertime when it is too hot to fire up the oven? Think about it ladies. Get him a smoker and your man/dad will practically beg you to let him handle the food for the next decade of BBQ's. PLUS…while the food is smoking, he'll still have time to do the yard work before the company shows up. (Sorry I had to throw that in guys, but if you get a smoker, you'll forgive me for throwing you under the bus about the yard work!)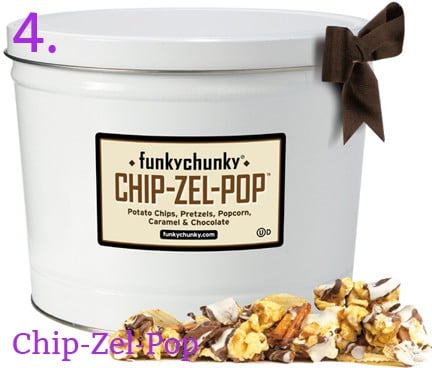 If none of the above strike your fancy or budget, how can you go wrong with this stuff? Potato chips, pretzels, caramel corn – all drizzled with caramel and chocolate. That's like Father's Day all wrapped up in a bucket right there.
Now before I sign off of my official first guest post ever, let me leave you with three Father's Day  meal options that are my personal favorites and would be great to serve for the Father's Day celebration at your house:
Brown Sugar Spiced Pork Loin: my mouth is watering just thinking about this.  Serve this up with some Roasted Garlic and Parmesan Mashed Potatoes and put the exclamation point on this meal with a light Coconut Tres Leches Cake.
The Best Chicken Fajitas: these have been my birthday request for 2 years straight.  The flavor of the chicken is truly one of a kind.  Stuffed with peppers, onions and mushrooms…no need for a side, but the Cilantro Lime Rice is a nice compliment to this meal (and so would a simple fruit salad).  Then, top it all off with an incredible Choco-Flan.

Honey Lime Tilapia with Orange Cashew Rice are two recipes that were meant to go together.  Killer combo…no other explanation.  This is a pretty light meal, so go big or go home for the dessert.  I recommend the one and only Brownie Mosaic Cheesecake.
This post has made me hungry.  I am off to the kitchen to make a chocolate turtle waffle cookie ice cream sundae that hasn't been posted yet, but when you see the picture, think of me. I ate that one.