No-Bake Healthy Granola Bites
Packed with crunch and creaminess and lots of good-for-you things these homemade no-bake healthy granola bites are the perfect after school snack or lunch solution!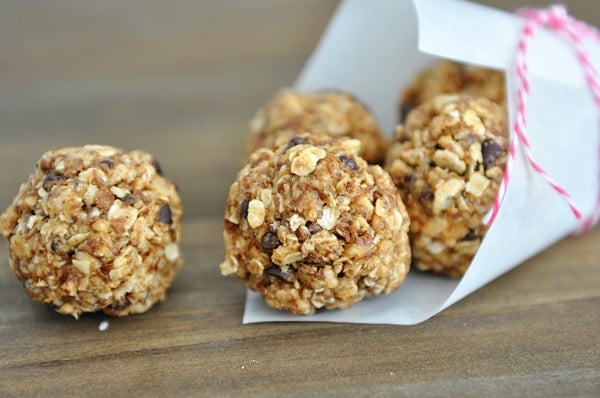 Um, yum. These little babies are an absolutely irresistible healthy, bite-sized snack.
Ever since these simple chewy granola bars entered my life, we've been on the homemade granola-snack train. But, like many of my life plans, summer kind of derailed any homemade granola making.
Summer has a way of just creating lots of happy chaos, asked for or not.
But with the onset of school quickly approaching, I am hereby recommitting to snacks.
Recommitting to healthy-ish snacks!
Recommitting to homemade, healthy-ish snacks! And these granola bites are a perfect way to start.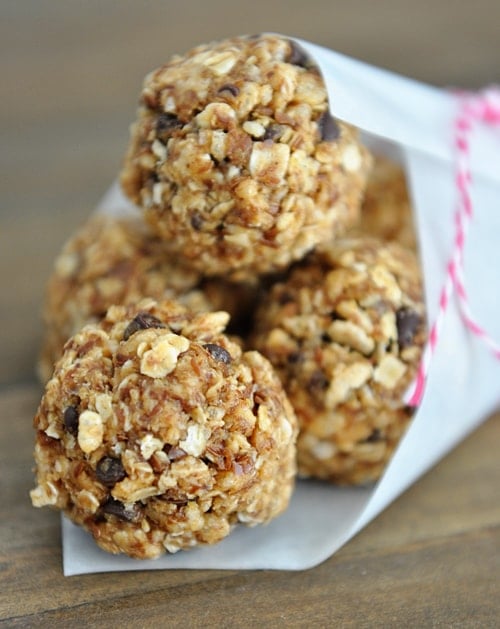 Packed with crunch and creaminess and lots of good-for-you things (think: flaxseed) and some extra treats (think: mini chocolate chips), we had a hard time leaving any of these for storing away in the freezer for when after school snack time rolls around or when I'm popping goodies in lunch boxes each morning.
No biggie though; they are so simple to throw together (no cooking or baking!) that I can easily order my 9-year old to make another batch pronto which he'll gladly do since he announced yesterday that his life's work will be complete when he gets to be on Cutthroat Kitchen (a fun, new show on The Food Network) and apparently making granola bites puts him on the fast track to chef-dom.
These are truly a divine solution to the snacking days (and lunch-packing) days ahead of us!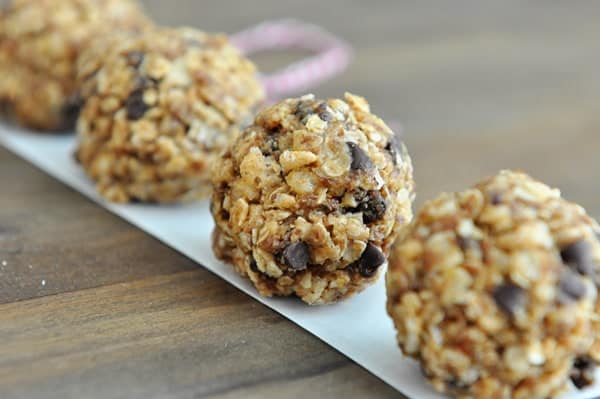 Yield: 30 bites

Prep Time: 15 minutes

Additional Time: 1 hour

Total Time: 1 hour 15 minutes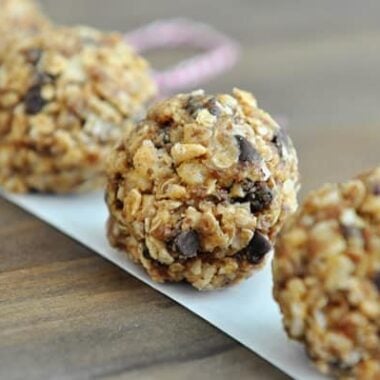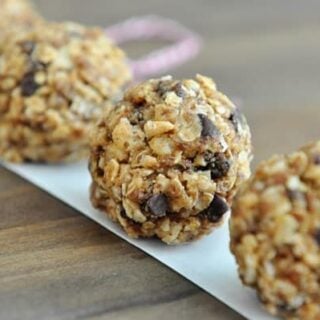 Ingredients
2 cups quick oats
1 cup crispy rice cereal (like Rice Krispies)
1 cup creamy peanut butter
1 cup ground flaxseed
1 cup mini chocolate chips
2/3 cup honey or agave nectar
2 teaspoons pure vanilla extract
2 tablespoons coconut oil
Instructions
Combine all the ingredients together in a large bowl, mixing gently so the crispy rice cereal doesn't get crushed. Mix until well-combined.
Using a cookie scoop (or roll small amounts in your hands), drop rounded tablespoonful-sized portions onto a parchment or wax paper lined cooking sheeet. I used my cookie scoop and then rolled the scooped portion out between my palms.
Refrigerate for 1-2 hours. At this point you can serve them or combine the chilled granola bites in a large tupperware-type container or ziploc bags to freeze or refrigerate. They will stay fresh in the refrigerator for up to a week or for a few months in the freezer.
Notes
Chia: Kira who sent me the recipe also includes 2 tablespoons ground chia seeds with the dry ingredients (I haven't used them when I've made them...yet!).

Ingredient Amounts: also, feel free to play around with the amounts, increasing or decreasing ingredients, adding dried fruit, coconut, etc. Just keep an eye on the consistency so that it still forms a mixture that sticks together when formed into balls.

Coconut Oil: the coconut oil isn't absolutely necessary but I loved the smooth silkiness it gave to the granola bites plus if you use extra-virgin instead of expeller-pressed, you'll get a sweet hint of coconut.
Recommended Products
As an Amazon Associate and member of other affiliate programs, I earn from qualifying purchases.

Recipe Source: adapted from a recipe Kira W. sent me (added coconut oil, took out coconut flakes and increased rice cereal, used agave nectar and honey in different batches, etc.) – thanks, Kira!

Disclaimer: I am a participant in the Amazon Services LLC Associates Program, an affiliate advertising program designed to provide a means for me to earn fees by linking to Amazon.com and affiliated sites. As an Amazon Associate I earn from qualifying purchases.