Slow Cooker Beef and Barley Soup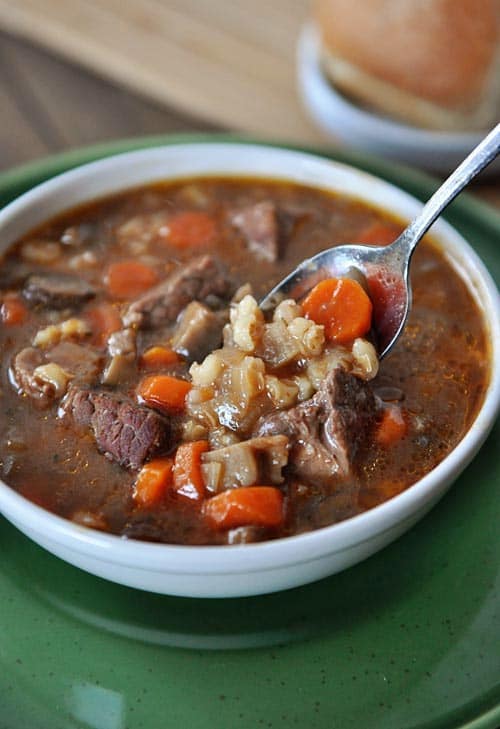 By now I hope you know that my recipe posting philosophy is pretty simple: I only post recipes that are the best of the best.
Be assured that for every recipe that makes it here, there are at least five or six I've made that just don't make the cut. Brian has this look he gives me when we are eating dinner and I know that he knows that I need to know that the recipe probably isn't worthy of the blog and most definitely should not go into our personal meal rotation (but bless his heart, that man eats whatever I put in front of him, good or bad).
Usually The Look is accompanied by whining children and/or gagging. I'm nothing if not adept at picking up on subtle cues like that.
But even with my posting philosophy firmly in place, I still wondered if I should share this one.
Don't worry, it didn't induce The Look or gagging (far from it). It's just…well…not very exciting. Beef and barley. In the slow cooker. It kind of makes me sleepy just thinking about it.
However, this soup's homey, comforting flavors with basic ingredients are incredibly delicious and left me craving more. When I made it for the third time, I figured you might want it in your life, too.
Plus, the slow cooker feature means you can fix it and forget it and that is never a bad thing.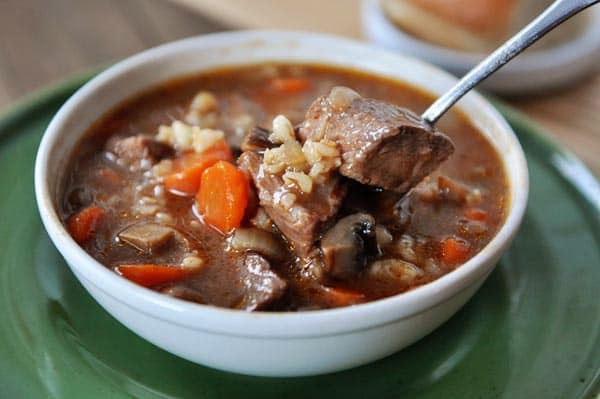 Ever since converting this fabulous Southwestern Chicken and Barley Chili to the slow cooker, I've fallen in love with barley even more.
It's nutty and soft but still slightly chewy, and in this soup, the tender bits of meat and carrot (reminiscent of the amazing, tasty carrots that come out of beef stew – my favorite part!) and the rich, hearty broth bring everything together perfectly.
So yeah, this may not be the most trendy recipe on the internet but I can promise you, it isn't because of flavor and taste. It's just because those viral recipes have sprinkles on top and this doesn't.
Ok, now for the two new menu features! Starting today, I'll be adding a What to Serve With This section for each main dish post (see below).
Not to say you are forbidden to eat this soup without, say, a dinner roll, but it's just a way to help you pair side dishes with main dishes. A little extra boost after the Side Dish Planner I introduced earlier this week. And 99% of the time, I'll literally be telling you what we actually did eat with the featured recipe.
I'm slowly working my way through the archives to add this feature to all the main dishes on my site, but for now look for it mostly on new posts.
Finally, if you glance down there in the footer, you'll see a Weekly Menu which will be updated with a new menu each and every week. I know you already have access to these downloadable menus, but this is meant to be a one-glance option for menu planning. And yeah…I think that's it. Thanks for sticking with me.

A really, great dinner roll (for homemade, I'd suggest French Bread Rolls or Buttery Cornmeal Crescents)
Fresh fruit or a light fruit salad like this Honey Lime Fruit Salad
Sliced cheddar cheese
One Year Ago: Fudgy Toffee Chocolate Chip Cookie Bars
Two Years Ago: Coconut Tres Leches Hot Chocolate
Three Years Ago: Heath Bar Cookies
Slow Cooker Beef and Barley Soup
Yield: 6 servings

Prep Time: 20 minutes

Cook Time: 9 hours

Total Time: 9 hours 20 minutes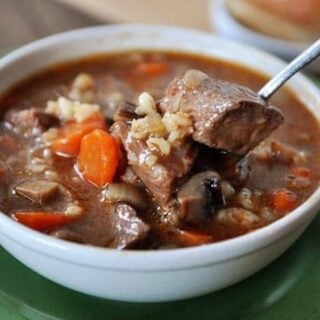 Ingredients
1 tablespoon oil
1 1/2 pounds sirloin tips, flap meat or chuck roast, cubed
Salt and pepper
3/4 cup 1/4-inch sliced carrots, about 3-4 medium carrots peeled
8 ounces baby bella mushrooms, wiped clean and diced
1 cup chopped onion, about 1 medium yellow or white onion
2 cloves garlic, finely minced or pressed
1 tablespoon tomato paste
1 teaspoon dried thyme
3 cups low-sodium chicken broth
3 cups low-sodium beef broth
2 teaspoons low-sodium soy sauce
2/3 cup pearled barley (not quick-cooking)
Instructions
In a 12-inch nonstick skillet, heat the oil until rippling and hot over medium heat. Season the beef with salt and pepper and add to the skillet in a single layer (you may need to do this in batches), cooking for 1-2 minutes, browning on all sides. Repeat with the remaining meat if needed.
Scoop the meat into the slow cooker, leaving as much oil/liquid behind in the skillet as possible. Return the skillet to medium heat and add the carrots, mushrooms, onion and garlic. Cook for 4-5 minutes until the carrots and mushrooms start to soften. Stir in the tomato paste and thyme and cook for 1-2 minutes.
Whisk in the chicken broth and simmer for a minute or so. Pour the mixture into the slow cooker. Add the beef broth, soy sauce and barley. Give the soup a good stir and then cover the slow cooker and cook on low 7-9 hours. Season with salt and pepper to taste, if needed, before serving.
Recommended Products
As an Amazon Associate and member of other affiliate programs, I earn from qualifying purchases.

Recipe Source: inspired by a soup recipe in America's Test Kitchen Quick Family Cookbook (I basically changed up the ingredients and converted it to a slow cooker recipe)