Snapshot Saturday: Moving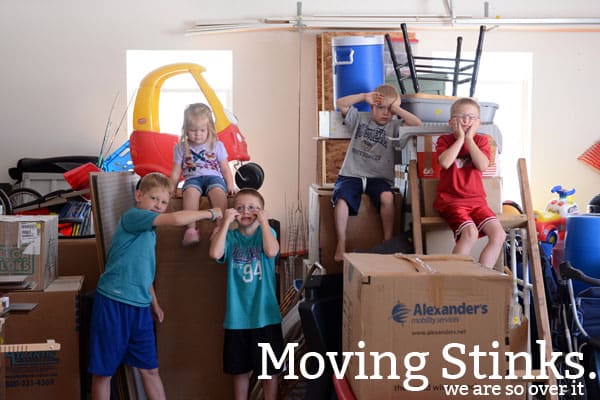 Behind the scenes of all the yummy goodness posted in the last few weeks, my little family and I have been trekking across this grand ol' country moving. Despite having just moved two years ago from Wisconsin to Minnesota and having remodeled a home there that we thought we would live in forever, it seems my best laid plans for our lives have been uprooted again (and after moving seven times in twelve years, I have to say, I'm kind of tired of moving). Brian got an unexpected job change taking us to the southwestern wilds of Idaho (near the Boise area) and despite the bittersweet challenges of moving, we are grateful for this new adventure.
So in honor of moving, here are a few highlights (ok, and one or two lowlights mixed in) of our recent move:
– No longer having to drive two hours for any shopping; Costco and Trader Joe's, you and I are going to be great friends.
– Officially trading the hot, humid, mosquito-filled Minnesota summer for the hot, dry Idaho desert summer (it actually cools down at night which is nothing short of a miracle!).
– Driving with the five kids and a packed to the hilt Yukon pulling a trailer loaded with a 4-wheeler, RAZR and treadmill on a 15-hour stretch to meet Brian and Maggie the Dog who were a few days behind us…and running out of gas in the middle of nowhere Montana. Super special experience I hope to never relive again ever.
– Finally being closer than a 12+ hour drive to family (parents in Oregon and Montana, lots of siblings in Utah/Wyoming). A six hour drive is basically next door in our book.
– Living next to my famous Aunt Marilyn because believe it or not, she lives just 25 minutes down the road. You won't even believe the fabulous things we have cooking to share with you.
– Leaving dear friends that were like family to us in Minnesota (did I mention: moving stinks!).
– Having a fenced yard in our new-to-us-but-not-really-new house. What can I say, I've always wanted one.
While I hoped to make the chaotic business of our move without interrupting the rhythm of this blog, you may have noticed I was a little slow to respond to comments and questions over the last couple of weeks. Thanks for your patience even if you didn't realize it was needed. We are pretty much settled and back to normal life (whatever that is) so hold on to your hats because there are some awesome back-to-school menu solutions and recipes coming your way soon! In the meantime, I'm off to update my resume (that doesn't actually exist) to state my new job title: Moving and Unpacking Analyst and Expert.
Disclaimer: I am a participant in the Amazon Services LLC Associates Program, an affiliate advertising program designed to provide a means for me to earn fees by linking to Amazon.com and affiliated sites. As an Amazon Associate I earn from qualifying purchases.