White Bean and Tuna Salad
This healthy white bean and tuna salad is one of the most unassuming and delicious concoctions that will have you coming back for more!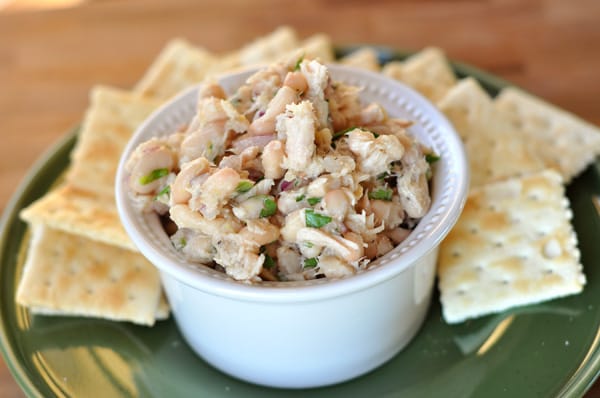 Talk about one of the most unassuming and absolutely delicious concoctions. So good that I literally am addicted. I can't stop eating the stuff.
First tasted several months ago when my cousin, Julianne, made this for me during my visit home to Montana, I literally fought her for the leftovers during lunch. And then felt really guilty when I found out she was…well, newly pregnant.
I know. The shame of taking away food from a starving, pregnant woman. Oh, and fighting her for it, too.
The guilt didn't keep me from making it since, though. I've made this several times and I love it for the following reasons:
a) It is cheap.
b) It is out-of-this world in light, fantastic flavor.
c) It can be enjoyed as an appetizer, snack, lunch, light dinner, midnight snack, however you please.
d) It can be used as a topper for crackers, bread, lettuce leaves/cups, celery, and I'm sure a million other ways.
e) It is healthy. So I don't feel so guilty when I combine every option from c and d and eat this for two weeks straight.
It really is that delicious.

The sky is the limit with this salad: serve it with Flat Bread, crackers, toasted Whole Wheat Bread, celery sticks, lettuce, tortillas, chips, sliced cheese, cottage cheese, etc. Add a fresh fruit and a green salad to the other sides you have chosen and you have a meal.
One Year Ago: Thanksgiving Dinner 101
Two Years Ago: Pumpkin Chocolate Chip Muffins
White Bean and Tuna Salad
Yield: 4-6 servings

Prep Time: 10 minutes

Total Time: 10 minutes
Ingredients
½ cup chopped red onions
The zest and juice of 1 lemon
2 (5 or 6-ounce each) cans of tuna (I prefer albacore tuna packed in water)
2 (15-ounce each) cans of Great Northern beans, rinsed and drained
1/2 cup chopped fresh flat leaf parsley
A few splashes of Tabasco sauce or other hot sauce
1/2 teaspoon freshly ground black pepper
Salt and olive oil to taste
Instructions
In a small bowl, sprinkle some of the lemon juice over the chopped onions while you prepare the other ingredients. This will take some of the oniony edge off the onions.
Drain the tuna and put it into a large bowl. Add the beans to the tuna and gently stir to combine. Add the onions, parsley, black pepper, lemon zest and lemon juice and mix to combine. Add Tabasco or hot sauce to taste. If the salad needs more acid, add a little more lemon juice. If the salad seems a little dry, add a little bit of olive oil. Add salt to taste.
Serve chilled or at room temperature. The salad develops great flavor if tightly covered and refrigerated for a couple hours, or up to a day, before serving. Serve with crackers, lightly toasted bread, lettuce cups/leaves, fresh vegetables, etc.
Recommended Products
As an Amazon Associate and member of other affiliate programs, I earn from qualifying purchases.

Recipe Source: adapted slightly from Simply Recipes
Disclaimer: I am a participant in the Amazon Services LLC Associates Program, an affiliate advertising program designed to provide a means for me to earn fees by linking to Amazon.com and affiliated sites. As an Amazon Associate I earn from qualifying purchases.