What better way to start the week than with a recipe for monster cookies, eh?
Ever had them? I hadn't. Until Lucy J., a kind MKC reader, sent me a link to the recipe basically telling me I wasn't any kind of baker until I made them. Ok, not really. She's too nice to say that, but she did tell me they were ultra-delicious and I had to try them.
So I did! And wow, have they been a hit…every time I've made them since, and I'm counting that's been at least four or five times in the last couple of weeks. They are a completely unique cookie in that they don't have any flour in the dough – the substance of the cookie comes from a whole lot of peanut butter and oats. A little butter. And a whole lot of M&Ms and chocolate chips. The resulting soft, chewy texture gets me every time I eat one. Or five.
I actually prefer my chocolate chip cookies with oatmeal in them (although who am I to ever turn down a chocolate chip cookie regardless of oatmeal or not) and the added peanut butter flavor and other delicious add-ins make these cookies wonderfully spectacular. I've been making batch after batch and putting the baked cookies in the freezer. Quick to pull out for a fast after-dinner treat, they warm up beautifully in the microwave for 10-15 seconds or thaw quickly on the counter (if you can wait that long!).
P.S. In case you missed the memo, don't forget you can now save your favorite recipes to your own personal recipe box. Check out the details here!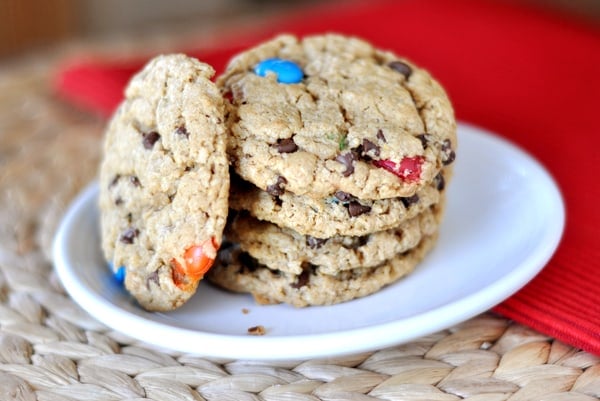 One Year Ago: Baked Brown Spanish Rice
Two Years Ago: Thanksgiving Dinner 101: The Rolls
Three Years Ago: Coconut Chicken Curry
Ingredients
3 large eggs
1 1/4 cups packed light brown sugar
1 cup granulated sugar
1/2 teaspoon salt
1 teaspoon vanilla extract
1 1/2 cups creamy peanut butter
1 stick butter (8 tablespoons), softened
1 cup M&Ms
1 cup milk chocolate or semisweet chocolate chips
2 teaspoons baking soda
4 1/2 cups quick cooking oats
Directions
Preheat the oven to 350 degrees F. Line cookie sheets with parchment paper, silpat liners or lightly grease with cooking spray.
In a large mixing bowl, combine the eggs and sugars. Mix well. Add the salt, vanilla, peanut butter and butter. Mix until creamy and well combined. Stir in the M&Ms, chocolate chips, baking soda and oatmeal. Mix well. Roll the dough into tablespoon-sized balls and place about 2 inches apart on the cookie sheets. Flatten the cookies slightly with the palm of your hand.
Bake the cookies for 8-10 minutes. Don't overbake - the cookies should just be set and very lightly golden around the edges. Let the cookies sit for 1-2 minutes on the cookie sheet before transferring to a cooling rack to cool completely. Store in a airtight container for 2 days (the baked cookies freeze well, also).
http://www.melskitchencafe.com/monster-cookies-gluten-free/
Printed from Mel\'s Kitchen Cafe (www.melskitchencafe.com)
Recipe Source: adapted slightly from a Paula Deen recipe on Food Network sent to me by Lucy J., a reader