Monster Cookie Bars
Enjoy the deliciousness of gluten-free Monster Cookies only in bar form (much easier but just as tasty!).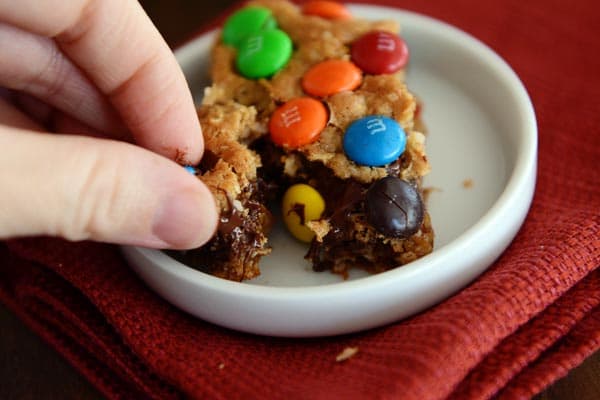 Thanks to the new installment in a book series by one of my favorite authors ever*, I have no time for cookies these days. Well, maybe just day, as in the singular, since I happen to be a compulsive reader and probably will not put the book down until it's finished, even if that means going without a shower (sorry, ew) and chopping up apples for the kids' after school snack single handedly (talented am I).
It goes without saying that my entire family is hoping that truly this book is read and put away within 24 hours.
To thank them for unselfishly allowing me to forget about reality for a while, I made them these monster cookie bars.
Because, like I said, I have no time for actual cookies. Bars it is!
And thankfully, they are as delicious as their cookie counterpart and much quicker than taking all afternoon to alternate pan after pan of cookies in and out of the oven (I'm glaring at you; all of you with double oven capabilities, oh yes I am).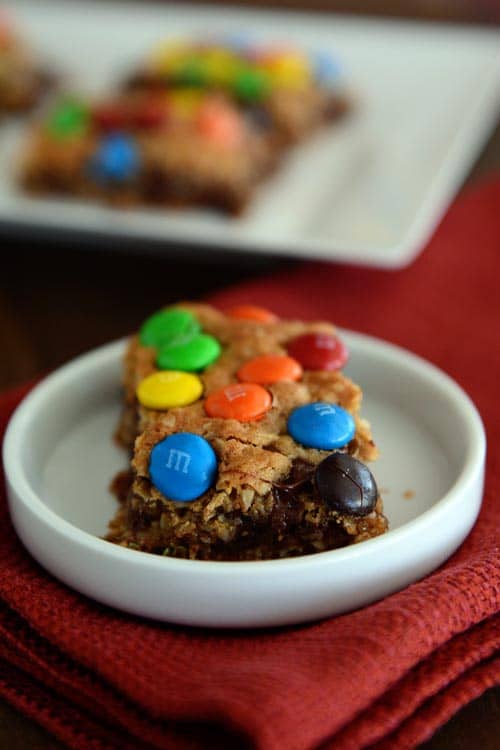 Believe it or not, transitioning a cookie recipe to a bar cookie recipe isn't always as easy as piling the entire batch of cookie dough into a 9X13 and calling it good.
So after a few little adaptations, monster cookie bars were baked, monster cookie bars were not cooled, monster cookie bars were sliced and monster cookie bars were devoured (they'll be a bit prettier than the pictures if you wait until they cool to cut them but obviously, we.could.not.wait, and what's so terribly wrong with an ooey, gooey, peanut buttery, chocolatey cookie bar?).
And that's all I have to say about that because did I mention? There's a book that needs me.
*Many moons ago, I stumbled across a Juliet Marillier book by chance in the dark abyss of my local library and after years of insisting I would never read fantasy literature, I was instantly converted (although her books are the only fantasy books I love so I guess I'm a Marillier fan not necessarily a fantasy fan; am I making any sense?). Her storytelling talent and ability is unparalleled. I love her (er, her books) so, so much. Her style may not be for everyone (as in, don't send me hate mail if you don't like them pretty please) but they are fabulous enough that I wouldn't be a good friend if I didn't share. Need a place to start? The Sevenwaters Trilogy. Right now I'm reading her Caller series. But really, enough talking already! My reading-hobby-that-is-no-more-because-of-blogging is being resurrected for a little while. Peace out.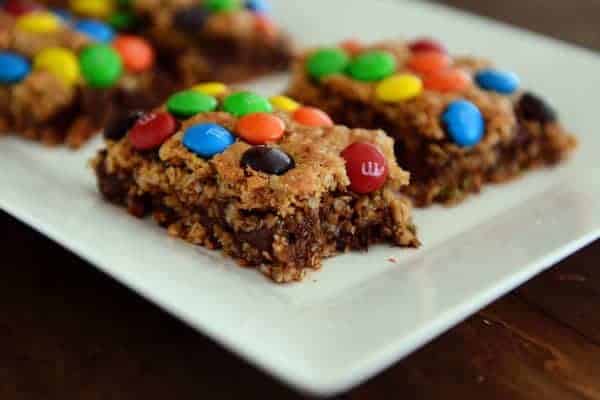 Yield: 9X13-inch pan of bars

Prep Time: 15 minutes

Cook Time: 25 minutes

Total Time: 40 minutes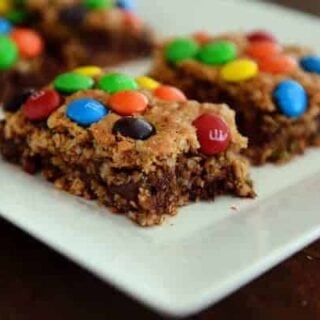 Ingredients
2 large eggs
2/3 cup granulated sugar (5 ounces)
2/3 cup packed light brown sugar (5 ounces)
1/4 teaspoon salt
1 teaspoon vanilla extract
1 cup creamy peanut butter (9 ounces)
1/3 cup butter (5 1/3 tablespoons) softened to room temperature
1 1/2 cups (9 ounces) chocolate chips
1 teaspoon baking soda
3 cups quick oats (12 ounces)
1 cup M&M's (7 ounces)
Instructions
Preheat the oven to 350 degrees F. Grease a 9X13-inch baking pan with cooking spray.
In a large mixing bowl, combine the eggs and sugars. Mix well. Add the salt, vanilla, peanut butter and butter. Mix until creamy and well combined. Stir in the chocolate chips, baking soda and oatmeal. Mix well.
Spread the batter into the prepared pan and press lightly into an even layer. Sprinkle the M&M's evenly across the top and gently press them into the dough.
Bake for 20-25 minutes until the edges are golden and set. Let the bars cool completely in the pan. For a cleaner cut, refrigerate the bars before slicing and serving.
Notes
M&M's: it's normal for some of the M&M's to crack while baking. If you want to avoid that, you can add them to the top after you take the bars out of the oven but they won't sink into the top quite as well.
Recommended Products
As an Amazon Associate and member of other affiliate programs, I earn from qualifying purchases.

Recipe Source: adapted from this Monster Cookies recipe
Disclaimer: I am a participant in the Amazon Services LLC Associates Program, an affiliate advertising program designed to provide a means for me to earn fees by linking to Amazon.com and affiliated sites. As an Amazon Associate I earn from qualifying purchases.