15-Minute Homemade Root Beer
This simple 15-minute homemade root beer is so fun and festive to make! Plus, it is the tastiest root beer in all the land. Truth.
Growing up, homemade root beer was a staple. Well, a staple in that I remember my dad making it with us around Halloween each year. So I guess that'd be considered a once a year seasonal staple? Something like that?
We thought it was terribly exciting, meaning lots of shrieking and dancing around, to watch the dark root beer bubble and pop while the billowy white fog spilled from the container.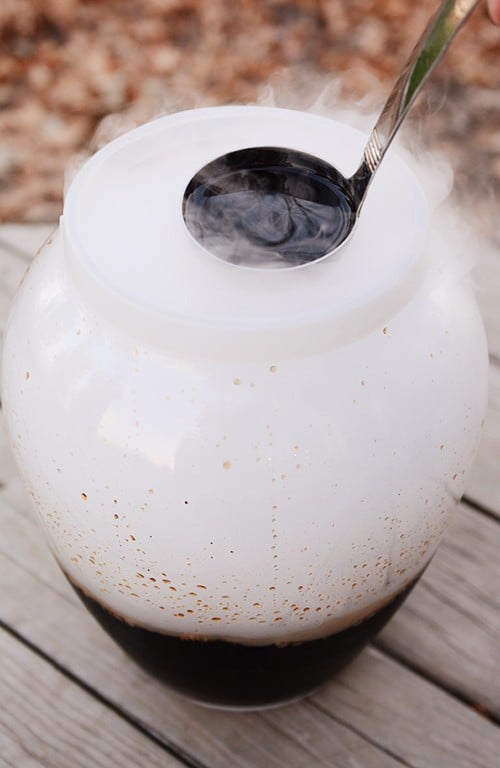 Brian, who happens to love root beer with his whole soul (I think it's the one and only thing, besides BBQ sauce, that he's actually kind of a snob, in the very best sense of the word, about).
His feelings about this homemade root beer? "Man, this is really, really good root beer." I'll take that.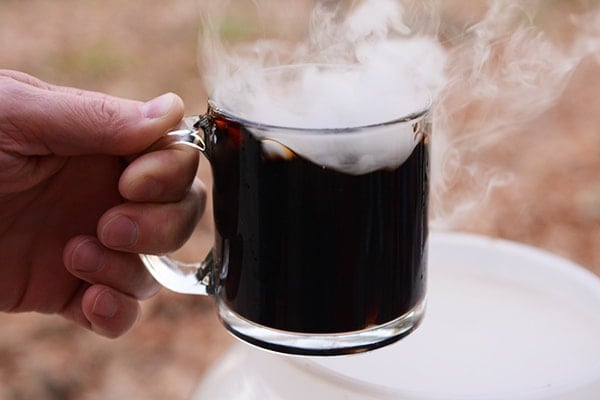 Best Extract for Homemade Root Beer
A lot depends, of course, on what you use for extract. I've learned my lesson over the years that not all root beer extracts are created equal.
I won't dissuade you from using widely-recognized brands out there, but I will tell you that my favorite extracts are Watkins root beer extract or Zatarains root beer extract. Both of these extracts are extremely delicious and have an intense but well-balanced root beer flavor.
The slight carbonation and extra chilliness from the dry ice makes me think I could get behind homemade root beer more than just once a year.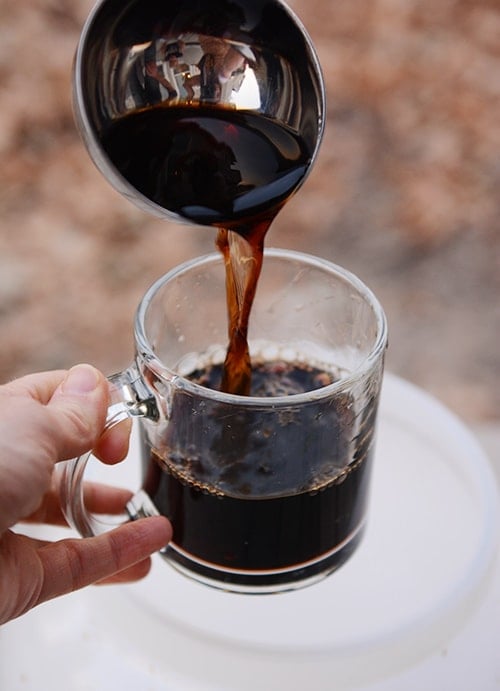 Precautions When Using Dry Ice
While homemade root beer is ridiculously easy and food-grade dry ice is completely safe to drink once it is melted, please, please keep in mind that there are definitely precautions to take when using dry ice.
I've listed a few in the notes of the recipe and there is a lot of helpful information online. It's nothing at all to be scared of but it's important to remember that because dry ice is so cold, it can cause burns if touched directly so always use insulated gloves or tongs to transfer and take care when using it around small children that may not know they shouldn't touch it.
Make the root beer in a large, ventilated room or outside so the carbon dioxide doesn't build up as it works its magic.
Also, remember that dry ice evaporates quickly (a 5- to 10-pound block can evaporate within 24 hours; learned that the hard way when I opened my freezer and my stash of dry ice was just empty plastic bags!) so try to buy just the amount you need when you know you'll use it quickly. <–speaking of that, it's best to store dry ice in a styrofoam cooler or container well-wrapped to keep it cold longer, instead of in a commercial freezer since it's so cold and can sometimes cause the internal thermostat to shut off.
I know, I know, the precautions are a little boring but it's good to get them out of the way; don't let them prevent you from trying this!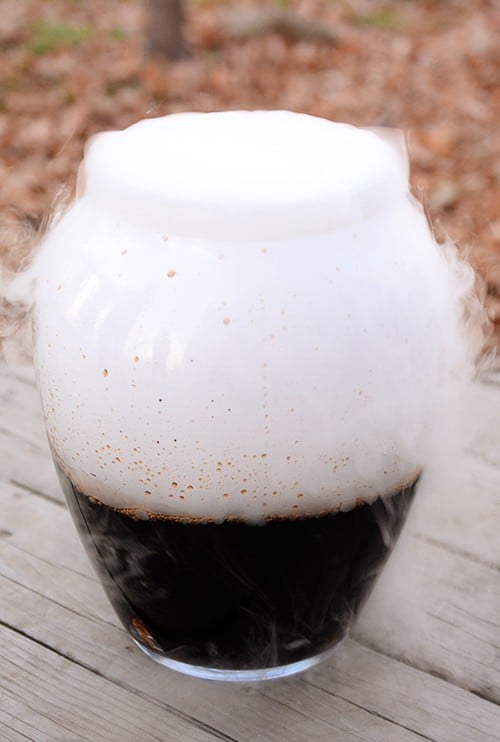 This simple 15-minute homemade root beer is such a fun, festive drink for the fall and Halloween season, but it is definitely delicious enough to make year round!
The root beer doesn't keep well if you want to make it days in advance. Over time, the carbonation dissipates, so it's best to make this right before you want to enjoy it.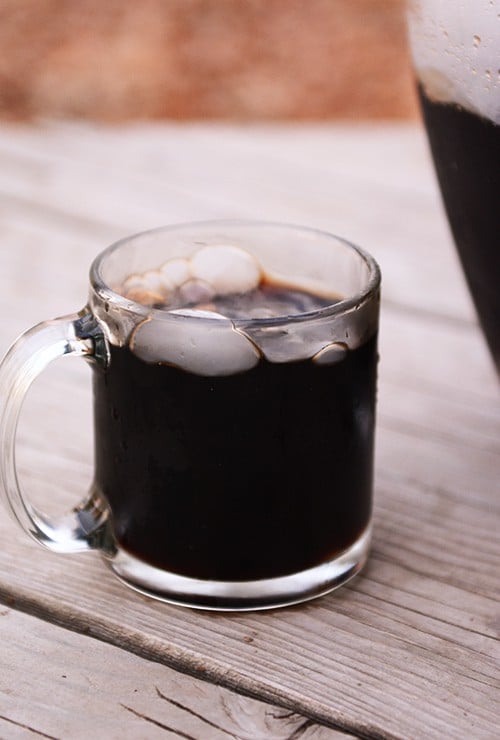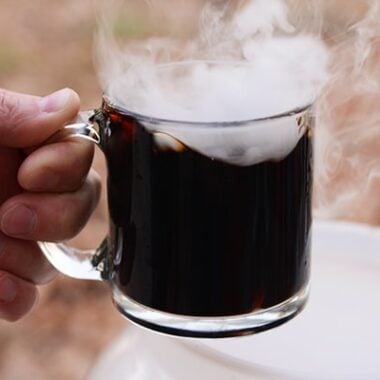 15-Minute Homemade Root Beer
Ingredients
4

quarts

cold water

2-3

cups

granulated sugar (depending on how sweet you want it; 2 cups is perfect for us)

3

tablespoons

root beer extract (see note)

1-2

pounds

food-grade dry ice broken into pieces (use the smaller amount if you want it to dissolve quickly and the greater amount if you want it to foam and bubble while serving)
Instructions
In a large pitcher (I use glass), stir together the water, sugar and root beer extract until the sugar is mostly dissolved. Take a little taste to see if you need more extract or sugar.

In a well-ventilated area, carefully add the dry ice to the pitcher using insulated gloves or tongs and stir with a long-handled spoon so that the dry ice doesn't stick to the bottom and sides of the container. The root beer will bubble and the dry ice fog will spill from the container (cool!).

Continue stirring until it is mostly melted, 10-15 minutes.

Ladle into cups, avoiding any large pieces of unmelted dry ice, and serve.
Notes
Dry Ice
: while dry ice is completely safe to drink once it is completely melted in the root beer, please keep in mind there are a few safety precautions to follow when working with it: use insulated gloves or tongs to transfer – never touch it directly as it can burn, add it to the root beer in a well-ventilated area so the carbon dioxide doesn't build up and don't let children (or adults) inhale the fog spilling from the pitcher, and be careful when breaking it up into pieces.
How to Store
: because dry ice evaporates quickly and doesn't store well, it's best to buy only what you need and use it as soon as possible (store it in a styrofoam cooler if not using it right away as it is best not to keep it in every day freezers).
Root Beer Extract
: I use the
Zatarain's brand
of root beer extract. It has the best root beer flavor of all the ones I've tried. If using another brand of root beer extract, start with a smaller quantity and add more to taste as you need it.
Serving:
1
serving
,
Calories:
65
kcal
,
Carbohydrates:
17
g
,
Sodium:
8
mg
,
Sugar:
17
g
Recommended Products
Follow @MelsKitchenCafe on Instagram and show me the recipes you are making from my blog using the hashtag #melskitchencafe. I love seeing all the goodness you are whipping up in your kitchens!
Recipe Source: from Mel's Kitchen Cafe (just like we made it growing up)
Disclaimer: I am a participant in the Amazon Services LLC Associates Program, an affiliate advertising program designed to provide a means for me to earn fees by linking to Amazon.com and affiliated sites. As an Amazon Associate I earn from qualifying purchases.