Autumn Minestrone Soup
Healthy, hearty, tasty and completely tummy warming, this autumn minestrone soup is the perfect dinner. It just screams fall!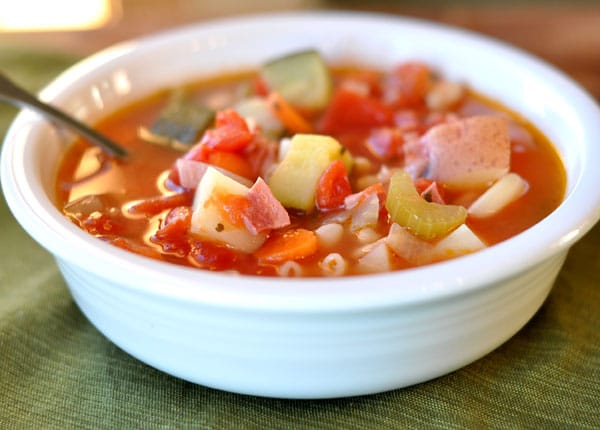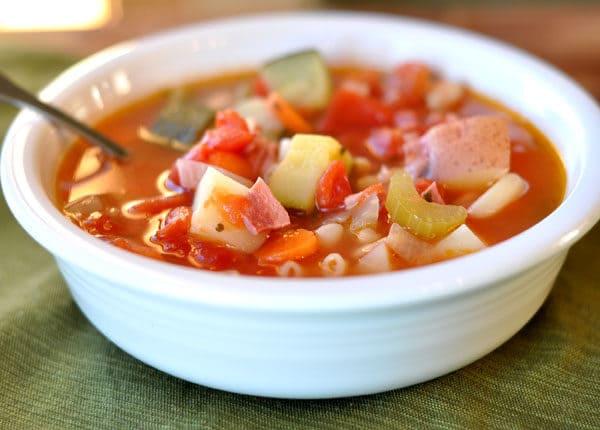 Healthy, hearty, tasty and completely tummy warming, this minestrone soup was the invention for one of the nights my in-laws were visiting and it ended up being a mighty success.
Of course, since I doubled it and made enough to feed a small country, we ate it for three days straight which probably lessened the success factor a bit, but hey, I'm all about capitalizing on a meal that works, even if it means major overkill.
The flavors are simple but classic: onions, garlic and bacon form the starting base of the soup and it builds simply with a stash of vegetables, small pasta, white beans and a light tomato broth.

Served with a delicious dinner roll and a slice of cheese and this soup makes for a quick, fantastic meal perfect for the cooler weather.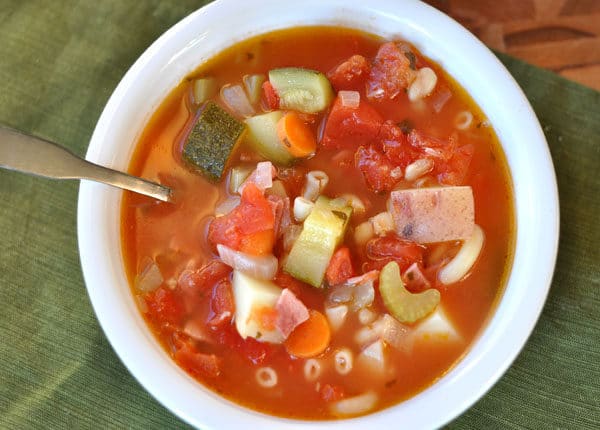 One Year Ago: Homemade Spaghetti Sauce
Two Years Ago: Creamy Chicken Fettuccine
Yield: 6 servings

Prep Time: 15 minutes

Cook Time: 40 minutes

Total Time: 55 minutes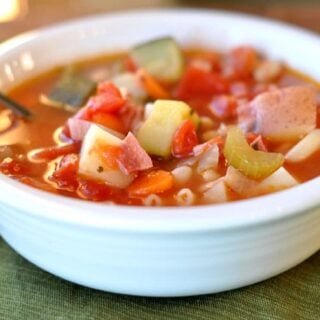 Ingredients
1 tablespoon olive oil
1 onion, diced
6 ounces turkey or regular bacon or ham, chopped
2 cloves garlic, finely minced
2 (14.5 oz.) cans diced tomatoes
2 (15 oz.) cans Great Northern beans, rinsed and drained
½ cup chopped carrots
2 celery stalks, chopped
¼ cup chopped flat-leaf fresh parsley
2 potatoes, peeled and diced (I leave the peels on with red potatoes)
1 zucchini, diced
1 teaspoon dried thyme
3 cups chicken broth
1 cup water
1 teaspoon salt
½ teaspoon pepper
½ cup to ¾ cup small pasta
Instructions
Heat the oil over medium heat in a large pot until shimmering. Add the onion and bacon and sauté until the onion is translucent, stirring frequently. Add the garlic and stir, cooking for one minute.
Add all the other ingredients except the pasta and simmer, stirring occasionally, partially covered for 20-30 minutes, until the vegetables are tender. Add the pasta and simmer for 10 minutes longer. Serve.
Recommended Products
As an Amazon Associate and member of other affiliate programs, I earn from qualifying purchases.

Recipe Source: My Kitchen Cafe
Disclaimer: I am a participant in the Amazon Services LLC Associates Program, an affiliate advertising program designed to provide a means for me to earn fees by linking to Amazon.com and affiliated sites. As an Amazon Associate I earn from qualifying purchases.