Baked Brown Spanish Rice
This baked brown Spanish rice bakes to perfection and proves to be a no-fuss side dish for many a Mexican- or Spanish-inspired meal.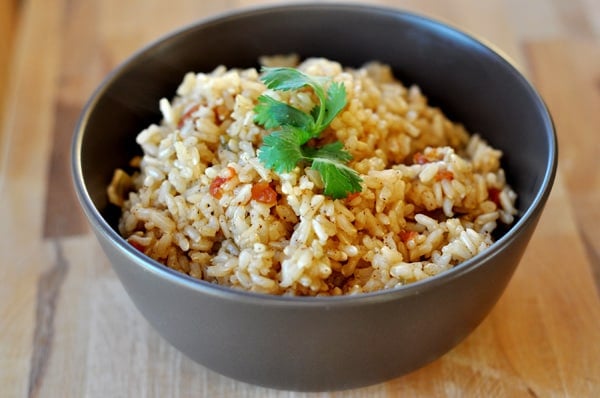 A knock-off on this classic baked brown rice, I wanted a Spanish-style rice to compliment dishes such as this one.
Taking a note from several recipes I've seen lately, I used rotel tomatoes to help with the heat and flavor. We loved the result!
Tender brown rice, lightly spiced with a bit of warmth from the tomatoes and seasonings, bakes to perfection in the oven and proves to be a simple, no-fuss side dish for many a Mexican- or Spanish-inspired meal.
Although it was a lovely accompaniment to the chili verde, the most glorious way we ate this rice was as leftovers the next day, heated up and smothered in pepper jack cheese.
The melty, spicy cheese offers the perfect creaminess to an already delicious rice dish. Yes, it also manages to make it laden with extra calories, but I'm telling you, it was seriously divine.
One Year Ago: Thanksgiving Dinner: The Turkey
Two Years Ago: Coconut Chicken Curry
Yield: 4-6 servings

Prep Time: 5 minutes

Cook Time: 1 hour 20 minutes

Total Time: 1 hour 25 minutes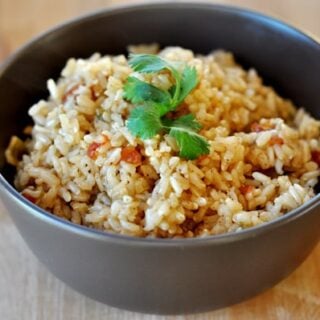 Ingredients
2 1/4 cups brown rice
3 3/4 cups chicken broth
1 can rotel tomatoes with chiles, drained
1 teaspoon chili powder
1 teaspoon cumin
Instructions
Preheat oven to 350 degrees. Combine all ingredients in a 2-quart oven-safe baking dish. Stir well. Cover with foil and bake for 80 minutes until the liquid is absorbed and the rice is tender.
Let sit for 10 minutes out of the oven. Salt and pepper to taste. Fluff with a fork and serve!
Notes
Rotel: this rice will be as spicy as the type of rotel tomatoes you buy. If you want it mild…well…buy mild rotel. If you like more heat, look for spicy rotel tomatoes.
Recommended Products
As an Amazon Associate and member of other affiliate programs, I earn from qualifying purchases.

Recipe Source: My Kitchen Cafe
Disclaimer: I am a participant in the Amazon Services LLC Associates Program, an affiliate advertising program designed to provide a means for me to earn fees by linking to Amazon.com and affiliated sites. As an Amazon Associate I earn from qualifying purchases.