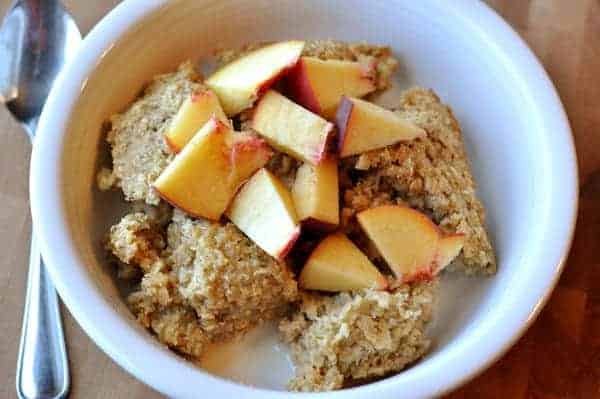 Thanks to my wonderful friend, Darcy (who humored all my talk about cooking and inspired me with this recipe and out of this world homemade pasta while I lived in Utah), this is now a staple in our house and has forced me to admit I can never go back to regular old oatmeal again.
More like an oatmeal "cake," this breakfast dish is wholesome (yes, I consider large amounts of brown sugar wholesome), moist and very versatile.
You can add fruit to the batter before baking or lay it on after, you can douse your portion of baked oatmeal in milk and slurp it up with a spoon, or you can skip the milk and eat it with a fork.
Any way you try it, it is sure to please. Personally, my favorite way to eat it is covered in fresh strawberries and milk. Thanks, Darc!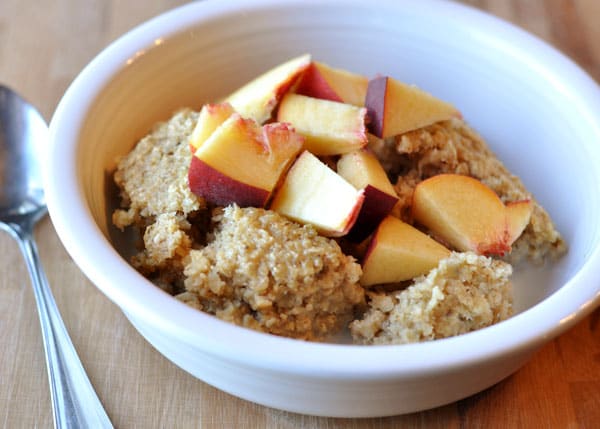 Baked Oatmeal
Ingredients:
6 cups oatmeal, either quick or old-fashioned
1 1/2 cups brown sugar
1/2 cup oil
1/2 cup applesauce
2 cups milk
4 beaten eggs
1 teaspoon vanilla extract
1 tablespoon baking powder
2 teaspoons salt
Directions:
Preheat the oven to 350 degrees. Mix all ingredients together and pour into a greased 9X13-inch baking pan.
Bake for 20-25 minutes, until a toothpick inserted in the center comes out clean. Serve with milk and/or fresh fruit.
Notes:
The recipe can be easily halved and baked in an 8X8-inch pan.
(Update 10/2010): Look to the comments to see how others have varied this oatmeal both in applesauce amounts and other creative ways. As for me, I've edited the recipe to use less brown sugar than the original and have substituted half the oil with applesauce. All of my changes are reflected below!
All images and text ©
.
Follow @melskitchencafe on Instagram and show me the recipes you are making from my blog using the hashtag #melskitchencafe. I love seeing all the goodness you are whipping up in your kitchens!
Recipe Source: adapted from my friend, Darcy R.