Chicken and Sausage Jambalaya
This chicken and sausage jambalaya is simple, quick, and not too bad for you if you use lean sausage. It is also delicious!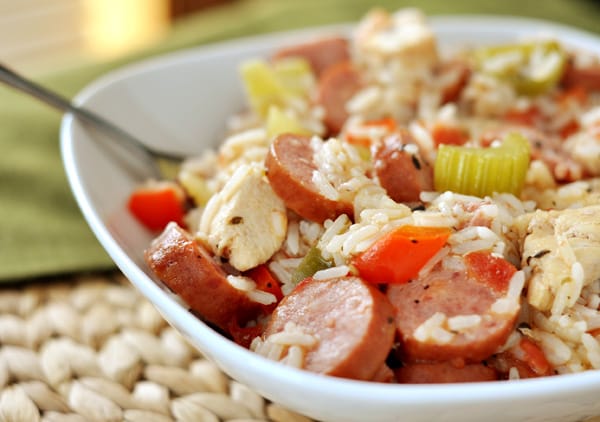 I have a feeling that jambalaya is a very, very personal thing. If you asked 100 jambalaya-lovers how they make/like their jambalaya, you just may get 100 different answers.
But if I could encourage you to try one version and one version only, it would be this one. Sent to me by Bliss P., this is a direct recipe from her grandmother's recipe cards, and let me tell you, there is no wonder it has been handed down from generation to generation.
Not having ever made jambalaya myself (shocking, I know!) and definitely not being a jambalaya expert, I adapted the recipe a bit for my liking. Those said variations may be against the Almighty Jambalaya Code, but even so, it is perhaps one of the most delicious meals to hit our table.
I was craving this jambalaya again the night after I made it and still, I can't get it out of my mind.
Here's the beauty – it's simple, fairly quick and if you use lean sausage, it ain't too bad for you either.
Keep an eye out for the type of Rotel tomatoes suited for your spicebuds – obviously I chose mild for my kidlets – but choose the heat that will satisfy your jambalaya-loving tummy. This is seriously good stuff, people. Thanks, Bliss, for a recipe that I will be making over and over and over!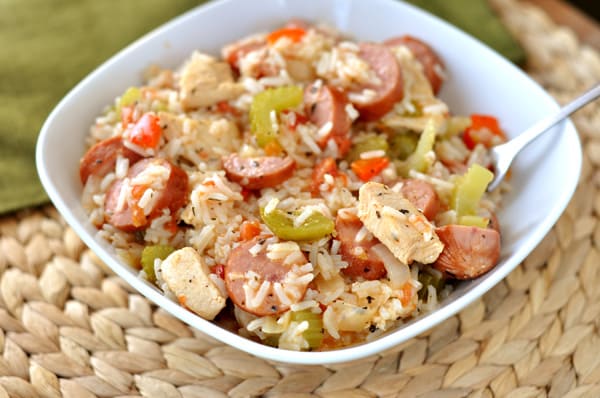 Cornbread Muffins or Cornbread and Fluffy Honey Butter
Fresh, seasonal fruit
Steamed veggie
Chicken and Sausage Jambalaya
Yield: 6 servings

Prep Time: 15 minutes

Cook Time: 35 minutes

Total Time: 50 minutes
Ingredients
1 pound smoked sausage, cut into 1/4-inch slices
1 pound chicken (about 2 average-sized boneless skinless chicken breasts or the equivalent of another kind of cut, like thighs), cut into bite-size pieces
2 tablespoons flour
2 tablespoons butter
1 large yellow onion, chopped
2 cloves garlic, finely minced
3 ribs celery, chopped
1 medium bell pepper (red or green), chopped
1 teaspoon dried basil
1/4 teaspoon Creole or Cajun seasoning (use a light hand with this if you don't want it overly spicy)
1 can (10-ounces) Rotel tomatoes
1/2 teaspoon sugar
1 1/2 cups low-sodium chicken broth
2 cups hot, steamed rice
Instructions
In a 4-6 quart pot, cook sausage and poultry over medium heat. Drain the grease (you may only need to do this if you aren't using a lean sausage), scrape the meat onto a plate and set aside. Melt the butter in the same pot. Stir in the flour and cook over medium heat, stirring constantly, for one minute.
Add the vegetables, basil and Creole (or Cajun) seasoning, and the Rotel tomatoes and sugar. Stir well. Simmer the mixture over low or medium-low heat for 15 to 20 minutes, stirring occasionally, until the vegetables are mostly tender (they'll continue to cook a few minutes longer in the next step).
Add the sausage and chicken back to the pot, and cook 10 minutes, stirring occasionally. Add the chicken broth and simmer 5 minutes longer. Stir in the hot, steamed rice until you achieve your desired consistency.
Notes
Just a Tip: start cooking the rice while you prepare the rest of the jambalaya so it is ready to add in during the last step.

For the Smoked Sausage: if you choose a leaner sausage, like turkey or chicken, you may need to add one tablespoon of olive oil to the pot in the first step when cooking the chicken and sausage together since the lean sausage won't render as much fat.
Recommended Products
As an Amazon Associate and member of other affiliate programs, I earn from qualifying purchases.

Recipe Source: adapted from Bliss P.