Chicken Cordon Bleu Bread Bowls
This chicken cordon bleu bread bowl recipe is all the flavors of chicken cordon bleu wrapped up in a deliciously hearty bread bowl.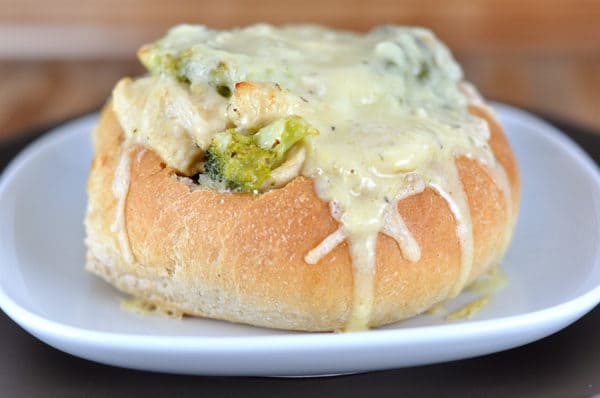 Get ready to think beyond soup-in-bread-bowls because this meal will knock your socks off.
All the flavors of chicken cordon bleu wrapped up in a deliciously hearty bread bowl, smothered in a creamy, decadent, flavorful sauce and baked to bubbly, cheesy perfection.
Who knew a bread bowl could be so delicious filled with something so not-soup-ish!
This bread bowl is packed with chicken, ham, and broccoli and topped with a silky Swiss and light mustard sauce. Beyond delicious. Beyond.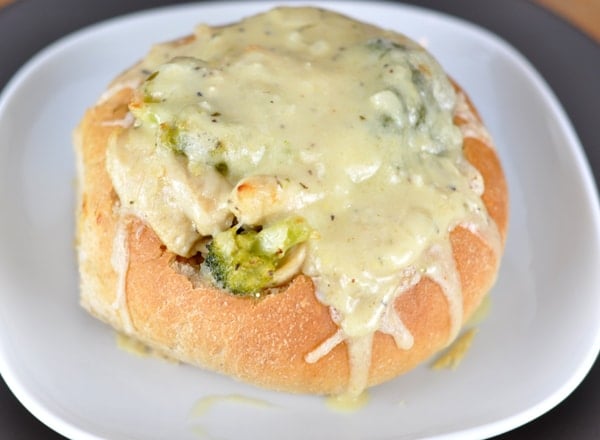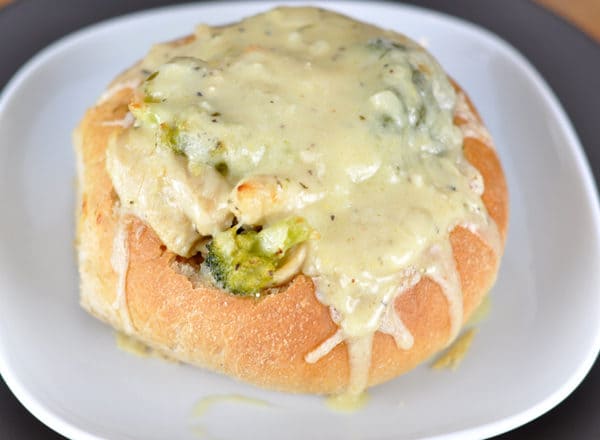 Artisan or Italian Bread Bowls
Simple green Salad (or for an extra special salad this Spinach Salad with Spicy Nuts)
Fresh, seasonal fruit
One Year Ago: Teriyaki Meatballs
Two Years Ago: Quick and Delicious Clam Chowder
Three Years Ago: No-Knead Bread Revolution
Chicken Cordon Bleu Bread Bowls
Yield: 4 servings

Prep Time: 15 minutes

Cook Time: 36 minutes

Total Time: 51 minutes
Ingredients
For the Chicken and Sauce:
4 tablespoons butter
1 pound boneless, skinless chicken breasts cubed (about 2-3 chicken breasts)
1/2 cup minced yellow onion
2 cloves garlic, finely minced
2 tablespoons flour
½ cup apple juice
1 1/4 cups chicken broth
1/2 cup heavy cream
1/4 cup freshly grated Parmesan cheese
2 tablespoons prepared yellow mustard
1 teaspoon dried thyme
2-3 cups broccoli florets
Salt and cayenne pepper to taste
To Assemble:
4-6 medium round regular or sourdough bread bowls (I used this Italian Bread bowl recipe)
8-10 thin slices smoked ham
1 cup grated Swiss cheese
¼ cup freshly grated Parmesan cheese
Instructions
Preheat the oven to 400 degrees. Line a large rimmed baking sheet with foil and lightly coat the foil with cooking spray.
Place the broccoli florets in a microwave-safe bowl and cover with plastic wrap or a tight fitting microwave-safe lid. Microwave on high for 3-4 minutes until tender but still bright green. Remove the plastic wrap and set aside.
In a 10- or 12-inch skillet, melt the butter over medium heat. Add the chicken and saute until the chicken begins to brown but isn't cooked all the way through, about 3-4 minutes. Stir in the onions and garlic and cook, stirring often, until softened (when chicken is still slightly pink), about 2 minutes. Sprinkle the flour over the chicken/onion mixture and stir to incorporate. Cook, stirring, constantly for one minute.
Gradually add the chicken broth and apple juice, stirring constantly to avoid any clumps from forming. Stir in the cream, Parmesan cheese, mustard and thyme. Simmer for about 5-6 minutes, until the mixture is thickened and bubbly. Stir in the broccoli; season with salt and cayenne pepper to taste. Remove from heat.
Hollow out the inside of the bread bowls by cutting off the tops and tearing out the insides. I like to leave about a 1/4-inch edge along all sides of the bread bowl. Compress the remaining bread together to firm up the sides and make room for the filling. Place the bread bowls on the prepared baking sheet and toast them for about 5 minutes in the preheated oven.
Remove the toasted loaves from the oven and arrange the ham slices in the bottom of each loaf. Using a slotted spoon, divide chicken mixture evenly between loaves, reserving about 1-2 cups sauce in the pan for serving. Top the chicken mixture in each loaf with shredded Swiss and a sprinkle of Parmesan cheese.
Bake the bread bowls until the cheese melts, about 10-15 minutes. Serve each bread bowl with reserved cream sauce.
Notes
Apple Juice: if you don't have apple juice on hand, you can omit the apple juice and increase the chicken broth to 1 3/4 cups.
Recommended Products
As an Amazon Associate and member of other affiliate programs, I earn from qualifying purchases.

Recipe Source: adapted from Mindika Moments who adapted it from Cuisine at Home
Disclaimer: I am a participant in the Amazon Services LLC Associates Program, an affiliate advertising program designed to provide a means for me to earn fees by linking to Amazon.com and affiliated sites. As an Amazon Associate I earn from qualifying purchases.