Chocolate Chip Cookie Dough Cheesecake Bars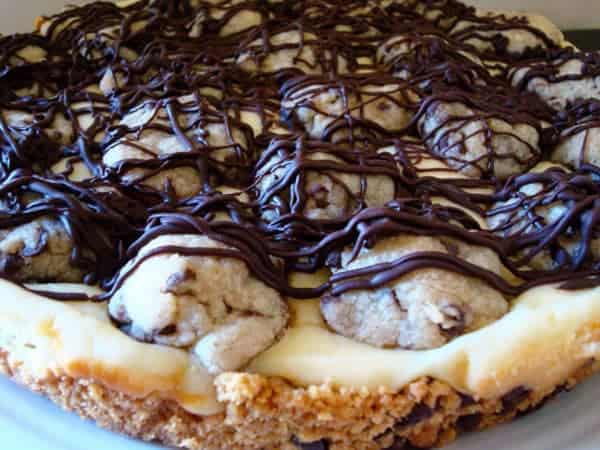 Wow. Wow. Wow. Talk about a phenomenal dessert! I made these a couple weekends ago to take to a BBQ with some friends and they were a hit.
I, personally, couldn't get enough of them and was trying to find ways to sneak more bites inconspicuously so I didn't look like a glutton. I don't think I succeeded!
If you like chocolate chips, cookie dough and cheesecake, this is the recipe for you.
A graham cracker crust studded with mini- chocolate chips is topped with a creamy cheesecake layer and finally layered with chunks of cookie dough and drizzled with chocolate.
Oh my. I can't wait to make these again! Fantastic.
Chocolate Chip Cookie Dough Cheesecake Bars
Yield: 9-inch round or square pan

Prep Time: 20 minutes

Cook Time: 36 minutes

Total Time: 56 minutes
Ingredients
Crust:
1 1/2 cups graham cracker crumbs
5 tablespoons butter, melted
2/3 cup miniature semisweet chocolate chips
Cookie Dough:
5 tablespoons butter, at room temperature
1/3 cup packed light brown sugar
3 tablespoons granulated sugar
1/8 teaspoon salt
1 teaspoon vanilla extract
3/4 cup all-purpose flour (I found the cookie dough was a bit stiff with this much flour, next time I think I'll cut it down by 1/8th of a cup)
1 cup miniature semisweet chocolate chips
Filling:
10 ounces cream cheese, at room temperature
1/4 cup granulated sugar
1 large egg, at room temperature
1 teaspoon vanilla extract
Instructions
For the crust, preheat oven to 325°F. Butter a 9-inch square baking pan (I used a 9-inch round pan and cut the final dessert into pie-shaped pieces). Line pan with parchment paper (I used foil), leaving enough to extend over the sides. Lightly coat the parchment paper/foil with non-stick cooking spray.
Combine graham cracker crumbs and butter until crumbs are moistened. Stir in chocolate chips. Press crust mixture into bottom of pan. Bake for 6 minutes. Set pan on wire rack to cool.
For the cookie dough, using an electric mixer, mix butter, brown sugar, sugar, salt, and vanilla extract at medium speed until smooth. Decrease mixer speed to low and add flour. Mix just until incorporated. Stir in chocolate chips. Set aside.
For the filling, using an electric mixer, beat cream cheese and sugar just until smooth. Add egg and vanilla extract, beating just until blended. Pour batter into baked crust. Drop cookie dough by teaspoonfuls over the top of the filling.
Bake about 30-35 minutes, or until set. Transfer to wire rack.
For chocolate topping, melt 1/3 cup semisweet chocolate chips in a double boiler or in the microwave. (Tip: put the chocolate chips into a zipper bag and heat on 50% power for a few minutes. Cut the corner off the bag and squeeze the bag to make drizzling less messy). Use a teaspoon to drizzle chocolate over top of bars. Cool bars in pan completely, about an hour. (Stick the bars in the freezer for 5 minutes to set quickly if you're in a hurry).
Using the edges of the parchment paper/foil, remove bars from pan. Cut into bars (clean the knife after each cut) and serve.
Recommended Products
As an Amazon Associate and member of other affiliate programs, I earn from qualifying purchases.

Recipe Source: adapted from Dozen Flours