Chocolate Haystack Cream Cheese Squares
The only thing better than a chocolate shop haystack is a homemade chocolate haystack cream cheese square. Try them. They are amazing!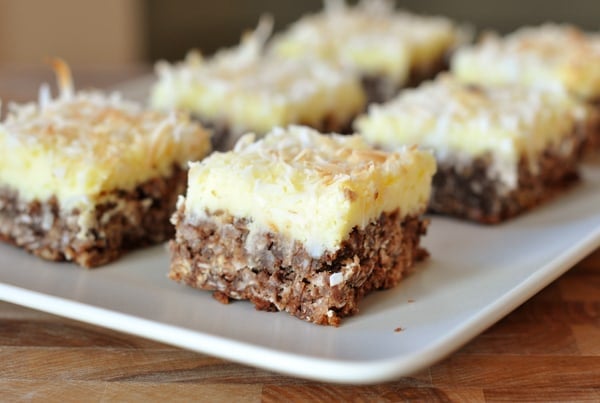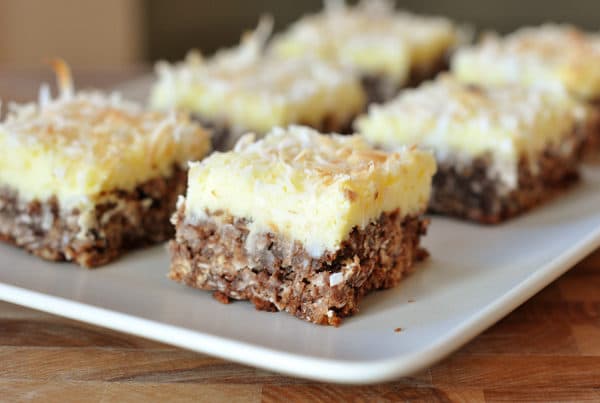 When I was a sophomore in college many moons ago, I landed the coolest job ever. Chocolate-Mold-Tapper at the best chocolate company in the land.
I should probably mention that I scored the job because my mom had dated the owner's son waaaay back in the day before my dad or I or my other four siblings came into the picture, but I won't. I'd like it remembered I got the job based on my mad chocolate-tapping skills.
Anyhow, my main job was to make all of the 3-dimensional chocolate products, everything from chocolate violins to chocolate baby shoes. I filled and tapped, filled and tapped. Nary an air bubble in my chocolate molds, I'm proud to say.
However, the real reason I'm telling you this (seriously, get to the point already!), is because while there, not only did I regain my "freshman 15" but ended up packing on the "sophomore 30″…all because I developed a serious addiction to the haystack.
Ever had one? Well, they just might be the best confection on the planet. Finely, finely, finely chopped toasted coconut enveloped in rich, sweet, creamy chocolate (dark chocolate!). That's it. Simple and oh, so very addicting.
Each bite is like a melt-in-your-mouth melding of coconut and chocolate. They are my favorite chocolates ever. And no, I've never tried dipping them at home…
…but I have made these chocolate haystack cream cheese squares. The delectable haystack combination forms the so-called crust and is topped with a silky, smooth cheesecake layer and toasted coconut. Hello.
No wonder this "sophomore 30" is still hanging around 13 years later.
Click on the Sugar Rush button to the right to see all the Sugar Rush recipes so far!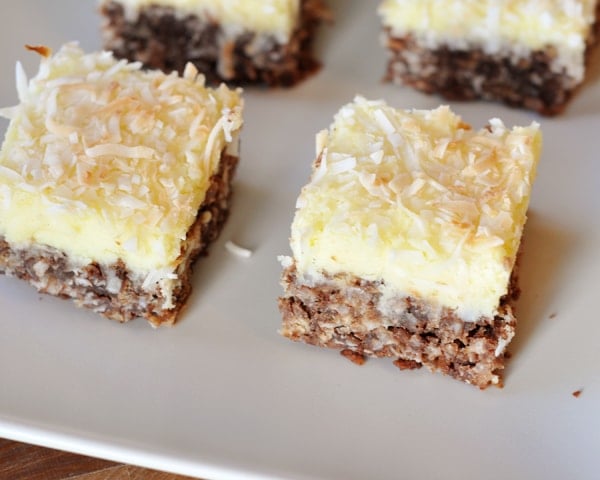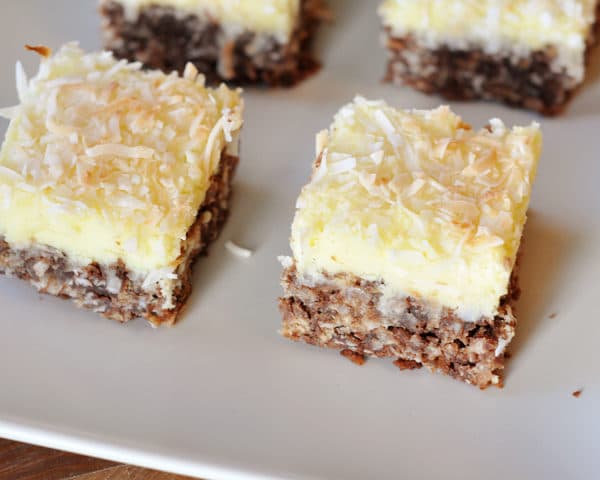 One Year Ago: Chocolate Toffee Brownie Bites
Two Years Ago: Holiday Morning Buns
Chocolate Haystack Cream Cheese Squares
Yield: 2 dozen

Prep Time: 15 minutes

Cook Time: 45 minutes

Total Time: 1 hour
Ingredients
2 cups finely ground graham crackers (from about 15 rectangles)
3 cups (10 ounces) finely shredded unsweetened coconut
1 cup (6 ounces) semisweet chocolate chips
1/2 cup (3 ounces) milk chocolate chips
1 cup plus 3 tablespoons granulated sugar
1 stick (1/2 cup) butter, cut into 2-inch pieces
5 eggs
12 ounces cream cheese, room temperature
Instructions
Preheat oven to 350 degrees. Butter a 9-inch square baking pan with at least 2 1/2 - 3-inch high sides (I use an aluminum square cake pan with high sides, if yours is a glass pan with shorter sides, you might try increasing the pan size so the cheesecake doesn't overflow). Line with parchment paper or foil, leaving a 2-inch overhang on 2 sides. Butter or lightly grease the foil or parchment.
Stir together the graham cracker crumbs and 2 cups of the coconut. In a microwave-safe bowl, place both kinds of chocolate, 3 tablespoons sugar and butter. Microwave for one minute at 50% power. Stir. Repeat the process, stirring after each minute, until the chocolate mixture is melted and smooth. Let the mixture cool slightly until lukewarm to the touch. Quickly whisk in one egg.
Stir the chocolate mixture into the graham cracker/coconut mixture. Press evenly into the bottom of the prepared pan. Bake until set, about 10 minutes. Transfer to a wire rack, and let cool in pan.
Meanwhile, in a large bowl with an electric or hand mixer, beat the cream cheese and remaining 1 cup sugar on high speed until very smooth and fluffy, about 5 minutes. Reduce the speed to medium, and add eggs, 1 at a time, until well combined. Scrape the sides of the bowl as needed. Beat on medium-high speed until completely smooth, about 3 minutes.
Pass the cheesecake mixture through a fine-mesh strainer into a bowl, and stir until smooth. Pour over cooled crust. Sprinkle remaining 1 cup coconut evenly over the top. Bake for 32-35 minutes, until the top layer is just set and golden brown. Let the bars cool completely in the pan on a wire rack. Refrigerate, loosely covered, overnight.
Run a sharp knife around edges of pan, and use parchment or foil handles to lift out the cheesecake. Cut the bars into 1-inch squares. The bars will keep up to 4 days in an airtight container kept in the refrigerator.
Recommended Products
As an Amazon Associate and member of other affiliate programs, I earn from qualifying purchases.

Recipe Source: adapted from Martha Stewart
Disclaimer: I am a participant in the Amazon Services LLC Associates Program, an affiliate advertising program designed to provide a means for me to earn fees by linking to Amazon.com and affiliated sites. As an Amazon Associate I earn from qualifying purchases.