What's killer (in a totally different way) is that it took me nearly two years to make these killer crunch brownies after a coworker of my husband's sent me the recipe long, long ago (thanks, Katie!).
I was looking through my saved recipes and these caught my eye. And I can attest: they are killer.
Let's break it down, shall we? A decadent layer of brownies. Check. Topped with luscious marshmallow creme. Got it.
Further added upon by a crunchy peanut butter chocolate mixture (think 100-Grand candy bar or something like unto it). Double check. Chilled. Sliced. Devoured.
These are absolutely 100% amazing.
Not only are they sinful and rich and totally dreamy, they will wow your friends and family and make you a veritable rock star.
These bars are unique, irresistible and anything with the words 'killer' and 'crunch' in them deserve to be made immediately, in my humble opinion.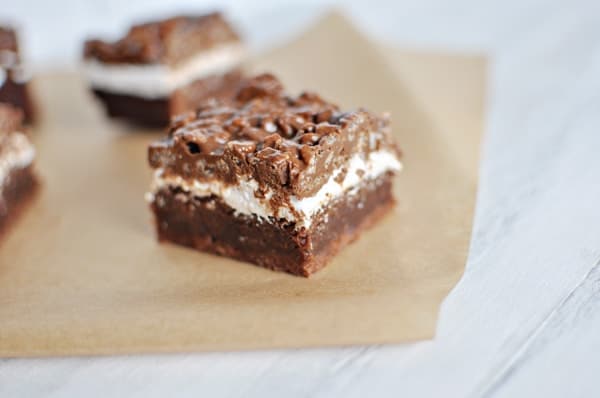 Yield: 9X13-inch pan

Prep Time: 20 minutes

Cook Time: 35 minutes

Additional Time: 55 minutes

Total Time: 1 hour 50 minutes
Ingredients
Brownies:
1 12-ounce bag chocolate chips
1 cup butter (2 sticks)
1 1/2 cups granulated sugar
1 teaspoon vanilla
4 large eggs
1 1/2 cups all-purpose flour
1/2 teaspoon salt
Topping:
7-ounce jar marshmallow crème
1 cup peanut butter
1 cup semi-sweet chocolate chips
3 cups rice krispie cereal
Instructions
Preheat the oven to 350 degrees. Line a 9X13-inch baking pan with aluminum foil and lightly spray with cooking spray. For the brownies, in a medium saucepan over low heat, melt the butter and chocolate chips. Stir constantly and remove from the heat when the chips are fully melted. Whisk in the sugar and vanilla. Add the eggs, blending fully, one at a time. Add the flour and salt and mix until well-combined. Pour the batter into the prepared pan. Bake for 25-30 minutes until the brownies are cooked through and set but not overbaked.
While the brownies are still warm, dollop the marshmallow crème over the top in large scoops and spread into an even layer. In a medium saucepan, melt the peanut butter and chocolate chips together over low heat, stirring constantly. When fully melted and smooth, remove from the heat and stir in the rice krispies. Scoop spoonfuls over the marshmallow layer and gently spread into an even layer. Let the pan of brownies cool to room temperature and then refrigerate until the chocolate krispie topping is set, 1-2 hours. Serve chilled.
Recommended Products
As an Amazon Associate and member of other affiliate programs, I earn from qualifying purchases.

Recipe Source: adapted from a recipe Katie S. (who works at the company my husband used to work at) sent me a couple of years ago