Chocolate Peanut Butter Fun Cake
The star of this chocolate peanut butter fun cake is the peanut butter buttercream frosting. It really is one of the most delicious cake toppers out there.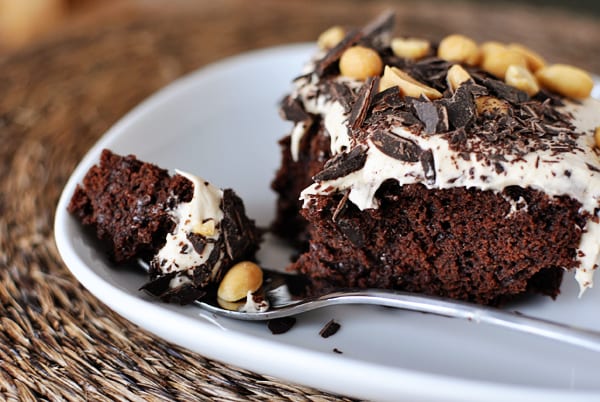 Ok, ok, I admit that "fun" in the title of the cake is a bit cheesy, but I'll readily admit another point: this cake really is fun.
The entire dessert is less about the chocolate cake (just make sure you have a classically delicious, moist chocolate cake base) and more about the absolutely divine peanut butter buttercream frosting.
While we were eating this tasty treat, Brian and I must have said to each other at least four times, "This frosting is amazing" or "This cake is all about the frosting" or "This cake would be nothing without the frosting." See how fun our conversation is at the dinner table? We are such fun people, it kills me.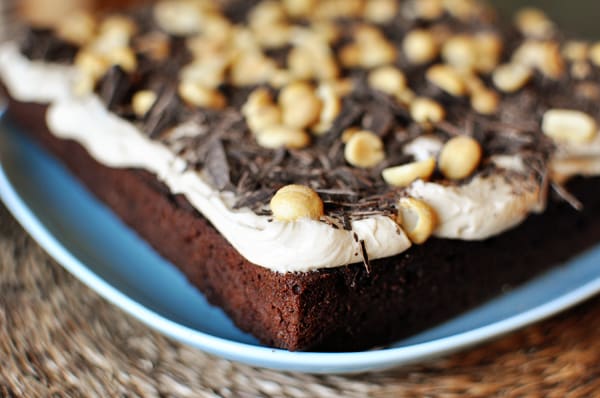 The buttercream frosting is made using a method similar to a swiss meringue buttercream, which simply means that egg whites are cooked with sugar prior to whipping. The silky texture and crazy-good creamy flavor of the frosting reminded me of this magical frosting, which I have already waxed poetic about in the past.
Softer and lighter than traditional buttercream frostings, this peanut butter buttercream was quite simply one of the most delicious concoctions I've ever topped a cake with. And it won't be the last.
Garnished with roasted peanuts and chocolate shavings and you've got yourself the funnest cake of the century.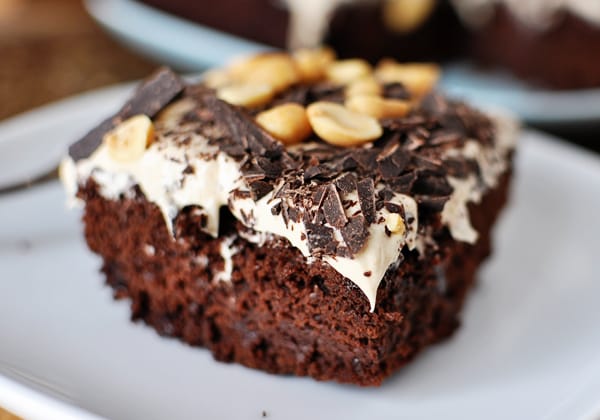 One Year Ago: Homemade Ciabatta Bread
Two Years Ago: Stir Fry Basil Chicken
Chocolate Peanut Butter Fun Cake
Ingredients
For the Cake:
1 1/2 cups all-purpose flour
3/4 cup granulated sugar
1/4 cup natural cocoa powder
3/4 teaspoon baking soda
1/2 teaspoon salt
1/3 cup vegetable or canola oil
1 tablespoon distilled white vinegar
1 teaspoon vanilla extract
1 cup water
For the Peanut Butter Buttercream:
1/2 cup sugar
1/4 cup egg whites (from about 2 large eggs)
1 1/2 teaspoons vanilla extract
1/4 cup creamy peanut butter
6 tablespoons (3/4 stick) chilled butter, cut into 1/4-inch cubes
1/4 cup chopped semisweet or bittersweet chocolate (about 1 3/4 ounces), for garnish
1/4 cup chopped unsalted, dry-roasted peanuts, for garnish
Instructions
For the cake, adjust an oven rack to the middle position and heat the oven to 350 degrees F . Coat an 8-inch-square baking pan with nonstick cooking spray.
Whisk the flour, sugar, cocoa, baking soda, and salt together in the baking pan. Make 1 large and 2 small craters in the dry ingredients. Add the oil to the large crater and vinegar and vanilla separately to the remaining small craters. Pour the water into the pan and mix until just a few streaks of flour remain. Use a rubber spatula to spread the batter evenly in the pan if it isn't level after mixing. Immediately put the pan in the oven.
Bake until a toothpick inserted in the center of the cake comes out with a few moist crumbs attached, about 23-25 minutes. Don't overbake or the cake will be dry! Remove from the oven and let the cake cool completely in the pan set on a wire rack.
For the buttercream, combine the sugar and egg whites in a medium metal or glass bowl set over a saucepan of simmering water. Whisk constantly until the sugar dissolves and the mixture is hot to the touch, 3–4 minutes. Remove the bowl from off the saucepan and using an electric mixer, beat on high speed until the mixture is cool and thick, 5–6 minutes. Beat in the vanilla, then the peanut butter. With the mixer running, add butter a few pieces at a time, beating to blend between additions. Season with a pinch of salt, if desired (I didn't add any additional salt to my frosting since I used salted butter). The frosting will be much softer and less set-up than a traditional buttercream made with butter and powdered sugar. If it seems overly runny, refrigerate the frosting for an hour or so to help it firm up - but keep in mind that this isn't a frosting to pipe with, it is meant to be soft and creamy. It has the finished texture of cream whipped to soft peaks.
Run a thin knife around the cake pan to release the cake. Invert the cake onto a serving plate. Spread the peanut butter buttercream over top. Garnish with chopped chocolate and peanuts. The cake can be made and frosted up to 1 day ahead of time. Store airtight at room temperature.
Notes
Cake: I skipped the cake recipe from Bon Appetit and used another chocolate cake recipe I've made and loved before (and that is also baked in an 8X8-inch pan). If you already have a much-loved, tried-and-true 8X8-inch chocolate cake recipe, go ahead and use it. This cake simply needs a delicious chocolate base to convey the tastiness of the silky peanut butter buttercream.
Recommended Products
As an Amazon Associate and member of other affiliate programs, I earn from qualifying purchases.
Recipe Source: adapted from Bon Appetit
Disclaimer: I am a participant in the Amazon Services LLC Associates Program, an affiliate advertising program designed to provide a means for me to earn fees by linking to Amazon.com and affiliated sites. As an Amazon Associate I earn from qualifying purchases.