Easy and so delicious, this best-ever white chicken chili has been a family favorite for years (with no signs of stopping!). With directions for stovetop or slow cooker, it's versatile, simple, and tasty!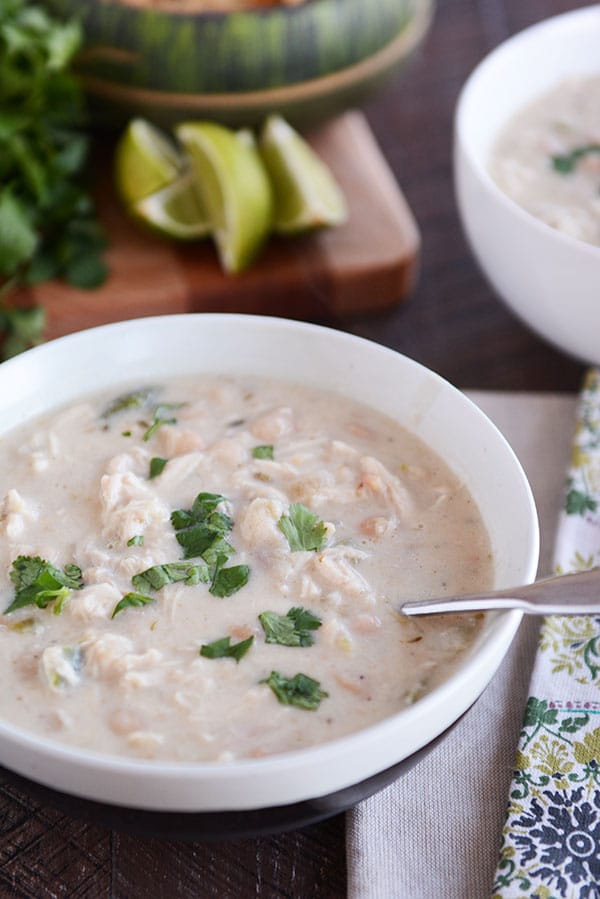 Let's talk about chili.
Creamy white chicken chili to be exact.
I like classic red chili. Here are a few of my favorite red chilis:
My Mom's Classic Red Chili
Slow Cooker Red Chili
Hearty Turkey and Bean Chili
Sweet Heat Louisiana Chili 
But if I'm being honest, I LOVE (double heart, love, love, love) white chili.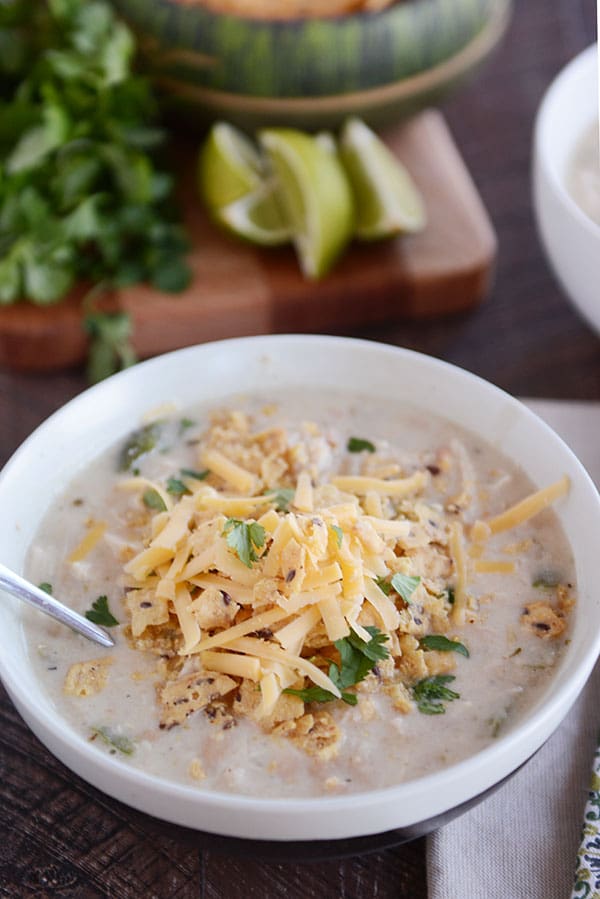 And I hate to throw out exclamations like this: but this creamy white chicken chili is the best of the best of the best.
I mean, just read through the comments and you'll see why so many people rave about this white chicken chili.
Not only is it a cinch to throw together, but the flavor is amazing.
Over the years, I've kept the basic recipe the same, but you can see below that I've added some notes to make this recipe even more delicious.
It also works beautifully in the slow cooker.
And since I know people will ask (can't blame you), I actually have tried this in the Instant Pot as well.
But it definitely falls into the category of: it's just as fast to make it on the stovetop. By the time the IP comes up to pressure,  cooks the chicken, and the pressure releases, this can be ready to go via a saucepan on the stove.
However, I'm not one to talk you out of using that Instant Pot every single day of your life. So, feel free to give it a go.
I didn't include directions for the IP below because I don't make it that way, but you can try tossing everything but the dairy ingredients in the IP (use whole chicken breasts) and cook for 8 minutes on high pressure (probably 3 minutes for cubed chicken, but the other ingredients, like the onion, may not soften fully).
Let the pressure naturally release for 10 minutes, quick release the rest of the way, stir in the sour cream and cream/milk, select Saute and heat through.
And also, if you are interested, here are a few of my other beloved white chili recipes:
White Bean Chicken Chili (with a little extra flair that makes it different than today's recipe)
Roasted Garlic and White Bean Chili
Slow Cooker White Bean Chicken Chili (not creamy, more brothy)
Slow Cooker Jalapeño Popper White Bean Chili
P.S. Also, thank you from the very bottom of my somewhat fragile heart for the kindness that has been pouring in from the newsletter I sent out late Saturday night. It has buoyed up my spirits. For those of you who don't get the newsletter, I'll hopefully be doing a skin cancer update soon, especially as the warmer weather approaches and the sun is in full force. Thanks, again – your support means so much to me.


Chili toppings, like shredded cheese, tortilla chips, etc.
My Favorite Cornbread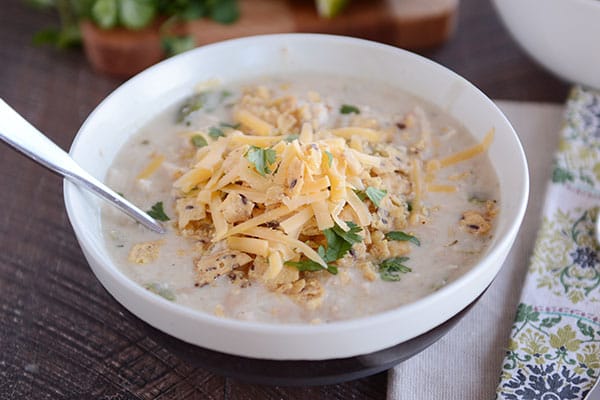 Print
Creamy White Chicken Chili
Yield 6 servings
As happens with recipes that have been posted as long as this one has (since 2008!), I have additional notes that may help make the recipe even more delicious. Over the years, I've often subbed out the green chiles completely for a jar (12 ounces) of green salsa (salsa verde or tomatillo salsa). Yum, super yum. 
Also, I hardly ever use the whipping cream anymore. I either add extra sour cream OR use milk OR if I want a thicker chili, I blend 1/2 cup milk with 1 tablespoon flour and use that. There are SO many comments in the thread below about variations you've used as well.
Finally (sorry, I'm almost done), this chili is really delicious with already cooked chicken (like a rotisserie chicken or leftover chicken or this simple stovetop shredded chicken). Simply stir in cooked chicken at the end and heat through. 
Ingredients
1 tablespoon oil
1 pound boneless, skinless chicken breasts, cut into 1/2-inch pieces (leave whole for slow cooker method)
1 medium onion, chopped (about 1/2 cup)
1 1/2 teaspoons garlic powder or 2 cloves fresh garlic, finely minced
2 cans (15 1/2 ounces each) Great Northern Beans, rinsed and drained
1 can (14 1/2 ounces) chicken broth (about 1 3/4 cups)
2 cans (4 ounces each) chopped green chiles (see note above)
1 teaspoon salt
1 teaspoon ground cumin
1 teaspoon dried oregano
1/2 teaspoon pepper
1/4 teaspoon cayenne pepper
1 cup sour cream
1/2 cup whipping cream (see note above)
Fresh cilantro, for garnish (optional)
Shredded cheese, tortilla chips, other toppings (optional)
Instructions
Stovetop Directions: In a 4- or 5-quart pot, heat the oil over medium heat. Add the chicken, onion, and garlic powder (or fresh garlic, if using). Cook, stirring occasionally, for 1-2 minutes, until the onion starts to soften (it's ok if the chicken isn't cooked all the way; it will cook more in the next step).
Add the beans, broth, chiles, salt, cumin, oregano, pepper and cayenne.
Bring the mixture to a simmer and cook, uncovered, for 15 to 30 minutes.
Remove from the heat; stir in the sour cream and cream.
Garnish with fresh cilantro, if desired. Serve immediately with other toppings of choice, if desired.
Slow Cooker Directions: In a 5- or 6-quart slow cooker, place 1 pound boneless, skinless chicken breasts whole (without cutting into pieces).
Add the chopped onion, garlic powder, beans, green chiles and all of the spices. Do not add the sour cream or whipping cream yet!
Reduce the chicken broth to 12 ounces (about 1 1/2 cups) and pour in over the other ingredients. Stir the mixture around a bit to incorporate the dry spices. Cook on low for 5-7 hours.
Remove the chicken to a cutting board and shred in bite-size pieces (or use a couple forks and shred right in the slow cooker). Add the shredded chicken back into the slow cooker.
In a small bowl or liquid measuring cup, whisk together the sour cream and whipping cream until smooth. Whisk the cream mixture into the crockpot with the other ingredients. Let the chili cook warm through on low temperature. Serve.

Recipe Source: from my wonderful friend, Tori M.
Recipe originally posted September 2008; updated with new pictures, recipe notes, commentary.