Classic and Delicious Peach Cobbler
Peach and cobbler just belong together and this very classic, very delicious, very simple version is the best.
I can't believe I've left you high and dry for this many years of blogging without a classic and delicious peach cobbler recipe. I hope you can forgive me. Perhaps peach cobbler can heal all hurt feelings?
This is my favorite version thanks to my sister's neighbor in Montana, Debbie, who passed on this recipe years ago.
The original recipe has a fruit filling that is quite different than my version below (incorporates blueberries and requires cooking the filling prior to baking) but it's the topping that sold me.
Tender and fluffy and buttery with just the right hint of sweetness. Yum. Cobbler topping forever.
I know there are about one million three hundred and forty seven variations of fruit cobblers hanging around. But peach will always be my favorite. Always.
Peach and cobbler just belong together and this very classic, very delicious, very simple version is the one in my "favorites" folder.
And just in case you are new to the world of cobblers in general, don't even think of serving a warm helping of this delectable peach cobbler without vanilla ice cream. That would be a travesty of epic proportions.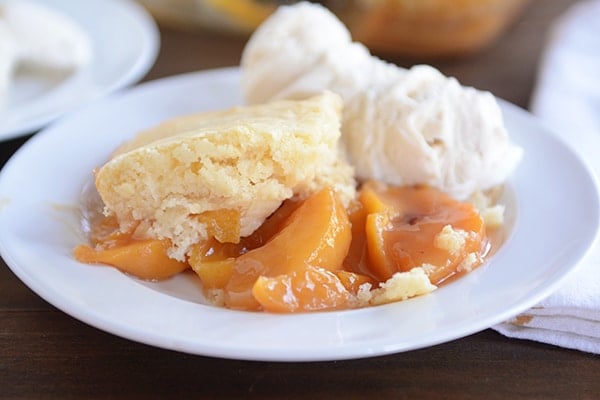 Yield: 6 servings

Prep Time: 20 minutes

Cook Time: 45 minutes

Total Time: 1 hour 5 minutes
Ingredients
Peach Layer:
3 - 4 cups peeled and sliced peaches (about 1.5 - 2 pounds), see note about using frozen peaches
1/3 cup (about 2.5 ounces) lightly packed brown sugar
1 tablespoon flour
1/2 cup water (see note)
1 tablespoon fresh lemon juice
1 tablespoon butter
Cobbler Topping:
1 cup (5 ounces) all-purpose flour
1/3 cup (2.5 ounces) granulated sugar
1 1/2 teaspoons baking powder
1/4 teaspoon salt
1/2 cup milk
1/4 cup (4 tablespoons, 2 ounces) butter or coconut oil, melted
Instructions
Preheat the oven to 325 degrees F. Lightly grease a glass 8X8-inch baking pan with cooking spray and set aside (if using an aluminum baking pan, bake at 350 degrees).
In a medium bowl, combine the peaches, brown sugar, and flour and mix. Add the water and lemon juice and stir to combine. Pour the mixture into the prepared pan. Dot with the tablespoon of butter.
In the same bowl (make sure it's scraped clean, no need to wash) or in another medium bowl, combine the flour, sugar, baking powder, and salt for the topping.
Make a well in the dry ingredients and pour in the milk and melted butter. Stir just until combined. Don't overmix; it's ok if it's a little lumpy.
Dollop the topping by spoonfuls over the peaches.
Bake for 40-45 minutes until the topping is set and baked through and the filling is bubbly. Let rest for a few minutes before serving warm with vanilla ice cream (this is delicious served at room temperature, too).
Notes
Frozen Peaches: if using frozen peaches, use the same amount as in the recipe; thaw them completely, reserving any liquid that drains off to use for the 1/2 cup liquid in the peach layer (if it's not quite enough to equal 1/2 cup, supplement the rest with water).

The Peach Layer: will be juicier if using, well, juicy peaches. Using underripe or firm peaches (fresh or frozen) might result in a cobbler that is more dry.

Filling: if you are looking for a thicker, more syrupy filling consider cutting down the water amount (or leaving it out if your peaches are extra juicy).

Whole Wheat Flour: for those interested, I have used white whole wheat flour for the recipe before; it's tasty, but the topping isn't quite as light and fluffy as using unbleached all-purpose flour.

Doubling: this recipe can easily be doubled for a 9X13-inch pan.
Recommended Products
As an Amazon Associate and member of other affiliate programs, I earn from qualifying purchases.

Recipe Source: inspired by a recipe from my sister's sweet neighbor, Debbie
Disclaimer: I am a participant in the Amazon Services LLC Associates Program, an affiliate advertising program designed to provide a means for me to earn fees by linking to Amazon.com and affiliated sites. As an Amazon Associate I earn from qualifying purchases.