This unique and delicious pumpkin cobbler is just what it seems – a creamy, rich, sweet layer of spiced pumpkin topped with a cakey spread.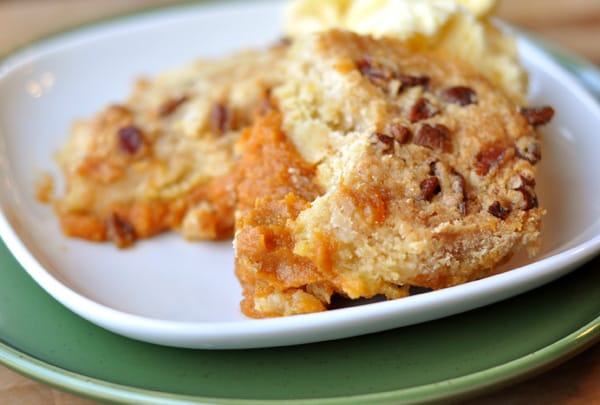 A final last treat to tempt your Thanksgiving table, this unique and delicious pumpkin cobbler is just what it seems to be – a creamy, rich and sweet layer of spiced pumpkin topped with a buttery, cakey spread, dotted with pecans and baked to golden perfection.
Served with a scoop of dreamy vanilla ice cream that manages to melt into every crack and sweet crevice of the cobbler, this dessert was heavenly.
I've had it bookmarked since last year after my sister-in-law, Cass, sent it to me and I'm so glad I finally tried it!
A simple recipe to boot, I used my favorite homemade yellow cake mix in place of the boxed mix, and this classically fall concoction was all things a Thanksgiving dessert should be.
One Year Ago: Tutorial: Working with Yeast
Two Years Ago: Frozen Hot Chocolate
Yield: 8 servings

Prep Time: 10 minutes

Cook Time: 1 hour

Total Time: 1 hour 10 minutes
Ingredients
1 (15-ounce) can pumpkin puree
1 cup milk, evaporated or regular
1 cup granulated sugar
1 teaspoon vanilla extract
½ teaspoon ground cinnamon
3 cups of this homemade yellow dry cake mix (or use 1 boxed yellow cake mix)
1 cup chopped pecans
2 tablespoons butter, melted (use ½ cup melted butter if using a boxed cake mix instead of the homemade yellow cake mix)
Instructions
Preheat the oven to 350 degrees. Lightly grease a 9X13-inch baking pan.
In a medium bowl, stir together the pumpkin, milk, sugar, vanilla extract and cinnamon until well combined. Pour the mixture into the prepared baking pan.
Sprinkle the cake mix evenly over the pumpkin mixture. Sprinkle evenly with pecans and drizzle the butter evenly over the top.
Bake the cobbler for about 1 hour, until the top is golden brown. Remove from the oven and let the cobbler stand for 15 minutes before serving. Serve warm with vanilla ice cream or whipped cream.
Recommended Products
As an Amazon Associate and member of other affiliate programs, I earn from qualifying purchases.

Recipe Source: adapted from my sister-in-law, Cassidy