Classic Hummus – Three Ways!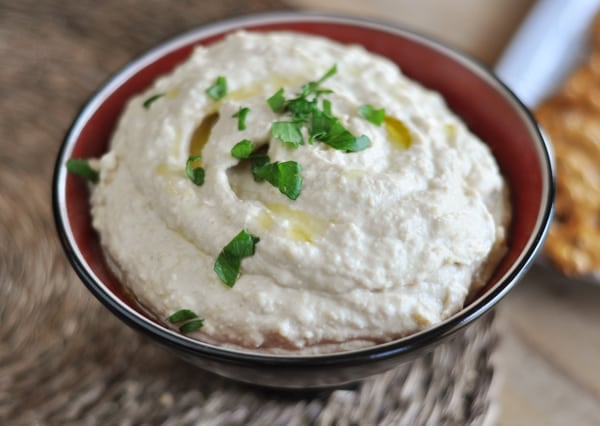 Although I'm not a fan of the homely little chickpea in its full unpulverized form, I love me some hummus and usually keep it on hand in the fridge for healthy, simple snacking. My kids love it and I love that they love it. I call that a win-win (especially since I dip my fair share, too).
So I bring you today, day #2 in Sugar Rush Reinvented, classic hummus with two variations – delicious roasted garlic and roasted red pepper hummus. All three delicious, all three sure to please.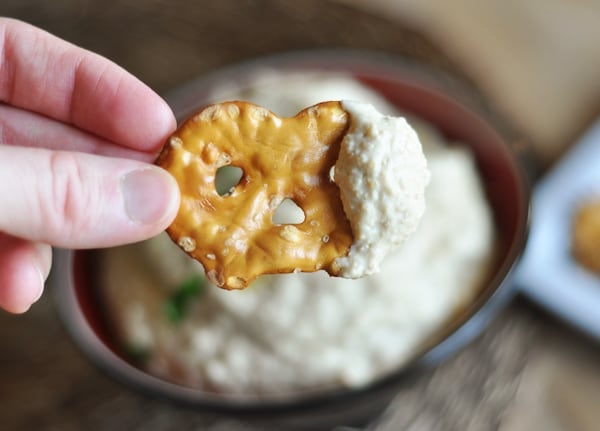 The thing I love about hummus (besides the fact that it just tastes great) is that it is quick and tasty enough for an every day snack but it is also classy enough to serve at a dinner party or appetizer event.
Pita chips, pretzel thins, fresh pita bread wedges, celery or other fresh vegetables, all of these and more are a perfect accompaniment to hummus. And by the way, my hummus looks a bit chunkier than it should in the pictures (the goal is silky and smooth) but that's basically because my food processor stinks and if yours is even one iota better than mine (or you have a nifty, tough blender), you'll get the wonderfully creamy texture you are after.
And for the second record, we like it just fine with the not-perfectly-smooth consistency so if your food processor is lousy, like mine, you'll be just fine, too. Ok. Anything else? Nope. Over and out.
Yield: 2 cups

Prep Time: 15 minutes

Total Time: 15 minutes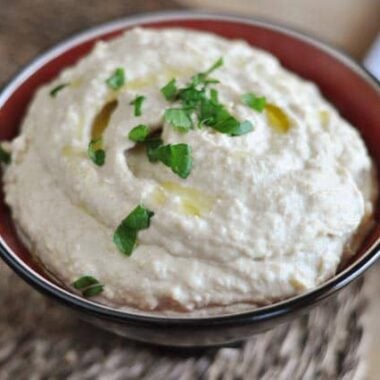 Ingredients
3 tablespoons juice from 1 to 2 lemons
1/4 cup water
6 tablespoons tahini, stirred well
2 tablespoons extra-virgin olive oil, plus extra for drizzling
1 (14-ounce) can chickpeas, drained and rinsed
1 small garlic clove, minced or pressed through garlic press (about 1/2 teaspoon)
1/2 teaspoon table salt
1/4 teaspoon ground cumin
Pinch cayenne
1 tablespoon minced fresh cilantro or parsley leaves
Instructions
Combine lemon juice and water in small bowl or measuring cup. Whisk together tahini and 2 tablespoons oil in second small bowl or measuring cup. Set aside 2 tablespoons chickpeas for garnish, if desired (I processed all the chickpeas in with the hummus).
Process chickpeas, garlic, salt, cumin, and cayenne in food processor until almost fully ground, about 15 seconds. Scrape down bowl with rubber spatula. With machine running, add lemon juice-water mixture in steady stream through feed tube. Scrape down bowl and continue to process for 1 minute. With machine running, add oil-tahini mixture in steady stream through feed tube; continue to process until hummus is smooth and creamy, about 15 seconds, scraping down bowl as needed.
Transfer hummus to serving bowl, sprinkle reserved chickpeas (if using) and cilantro over surface, cover with plastic wrap, and let stand until flavors meld, at least 30 minutes. Drizzle with olive oil and serve.
Notes
Make Ahead: the prepared hummus can be prepared and refrigerated 5 days in advance (don't add the parsley and cilantro until ready to serve). When ready to serve, stir in 1 tablespoon hot water to loosen up the texture of the hummus, if needed. Tahini can usually easily be found in the natural foods section of many grocery stores.

Roasted Garlic Hummus: remove outer papery skins from 2 heads of garlic. Cut the top quarters off the heads and discard. Wrap the garlic in aluminum foil and roast in a 350 degree oven until browned and very tender, about 1 hour. Meanwhile, heat 2 tablespoons olive oil and 2 thinly sliced garlic cloves in an 8-inch skillet over medium-low heat. Cook, stirring occasionally, until golden brown, about 15 minutes (taking care not to let it burn). Using a slotted spoon, transfer the garlic slices to a paper towel-lined plate and set aside; reserve oil. Once the roasted garlic is cool, squeeze cloves from their skins. You should end up with about 1/4 cup. In the original hummus recipe above, substitute the garlic cooking oil for the olive in step 1 and omit the cumin. Process the entire can of chickpeas along with the roasted garlic puree with the salt and cayenne. Garnish the hummus with the toasted garlic slices, 2 teaspoons chopped fresh parsley and olive oil. 

Roasted Red Pepper Hummus: in the original recipe above, omit the water and cumin. Process the entire can of chickpeas along with 1/4 cup jarred roasted red peppers that have been rinsed and dried thoroughly with paper towels and the other ingredients (except the cumin). Garnish the hummus with 2 tablespoons toasted sliced almonds, 2 teaspoons chopped fresh parsley and olive oil.
Recommended Products
As an Amazon Associate and member of other affiliate programs, I earn from qualifying purchases.

Recipe Source: adapted slightly from Cook's Illustrated