Think of these cowboy cookies as a classic chocolate chip cookie pumped up with coconut, chocolate chips, cornflake crumbs, and walnuts.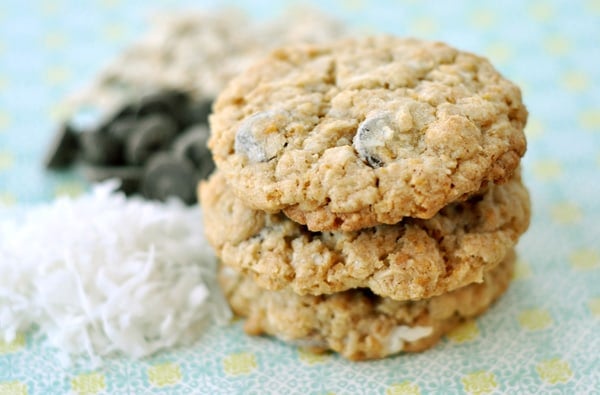 Okay let's talk about these cowboy cookies. Think of it as a classic chocolate chip cookie pumped up in a major way. These babies are loaded with coconut, chocolate chips, cornflake crumbs, and walnuts (if so desired).
I've made at least three or four batches of these in the last month and we've been pulling the baked cookies out of the freezer right and left as after-dinner treats and we still aren't sick of them.
I love the delicious combination of the slightly crunchy, savory cornflake crumbs and the sweet coconut and chocolate. Very yummy.
I adapted the recipe slightly from the one that BriAnn (a MKC reader – thanks, friend!) sent me based simply on the fact that the first few times I made the cookies, they didn't flatten at all and so I reduced the oats and sugar to accommodate that – and ended up with the perfect cowboy cookie!
This brings me to a little note about cookies. Strangely enough – different ovens, altitude, elevation, climate, butter temperature, and a whole myriad of factors can affect the outcome of your cookies and other baked goods.
If you don't love the result the first time you try a recipe – don't give up! If your cookies bake up too lacy and buttery and flat, double check that your butter wasn't too soft or try adding a couple tablespoons more flour, especially if you live at a high elevation.
If your cookies bake up like round domes instead of flattening beautifully, make sure your butter is soft enough and not too cold or decrease the flour or other dry ingredients by a couple of tablespoons.
I can't tell you the number of times I've made a cookie recipe and thought – oh, these did not turn out like I wanted at all! And then I've gone back to the drawing board and experimented with a few of those factors to achieve cookie perfection the very next time.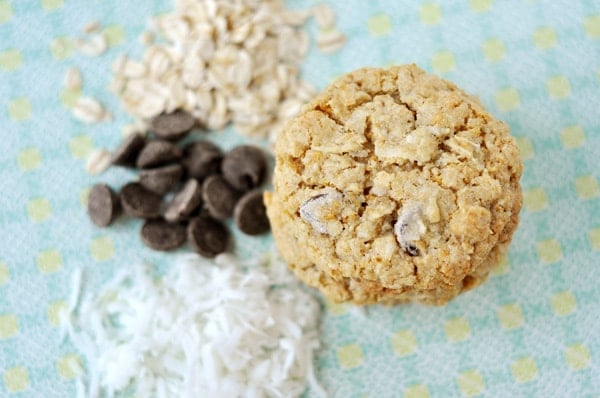 Yield: 2-3 dozen

Prep Time: 15 minutes

Cook Time: 12 minutes

Total Time: 27 minutes
Ingredients
1 cup (2 sticks) butter, softened to room temperature
1 cup packed light brown sugar
1 cup white sugar
1 tablespoon milk
1 1/2 teaspoons vanilla extract
2 large eggs
1 cup crushed corn flakes
2 1/2 cups quick oats
1 1/2 cups all-purpose flour
1 1/2 teaspoons baking soda
1 teaspoon salt
1 cup shredded, sweetened coconut
1 cup chopped walnuts (optional)
1 1/2 cups chocolate chips
Instructions
Preheat the oven to 350 degrees F.
Cream together the butter and sugars until light and fluffy. Add the milk, vanilla and eggs and beat well. Stir in cornflake crumbs and oatmeal. Add the flour, baking soda and salt and mix. Stir in the coconut, walnuts, if using, and chocolate chips.
Place tablespoon-sized balls of dough on a lightly greased or lined cookie sheet and bake for 10-12 minutes until lightly golden around the edges.
Notes
Oats: I've made these with both rolled oats and quick oats and we slightly prefer the quick oats so that the oats meld together with the cookies a little more but you can use whichever you have on hand.
Recommended Products
As an Amazon Associate and member of other affiliate programs, I earn from qualifying purchases.

Recipe Source: adapted slightly from BriAnn H.