Decadent Chocolate Cheesecake
If you are looking for a cheesecake for the ultimate chocolate lover, you have to make this decadent chocolate cheesecake!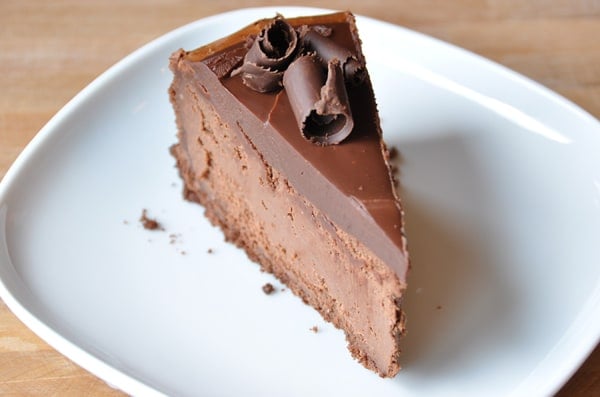 Warning: do not attempt to view, make or devour this recipe if you do not like chocolate. A lot of chocolate. Copious amounts of deep, dark chocolate.
Including a buttery chocolate crust topped with a luscious, creamy, rich cheesecake layer, topped again with a silky, dreamy dark chocolate ganache and topped finally with whimsical chocolate curls.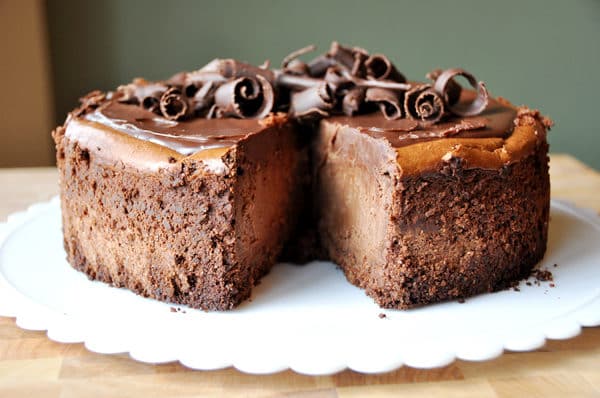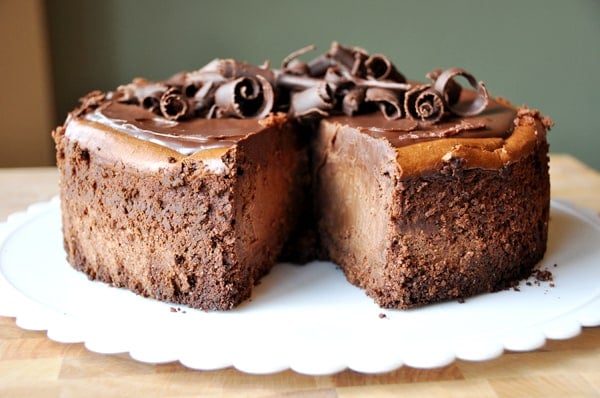 Death by chocolate.
And what a way to go.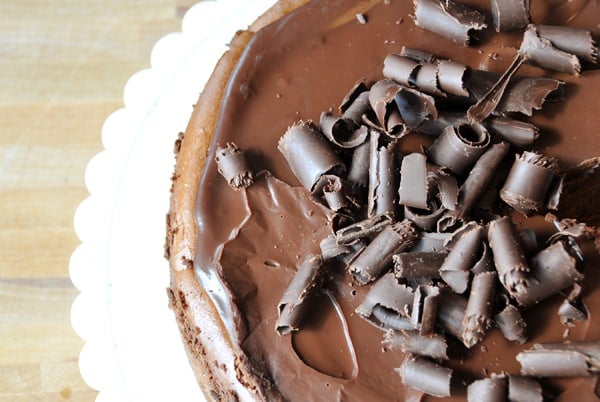 One Year Ago: Chicken Corn Chowder
Two Years Ago: Pumpkin Apple Spice Muffins
Decadent Chocolate Cheesecake
Yield: 8-10 servings

Prep Time: 35 minutes

Cook Time: 1 hour 10 minutes

Additional Time: 13 hours

Total Time: 14 hours 45 minutes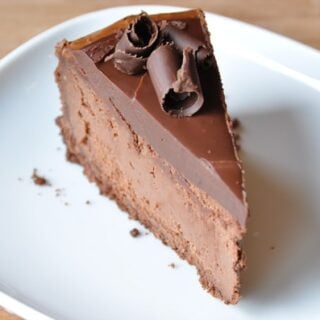 Ingredients
Crust:
9-ounce package of chocolate cookies (such as chocolate wafers, graham crackers or teddy grahams)
1 tablespoon sugar
6 tablespoons butter, melted
Filling:
10 ounces semisweet or bittersweet chocolate, chopped (I use Ghirardelli)
4 (8-ounce) packages cream cheese, room temperature
1 1/4 cups plus 2 tablespoons sugar
1/4 cup unsweetened cocoa powder
4 large eggs
Topping:
3/4 cup whipping cream
6 ounces semisweet or bittersweet chocolate, chopped
1 tablespoon sugar
Chocolate curls for garnish (I use this method
Instructions
For crust: Preheat the oven to 350°F. Butter a 9-inch springform pan with 3-inch-high sides (or use a 10-inch springform pan with 2-inch sides). Process the chocolate cookies in a food processor (or the old-fashioned way with a bag and a rolling pin) until they are finely ground. Transfer them to a small bowl and mix in the sugar. Add the melted butter and mix until well combined. Press the crumbs evenly onto the bottom only of the prepared pan. Bake just until set, about 5 minutes. Cool while preparing filling. Keep the oven heated at 350 degrees.
For filling: Melt the 10 ounces of chocolate in the microwave or in a double boiler until melted and smooth. Cool the chocolate until lukewarm but ensure that it is still warm enough to be pourable. In a large bowl (or with a stand mixer), blend cream cheese, sugar, and cocoa powder until smooth. Blend in eggs one at a time. Mix in lukewarm chocolate. Pour the cheesecake filling over the crust; smooth the top. Bake until the center is just set and just appears dry, about 1 hour. Remove the cheesecake from the oven and cool on a wire rack for 10 minutes. Run knife around sides of cake to loosen. Let the cheesecake cool to room temperature. Cover lightly with plastic wrap and chill overnight.
For topping: One hour before serving (or up to 3 days ahead of time), stir cream, 6 ounces chocolate, and sugar in heavy medium saucepan over low heat until smooth. Cool slightly. Pour over the center of the cheesecake, spreading to within 1/2 inch of edge and filling any cracks. Chill until the topping is set, about 1 hour.
When ready to serve, release the springform pan sides. Transfer the cheesecake to a platter. Top with chocolate curls. It is preferable to let the cheesecake stand at room temperature for 1-2 hours before serving.
Notes
Plan Ahead: this cheesecake needs to be chilled overnight so plan ahead!

Make Ahead: the good news is this cheesecake can be made all the way through the topping, covered and refrigerated for up to 3 days before serving. It is preferable to let the cheesecake stand at room temperature 1-2 hours before serving.
Recommended Products
As an Amazon Associate and member of other affiliate programs, I earn from qualifying purchases.

Recipe Source: adapted slightly from epicurious.com/referred to me by my excellent bro Nate
Other Chocolate Cheesecake Recipes:
Disclaimer: I am a participant in the Amazon Services LLC Associates Program, an affiliate advertising program designed to provide a means for me to earn fees by linking to Amazon.com and affiliated sites. As an Amazon Associate I earn from qualifying purchases.